At every football game, basketball game, wrestling match, pep rally or any athletic event, the App State cheerleading team is always on the sidelines or in the stands showing their pride for the Mountaineers.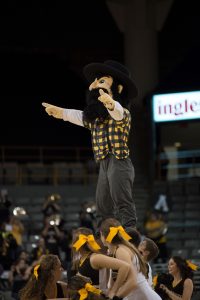 Known for being ambassadors for Appalachian State and for bringing in crowds to cheer on student-athletes, the App State cheerleaders are now preparing to show their own athletic skills competing in the Canam Nationals in Myrtle Beach on March 17.
For the first time in almost two decades, the Mountaineer cheerleading team will be competing in a national competition, against some of the best cheerleading universities in the country.
"This is our first one," junior captain Alisha Leonard said. "None of us have the experience of competing at the collegiate level, and I think we are all extremely excited, because we are prepared and we just have to go out there and show what we can do."
With football, basketball and wrestling season complete, the spring is usually a time for the cheerleading team to host clinics for potential recruits, host camps for younger cheerleaders and prepare for individual summer competitions.
This spring has put a lot of that on hold as the intensity at practice is a lot different with preparation for Canam Nationals.
"During the summer a lot of us are on UCA [Universal Cheerleading Association] staff, and we get training and collegiate level skills there," Leonard said. "We go to different high schools and work with camps. That is where we spend our summers with practices, and we are extremely excited to compete. It is just a different atmosphere, and we are ready."
Over the past two years, a great deal has changed for the App State cheerleading team.
With cheerleading not deemed a varsity sport in North Carolina, former Mountaineer cheerleader Morgan Roberson was hired as the head coach in 2014 during her senior year of college, and immediately began working on building the team's budget up and increasing the team's skill set.
"We didn't do nearly a quarter of the skills that we try to do now four years ago," Roberson said, who is now the first full time coach for App State cheerleading. "Just seeing the progression of skill level, and dynamic of the team has been awesome to see. The commitment they have has greatly increased because of the increased appearances we make, and all the things we have accessibility to now such as athletic trainers, and new mats, which has become extremely important."
Being a relatively young team with 19 cheerleaders and no seniors, freshman Olivia Megson and sophomore Tazhia Lovett are two members of the team who have performed at Canam Nationals in high school fairly recently, and are expecting an even better experience at the collegiate level.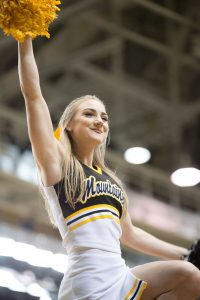 "I have competed at Canam for the last four years since my freshman year of high school, so I feel good going in because I am comfortable with the setting," Megson said. "It is definitely competitive, but I think we can hang. It is really fun, and there is good energy there, and it will be a good place for our team to show off our skills and get our feet wet."
Canam Nationals is part of Cheer Ltd, and requires scholastic and recreation teams to qualify to attend. Being apart of UCA summer camps, App State is eligible to qualify for the competition and was able to raise their budget to do so this year.
Anyone from middle school to college can compete if they meet the qualifications for the two-day competition.
"It is definitely different because in high school you compete with the same group every year," Megson said. "I have never competed with App, but we feel prepared. The only thing we are competing against is our past performances, so we are going into it feeling pretty good."
Progress throughout the fall and winter has been able to help the team prepare for the competition. After working with teams throughout the summer, the football season gives the cheerleading team a chance to work more on game oriented pyramids, tumbles, baskets and partner stunts.
Basketball season gives the team a chance to shift more towards specifics such as alternating pyramids and meet more regulations from motions and positions they already have worked on in the fall.
"We don't get any days off," Leonard said with a laugh. "We wake up at 5 a.m. to lift, then we have class, then practice from 3-5:30 everyday except Wednesday, we work on competition season, or game day oriented things, requests from marketing and then Saturday are dedicated to game days. We are prepared for anywhere people need us to be and we show up."
Some of the cheerleaders that don't always get recognition are the males on the team. App State cheerleading officially became co-ed with males and females just four years ago, and the guys have played an integral role to the team since.
"As a dude, we keep the morale up. We are calling and initiating cheers and we try to be the voices," junior Logan Brown said. "We are yelling at games with a megaphone so people can hear us, and just two of us make a huge difference as far of volume level and foundation of pyramids. If we are not under it, we are throwing, and as far as a guy, we are kind of the muscle part of the formations which is important."
In pyramid formations, the guys are usually the ones pitching and tossing, and other cheerleader positions vary from a base, a mid-base, a back spot and a flyer on top. All the positions vary on what level pyramid or formation is being done.
"Cheerleading is based on versatility, and we take pride in that," Leonard said. "If you can base, you can bottom, if you can bottom, you can base, if you can top, you can bottom. Anywhere, no matter who is hurt, the skills keep going which is extremely helpful."
During the competition, a judging sheet will determine standings and places. Categorized into pyramids, jump sections, an elite partner stunt, intermediate stunts, baskets, tumbling, running and standing a dance to finish, cheerleaders have to show diversity to impress the judging panels.
"I definitely have pushed this team a whole lot more than in the past because I feel like I am able to with their skill level and mentality," Roberson said. "I feel like with their mentality, it is very important, and I feel very comfortable with where they are at with their state of mind and hitting their routine."
Intensity has changed at practice as the competition is on the team's mind, but at the same time, Roberson wants to make sure that the team doesn't burn out, and that they save their best for the tournament.
"Whenever you are building for a competition and looking to compete, you don't want to tire out of the routine, and you don't want to think that 'we hit this a lot,' be overly confident, and then bomb," Roberson said. "You almost want to try and hit your peak at the competition. In order to prepare, you work it, and work sections and you make sure it is not getting old so we can stay fresh."
Being such a close-knit team, the team spends plenty of time bonding and enjoying their time representing App State, but Roberson reminds them that while having fun is a good thing, they must remember that focus is key.
"Football and basketball season is fun, but now it's competition season, and we got to get our mind right and get it done," Lovett said. "Intensity level is high, and yeah it's fun, but we also have to focus."
Not only does the competition give the team a chance to show off their skills for the first time at the collegiate level, but it may also play a role in future recruiting.
Every cheerleader on the current team is from North Carolina, but with App State football's consistent success in the FBS and the increase of athletics viewership, Roberson is hoping more cheerleaders out of state will see App State as a place to attend and try out for the team.
"We have been talking to people from South Carolina, Tennessee and some from Florida, who are interested," Roberson said. "I think a lot of that is because of the success from all the sports that App is known for, and which people want to cheer for a successful team and also to compete."
While hoping to place at Canam, the team also knows it will be a learning experience, and the first building block for future competitions to compete at.
"It is a different focus than game day cheerleading, which we will always focus on, because that is our job to promote school spirit and promote crowd involvement during the games," Roberson said. "But this competition is to show how we are also talented athletes and can compete. The whole mindset of working towards a goal is important."
Cheering on App State every week and taking pride into being ambassadors of the university, the Mountaineers will experience something a little different at Canam Nationals: not being the ones cheering, but the ones being cheered on.
Story By: Jason Huber, Sports Editor 
Photos By: Matt Sloyer, Staff Photographer