App State is planning to make heavy use of its recently expanded millennial campus, a geographic area on campus that streamlines the approval process for construction projects, Vice Chancellor of Business Affairs Paul Forte said.
Forte said construction projects outside of this dedicated zone have to go through long delays under the normal approval system.
Other projects have to be approved by the Appalachian State Board of Trustees. After they are approved by the Board of Trustees, they then must be approved by the UNC System of Higher Learning governing body, the Board of Governors.
After both governing bodies approve, there is a long process of oversight that must occur before construction begins.
The millennial campus site, which was recently expanded to include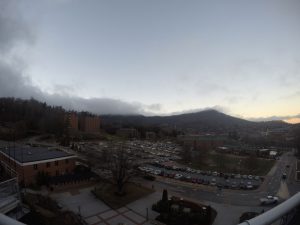 Kidd Brewer Stadium and the surrounding dorms, streamlines this process by delegating all responsibilities to the Board of Governors.
Forte said there is still room for oversight in the process, it just streamlines parts of the current system that lead to long delays
The millennial campus provides a more streamlined process which in turn saves the university money by providing quicker construction and lower construction inflation costs, according to Forte.
Forte said that the millennial campus would not directly result in a raise in tuition.
Forte used NC State's successful centennial campus, which essentially operates as a millennial campus, as an example as to what App State could accomplish with their own millennial campus.
NC State's centennial campus, which operates very similarly to the millennial campus, is an example of what the program can accomplish, he said.
One of the projects for the new millennial campus is a new athletic facility that would be adjoined to the south side of Kidd Brewer Stadium.
This new facility is still in the conceptual design phase and has not been approved but is planned to include an orthopedic center, a dining hall and a residence hall for athletes.
The millennial campus also allows the school to use public private partnerships to help facilitate development, according to Forte.
Some have criticized this by saying it is rushing into public/private partnerships without critically analyzing them, Forte said.
"That is not the case," he said. "We want to provide the most affordable and sufficient solutions."
All the projects planned for the millennial campus are still in the conceptual phase and have not yet been approved.
"I think it's an exciting opportunity," Forte said. "The millennial campus designation gives all kinds of options. What I always say to people is that it just gives us another set of options, more tools in the toolbox to provide the best facilities at the best cost for our institution."
Story by: Ben Sessoms, News Reporter