There is a part of the App State football team that many people don't know about. They are not on the field playing, putting up stats or being cheered on every week, but they are at every team practice, almost every workout, pregame and postgame locker room huddles and on the field at every home and away game.
Whether fans know who they are or not, the Appalachian State Football Video team is behind the scenes releasing motivational, highlight and recruiting videos every week for App State football fans and players to enjoy.
From late nights in the office editing and trying to fix every little mishap they notice to produce the best possible video for the football team, the App State FB Video team doesn't spend their time producing videos yearning for recognition; they do it because it is their passion and they do it for the App State players, coaches and fans.
"The players and coaches know who make the videos and they may not always say thank you, but we don't do it for the recognition unless you know who we are," student director of production Carson Fletcher said. "It is just the passion to make footage really cool and create new videos. You can't beat filming for a division one football team."
In 2000, right when the world of technology was beginning to develop, App State student Jake Stroot was named the director of Athletic Video Services. From there, Stroot built up the App State FB Video program as App State also grew up as a football team, winning three straight national championships and beat Michigan in the largest college football upset of all-time in 2007.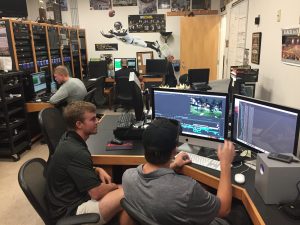 In 2005, then-senior App State student Tyler Adams was named the football team Media Producer and worked alongside Stroot to set the precedent for App State FB Video.
Adams left App State in 2010, and went on to create his own video company, TA Films in 2013. Stroot left in 2014 and is now the director of football technology at the University of Georgia.
"Jake Stroot worked at App State for 15 years before I got here and laid a great foundation for a tradition that I have tried to keep on doing," director of football video operations and technology George Claiborne said. "We try to keep the quality high, and the subject is really easy for us. Everyone likes football and they look good on the field and we try to make them look even better."
Arriving to Boone in 2014 after experience working with University of South Carolina, Memphis, Louisville and the Washington Redskins, Claiborne is now the head of App State FB Video that currently consists of 16 App State students he has hired.
"I have always kept an open mind about who I hire. You don't have to have a lot of football knowledge or camera knowledge, but it helps," Claiborne said. "I have taken chances on people because I saw something in interviews or on a resume that stood out and I wanted to give them a chance. We had people last year who knew nothing about football and by the end of the year they fit in their roles to be rehired."
Every student on staff receives a variation of payment, and former App State football player Dezmin Reed is currently on staff finishing out his football scholarship. Some students also help out with other App State teams such as baseball, basketball, tennis and softball.
"I've been able to offer a pretty unique opportunity to a lot of them," Claiborne said. "We have had volunteers in the past, and try to stay away from that, but if we ever wanted to crowdsource and it depends on what time of year and our budget, but I've been lucky with my staff right now."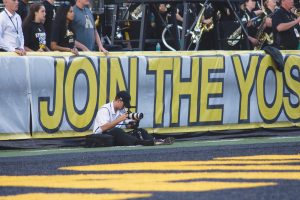 Claiborne does his best to allow the student staff to take on the videos and production in their own hands. Still helping film some footage as home football games, Claiborne is more of an adviser and helps with budget needs and any other help that the staff runs into.
"I just let them do their thing. They are creative enough and smart enough to look at other videos and come up with their own interpretations," Claiborne said. "Feedback I give is minimal. We started doing uniform reveals this year and a lot of it is out of my hands. They have done a great job and really dove right into those and have done a great job."
In his second year with App State FB Video, Fletcher, a senior media/broadcasting major, is in charge of the production alongside student video manager and junior media/broadcasting major Emmitt Carden.
A typical week consists of releasing a motivational preview video before each football game, producing recruiting videos throughout the week for recruits on social media and then finishing the week off with a game highlight video.
In addition, uniform reveals and other potential ideas that come up or are requested can be worked on.
"I say we get a lot of motivational ideas from other schools. We don't want to copy anything, but we get ideas such as songs that haven't been used," Fletcher said. "Also, uniform reveals and we try to come up with unique ideas for those. Highlights are pretty standard. We try to mix it up but they are all the same with big plays and the song. Motivational varies like with Wake Forest we put history in it and now the present day. They really vary. For Georgia Southern we always do a big one for that with the history and rivalry."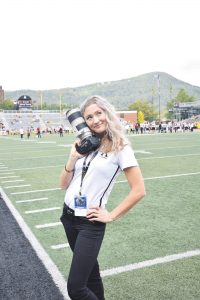 Fans get to see the final product on social media platforms whether it is Twitter, Facebook or Instagram, but the players get to know the staff throughout the season and enjoy getting to be on film and watching themselves every week.
"It is cool because they record and make some cool videos and I really like them," junior defensive end Tee Sims said. "They motivate you and I like to see them around. Many other schools had hypes videos when recruiting, but App State's looked really nice with the fans and all that."
Not only do the videos bring enjoyment to the players on the team. Former Mountaineer and now San Francisco 49ers defensive end Ronald Blair told The Winston Salem Journal in 2014 that the reason he chose App State was because of the videos he saw by App State FB Video.
"With recruiting, a lot of our stuff goes on social media and it plays a big part in recruiting especially with the group of five conference. Not many teams have the access to the same video content as us," Carden said. "Comparing it to other schools, we are most likely not recruiting guys being looked at by the big schools and we are competing with teams in our conference and those that are recruiting the same level of players. When players see our stuff it can make a difference."
Having access to all the football team's facilities and contact information, App State FB Video works closely with coaches and players for recommendations or ideas. Co-defensive coordinator and head recruiting coordinator Scot Sloan works with the staff on a regular basis throughout the team's recruiting process.
"They are a big part of it with recruiting through social media and with teenagers now, they are visually driven," Sloan said. "Whether it's the edits or graphics or short videos, it is something we can be in and texts to recruits. It has become a big part to the process."
App State FB Video has racked up a handful awards over the last decade from the Collegiate Sports Video Association. In 2014, they won the Ultimate SAVVY, and in 2015 they won the Motivational SAVVY video of the year award for "Legacy," a video made before App State's 2014 rematch with Michigan.
"I would like to win another SAVVY," Claiborne said. "To be named the best one of the three categories, motivational, highlight and recruiting, is such a rush and I would love to get to that point again and every day we try to get just a little bit better than we were yesterday. You have to do what you can now in the present."
Even while being recognized nationally as a mid-major school, App State FB Video still looks up to some of the top video production schools like Clemson, Georgia, Michigan and Colorado.
Every school has their own style, and with that, meticulosity plays a big part during production.
"With Georgia, we started working on it a month before the game and at that point I was wondering if it was still good," Fletcher said. "You get to a point where you see stuff and fine tune so many things that you have to accept it's done because you keep messing with it."
"It's nice knowing you have a finished product," Carden said. "Once you see it 50 times, you see things that may look off but after 50 times, you're glad it is done and looks good."
Producing and sharing videos for sports is growing with the advancement of technology, and while everyone on the App State FB Video staff is not always recognized, they play a big part for the Mountaineers' football team.
For some students on the staff, capturing the footage is the best part. For others, it is the production or final product. However, they are all vital parts of the App State football team and Mountaineer fans.
"You can always be a fan for App State, but to be a part of the team, we have accomplished something if they do," Carden said.
Story by: Jason Huber, Sports Editor
Photos by: Lindsay Vaughn, Senior Staff Photographer