App State prepares for final SoCon season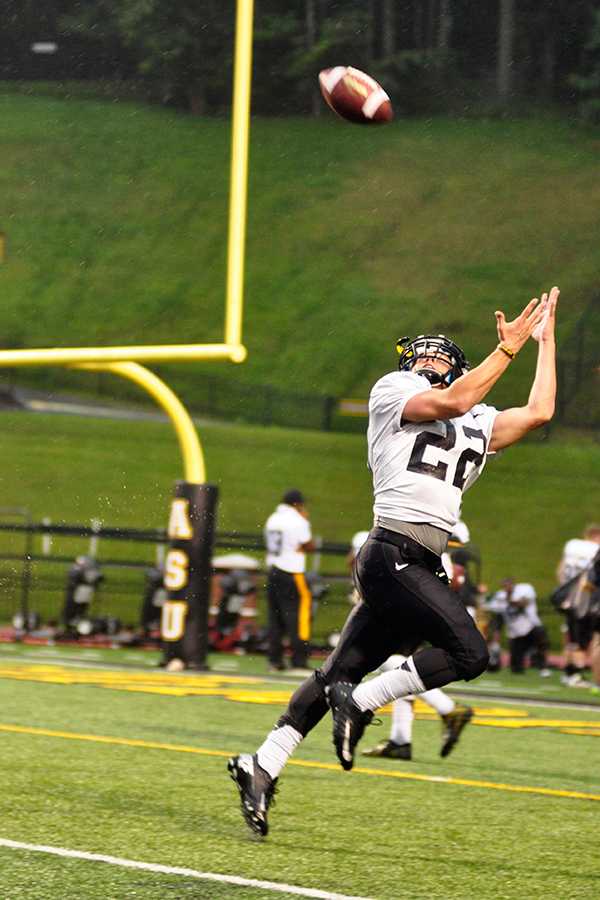 For Appalachian State's football team, the upcoming season is the end of an era.
This is the Mountaineers' last year in the Southern Conference and the team will not be eligible for postseason play.
Former head coach Jerry Moore retired after three national titles in 24 seasons at App State, one season before the team announced it would be joining the Sun Belt Conference.
Replacing Moore at the helm is former offensive coordinator and assistant head coach Scott Satterfield.
Satterfield is walking into a seasoned ball club, which has 10 of 11 starters returning from last year's explosive offense.
The team ranked ninth and 23rd nationally with 464 yards per game offensively and 32.9 points per game, respectively, according to NCAA.com.
Replacing Moore might seem daunting, especially with the added pressure of moving up to the Football Bowl Subdivision, but Satterfield isn't phased.
"I know the media does, but I don't see it that way," Satterfield said. "I'm going to be who I am, and we're going to go out there and do the best we can. We're going to play as hard as we can play, and we'll see what happens."
Senior captain and quarterback Jamal Londry-Jackson will lead the offensive attack this year after passing more than 3,200 yards and 21 touchdowns last season.
"It's definitely a good thing, always, when you return 10 starters," Londry-Jackson said. "Guys are going into the season knowing what they got to do. When we play, we don't have to spend time getting into a rhythm."
Londry-Jackson also said that the running back position was something the team is focused on filling.
A big part of App State's offense left in Steven Miller, who accounted for more than 1,300 rushing yards and 11 touchdowns.
Miller graduated and was picked up as an undrafted free agent by the Detroit Lions in the NFL.
Satterfield said that they would find out who will be the one to fill those shoes "when we get into the game."
Ricky Fergerson looked to be a candidate to handle some of that load, but did not play in App State's Fan Fest this past Saturday due to an injured knee.
He is expected to recover in time for the season-opener against Montana.
Running back Marcus Cox had a good game offensively in the Fan Fest scrimmage and will be vying for his fair share of carries, despite being a true freshman.
"I feel like I can contribute," Cox said. "The past couple scrimmages I feel like I helped move the ball good, made some big plays."
On the defensive side of things, former Wofford defensive coordinator Nate Woody joins the staff, bringing along his successful 3-4 alignment.
Last season the Wofford defense allowed a mere 16.6 points per game under Woody's leadership, according to athletics.wofford.edu.
Woody said he sees potential in his defense here at App State.
"When we came to App and put the 3-4 in, I thought from a personnel standpoint, we could get guys that could really benefit from this type of scheme," Woody said. "And from what I've seen so far, I thought our pass rush has been outstanding, and that's the first thing that we've got to be able to generate."
The defense has adjusted well to both their new defensive coordinator and their new defense.
"He's an outstanding teacher," said fifth-year senior inside linebacker Karl Anderson. "He's a great communicator and a great coach. He's really patient with us, but at the same time he can push us as well."
The Mountaineers open the season at Montana on Aug. 31 at 9 p.m. EST. It will air live on ESPN3.
Story: NICK JOYNER, Intern Sports Reporter
Photo: RACHEL KRAUZA, Intern Photographer