Transfer unites brother and sister
Last season, App State women's soccer added defender Logan White, a transfer from Rutgers University.
White came to App State to continue her soccer career with her brother Walker White, a defender on the men's soccer team.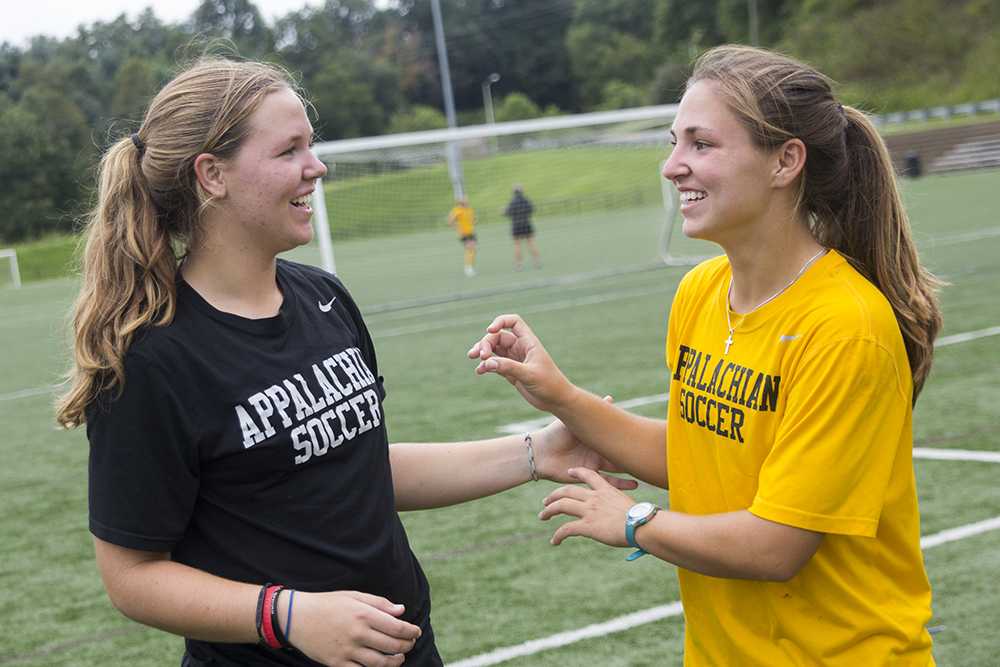 Logan White left Rutgers University after the 2012-2013 season and joined the Mountaineers in fall 2013.
"I transferred because I wasn't happy at Rutgers, and then I came to App because I thought it would be cool to play at the same school my brother plays at," Logan White said. "I knew with him being here, it would be easier for me to transition at a new school."
Walker White helped his high school team win the state championship in Texas in 2010 and watched Logan White take the women's championship in 2011. The brother and sister pair both made appearances at the Disney Showcase for soccer during their high school careers.
Walker White did not play last year due to injury and said Logan's transfer to App State helped him prepare for this season. He said having his sister watch his games has helped
him get an outside perspective beyond his teammates and coaches as a way to improve.
Matt Nelson, head coach of the men's team, said Logan White's transfer to App State has had a positive effect on Walker White's attitude and performance.
"I think we definitely drifted apart when she was at Rutgers," Walker  White said. "I was happy for her because it's a good school and she was happy, but I can definitely tell a difference now that she's here and we're back hanging out more often than when she was at Rutgers."
The siblings have joint custody of a two-year-old Siberian husky named Wheezy. Walker and Logan White adopted the dog together when Logan White transferred.
"That was kind of my bargaining tool to Logan," Walker said. "Whenever she was talking about leaving Rutgers, I was like, 'Well if you come here, we could get a dog,' and then obviously that made her mind up pretty easily."
This will be the first season that Logan and Walker will play for the Mountaineers at the same time.
Steyl sisters motivate each other
A sibling duo has been formed on the App State women's soccer team as Sam Steyl joins her sister Nicole Steyl to play for the Mountaineers this season.
The two are the first sibling pair to suit up for the women's team since Lindsay and Sam McVeigh in 2012.
The Steyl sisters both played soccer at the Charlotte Soccer Academy, but were not on the same team. They played on the same team at Ardrey Kell High School and won a state championship together.
Sam Steyl, a freshman goalkeeper, graduated from high school a semester early to join the Mountaineers in spring 2014.
"She was able to graduate early and come in the spring and get acclimated and really differentiate herself from her sister," head coach Sarah Strickland said. "She's a definite leader in the freshman class, so that's been fantastic."
Nicole Steyl is a senior defender for the Mountaineers as well as a team captain. Although Sam came in the spring last year, this will be the first full season the sisters will play together as Mountaineers.
"It's wonderful, I get to have my sister with me all the time," Nicole said. "Sam and I are really close, so it's really cool to have someone to go to for anything and just know you have someone that has your back."
Strickland said Nicole and Sam Steyl act as leaders and help motivate their teammates, but they always demand a lot from themselves.
"I think it's different more off the field because I feel like, when we're on the field, the whole team is kind of your family," Sam Steyl said. "[Nicole] is always there for me if I need to go to her about something soccer related or off the field."
It has been three years since the Steyls have been on a competitive team together. With Nicole Steyl set to graduate in May, this will also be the last season they will play together as Mountaineers.
Story: Jess Lyons, Sports Reporter
Photo: Paul Heckert, Photographer