App State students join protest outside Trump Tower
A group of protestors outside of Trump Tower on March 15 prompted a story in The New York Times, but the story did not mention the origin of one subset of the protestors.
A group of Appalachian State design students participated in a protest outside the building in New York City, the base of operations for the divisive GOP frontrunner.
The protest was arranged by graphic designers Jessica Walsh and Timothy Goodman as part of their 12 Kinds of Kindness Project. A statement on the 12 Kinds of Kindness webpage said Trump was targeted for his incendiary and impolite rhetoric.
"By excluding and dividing, Trump is applauding violence, playing off the fear of the disenfranchised, and feeding into a narrative of anger and frustration," the statement said.
When they boarded the subway at 4:30 a.m., no one in the group knew anything about the protest except that it required a metro card. They were responding to a social media post by Walsh asking for help with an unspecified project.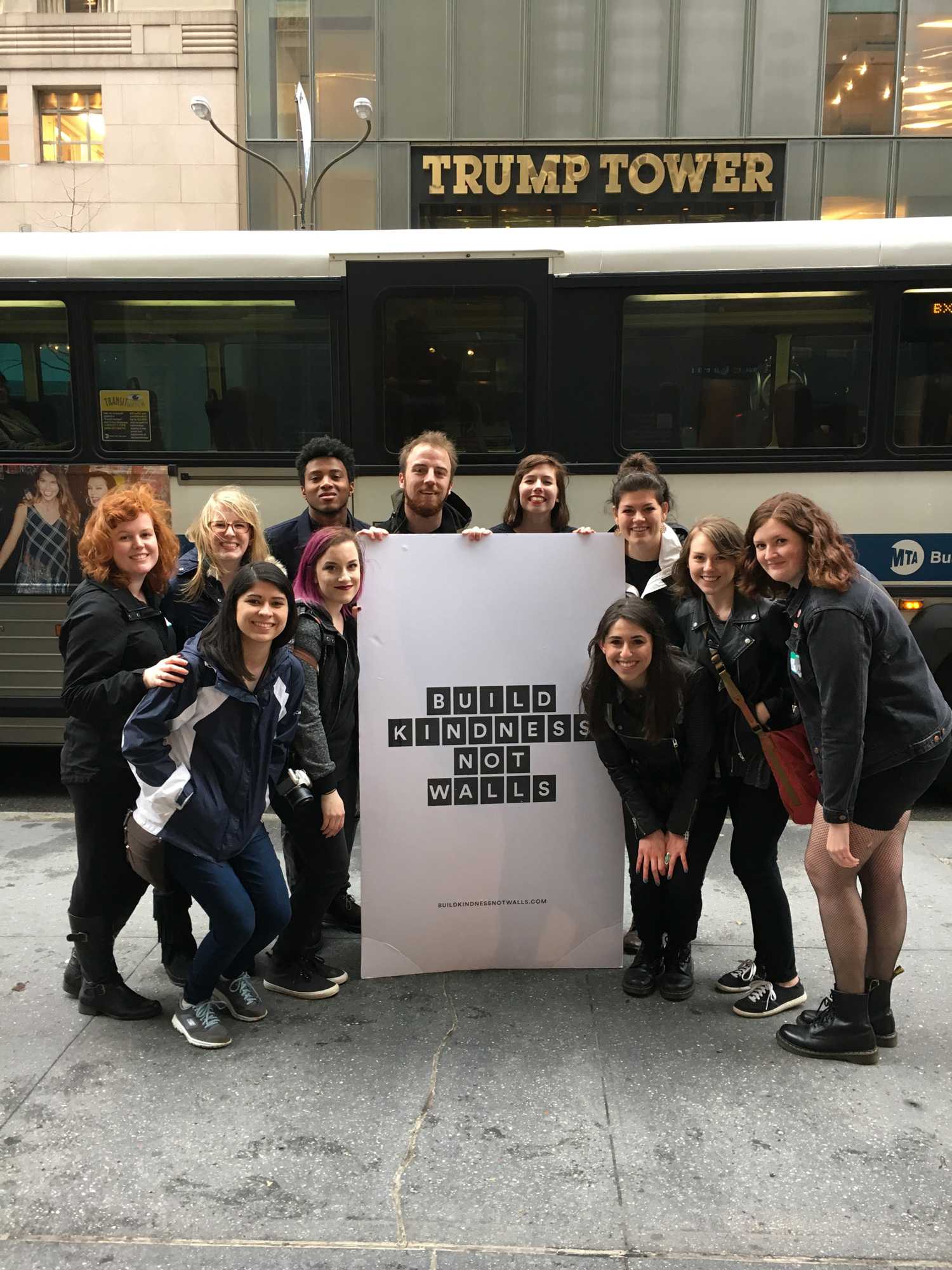 Upon arriving, Rachel Bowles, a senior graphic design major, said the organizers began by asking if there were any Republicans in the room before getting into the details of the project.
Volunteers were tasked with holding signs that when put together read "Build Kindness Not Walls" and stand outside Trump Tower to greet Fifth Avenue's rush hour commuters with a friendly reminder of the necessity for kindness in politics.
Aaron Adkins, a senior graphic design major, said the protest didn't feel strictly political and was more focused on spreading positivity than political critique.
Bowles said the reactions on the street were a mixed bag, drawing out support as well as honks and heckles from the crowd and citing, "Do your taxes, vote for Trump" as one of her favorite bits of criticism.
Lauren Crowe, another senior graphic design major, said she was excited to take part because she felt the message is very important.
"I am not normally a political person," Crowe said. "When I first found out that Trump was running for president, I actually thought it was a joke and he didn't plan on running long. I just got more concerned when I realized he was serious. It's obvious Trump is not a kind person."
Adkins said his involvement in the project prompted thought about how art can be used to address social issues and advocate for positive change.
"It's really cool when art can activate social change," Bowles said. "For me, what's really cool about things like that is that you're bringing together people from all different walks."
Story by Sammy Hanf, News Reporter