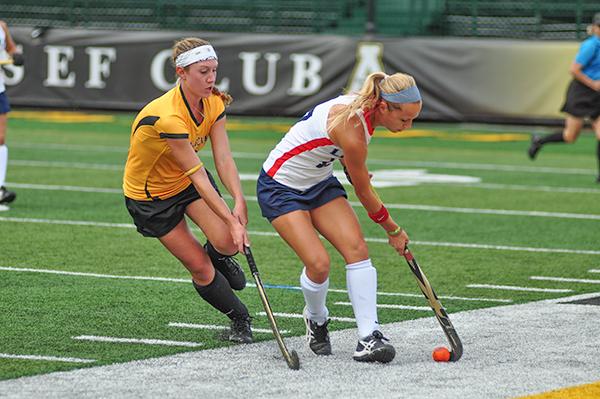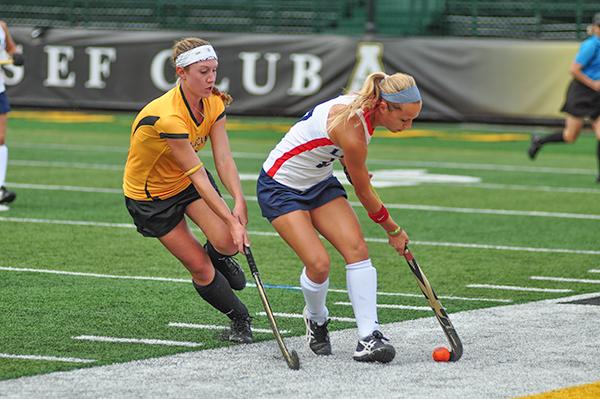 Appalachian's field hockey team lost their final home game of the 2012 season to Liberty University on Friday, 3-1.
ASU was the first to strike when sophomore Dana Wetmore netted a corner shot on a pass from sophomore Laura Malinoski 24 minutes into the match.
"The offense was a lot better today than it has been this season," Wetmore said. "There was a lot of improvement. We just had a harder time scoring more goals than them."
The Lady Flames of Liberty managed to tie the contest with only 2 minutes left in the half with a goal from Sarah Gipe.
Although they stayed competitive, the Mountaineers would score no more goals that day.
Senior keeper Sarah Anderson had 10 saves in her 17th consecutive start for ASU.
Liberty's Megan Johnson and Natalie Barr would go on to score once each to finalize the score at 3-1, Liberty.
Appalachian fell to 3-14 (0-7 NorPac) that day as Liberty went to 13-5 (6-1 NorPac).
The loss was bittersweet for a team that knew it was the last time their seniors would play at the Rock, but remained proud of the effort against first place Liberty, to whom they fell 8-1 to only a week prior.
"Our seniors are a huge part of our team overall, just their leadership," head coach Brandi Kist said. "This was definitely one of our better games."
Wetmore also commented on her senior teammates' performance.
"They have been a huge contribution to our team," Wetmore said. "Casey [Lammando] and Lesley [Thomas] are captains on our team and they're seniors. We are really going to miss them."
Senior forward Leslie Thomas was happy to see the competitive nature of her teammates during her final game at the Rock.
"This was my last home game since I'm a senior," Thomas said. "It meant a lot to me and it was really good to see my team pull it together. We did a lot of good things today. It felt good."
The team also lost to Longwood Sunday afternoon, 8-2.
Appalachian now has a 3-15 overall record.
The team will travel to Farmville, Va. Thursday for the NorPac tournament, hosted by Longwood University.
Story: JESSE WARE, Intern Sports Reporter
Photo: JUSTIN PERRY, Staff Photographer