The parking lot of the Youth Outreach Skating Rink in West Jefferson was entirely filled by 3:25 p.m. on Feb. 24, but cars kept pouring in, extending increasingly farther out into the field of grass and wild onions alongside the building.
Skaters and spectators alike milled around outside enjoying the overcast but unusually mild weather. A group of skaters, sat in the back of a van in the lot, its doors and trunk open, allowing the breeze to blow through.The door to the venue was propped open, encouraging visitors to wander in.
Through the door, past where tickets were being sold, was a small arcade with an air hockey table and a snack bar that opened up into a skating rink with a track made of yellow duct tape. Novelty lights such as black lights and strings of multicolored Christmas lights adorned the walls of the dimly lit track, and a disco ball and strobe lights danced across the ceiling as the home teams took to the track. The space between the rink and bar was occupied by chairs that slowly filled up with attendees.
Appalachian Roller Derby held a double header on Saturday as the Boone Shiners took on the Red Stick Capital Defenders from Baton Rouge, Louisiana in a B-team bout, and the traveling team, the Appalachian All-Stars, opened their season against the Red Stick All-Stars.
As the first match began, the buzzing of the crowd gave way to a symphony of whistles and skates, narrated by an announcer duo who stood next to the scorer's table, explaining the match and quipping back-and-forth over potted-down house music.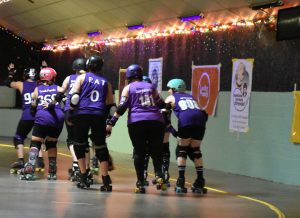 In one of the middle rows of the crowd sat longtime supporters and sponsors of Appalachian Roller Derby, Kathleen Rowell and John Rowell, cheering on the cast of Appalachian jammers that were coming and going between jams.
"We were sponsors one of the first years they started," Kathleen Rowell said.
John Rowell estimated that the couple had been sponsors of the team for about eight years.
"We had a lot of friends that were rolling," Kathleen Rowell said.
"We didn't bout until 2011, though," former Appalachian Roller Derby skater Jennifer Pillow, who skated under the name Rolli Cannoli, said.
Through their eight years as sponsors, the Rowells said they had found that the team was tight-knit in and of itself but was not always lucky in building its presence in the area.
"I think they struggle with trying to build their community," Kathleen Rowell said. "I mean, they've got their fans, but it's tough. Within the team, they have a lot of community, though."
Pillow, who has been with the team from the beginning, told a similar story.
"When the league started, there was 40 to 60 women that showed up at the first practice," Pillow said. "But it soon trickled down to about 20, and it's gotten as to as little as I think like 10."
The team has seen more attention recently though, Pillow said, through a combination of a newly formed roller derby club at Appalachian State and a lot of word-of-mouth.
"We started a club at App," Pillow said. "It's the Roller Derby Club. That really helped to let college students know that there's roller derby, and we've had quite a few skaters from Appalachian State. Other than that, it's a lot of shameless recruitment. You see somebody somewhere and you're like, 'Hey, do you skate? Come check this out.'"
ARD also took steps to allow the audience to participate in and learn about roller derby on Saturday. The team sent different skaters around with a sign that said "Ask Me A Question" throughout the match, ensuring that newcomers had a way to have their questions answered.
This year, the team also changed their name from Appalachian Roller Girls to Appalachian Roller Derby to include all people, whether they identify as female, male or nonbinary.
"We allow any kind of gender identity," Pillow said.
According to the Women's Flat Track Derby Association, "An individual who identifies as a trans woman, intersex woman, and/or gender expansive may skate with a WFTDA charter team if women's flat track roller derby is the version and composition of roller derby with which they most closely identify."
Part of the name change was also in consideration for the referees and announcers associated with Appalachian Roller Derby, many of whom are male.
"You can also see that there's plenty of men here at this game. Some of them are a part of our team as well, so we didn't want to pigeonhole ourselves with 'girls,'" Pillow said.
The idea of increased diversity is sweeping across the Women's Flat Track Derby Association, the league ARD plays in, and teams are changing their names to reflect it all over America, Pillow said.
"All of these skaters come from different backgrounds and all different walks of life," Pillow said. "And there really is no judgement in roller derby."
When it was all said and done, ARD split their games with Red Stick Roller Derby. The Boone Shiners came away with a commanding victory over the Red Stick Capital Defenders, winning by a score of 285 to 146, while the Appalachian Roller Derby All-Stars lost to the Red Stick All-Stars by a score of 194-185.
Regardless of a win or loss, though, the teams hosted an event that Pillow hoped young people in Boone could look up to.
"I think in this day and age, it's a really good place where there is inclusion and diversity and shows women in power and empowering each other," Pillow said. "I think they would be an excellent role model for the youth in this community."
Appalachian Roller Derby's next bout will be in Athens, Georgia, on March 17, where the ARD All-Stars will be taking on the Classic City Rollergirls.
Story and Photos by: Mack Foley, Intern Reporter
Graphic by: Nora Smith, Graphics Editor
Featured Photo Caption: The Red Stick Capital Defenders skate around the track during player introductions. The Appalachian Roller Derby team played against the Red Stick Capital Defenders Feb. 24.