Appalachian State University commenced Black History Month with a kick-off event hosted by Residence Hall Association at 6:30 p.m. Feb. 1 in the Solarium.
The month was packed with events in honor of Black History Month sponsored and hosted by various organizations, including the Office of Campus Activities and the Office of Multicultural Student Development.
Leroy Wright, interim vice chancellor for student development, said it's important for all students, not just black students, to engage in Black History Month.
"It's an opportunity to educate all communities on the history of African American culture," Wright said.
Both Wright and Traci Royster, director of staff development and strategic initiatives, attended the African American read-in at Belk Library, on Feb. 15.
The read-in hosted in honor of Black History Month began at 11:30 a.m. and was open to all students and staff. Participants were encouraged to stop by and listen to or read literature written by African American authors, including articles, speeches, poems and passages from a novel. Participants could bring a selection of their choosing or choose from a list of selections provided by the library.
Choices featured notable figures like Maya Angelou, Langston Hughes, Ishmael Reed and Audre Lorde.
On Feb. 17, the Black Student Association and Black Faculty and Staff Association joined together to host a mixer in Parkway Ballroom. The event was hosted to help black students build more connections with black faculty.
"I came because I wanted to meet more black professors," freshman accounting major Trey Farid said.
Students and staff alternated between small groups, sharing their name and three facts about themselves. Freshman chemistry major Phillip Martin introduced himself to his group and shared that he likes to make gospel rap music.
"I believe it's my God calling," Martin said. "I want to talk to youth and lead them in the right direction."
Following this activity was a brief moment of silence in honor of the historical black figures that paved the way for black people.
People the lined up for food and gathered around tables to eat and have fellowship.
"It's important to make time for this so black students have a chance to reconnect and remind themselves how special they are," Wright said.
Junior biology major Naomi Ruchugo agreed.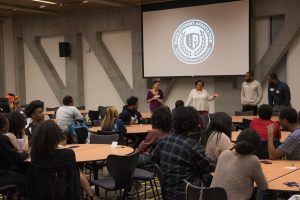 "Sometimes it can be draining to be in spaces occupied mostly by white people," she said. "Events like this and BSA make us feel safe and let us know that there are people here who care about us."
Ruchugo is a member of BSA and Delta Sigma Theta sorority incorporated.
Delta Sigma Theta was originally hosting Blacks in Wax, but had to cancel the event because of scheduling conflicts.
The event was meant to highlight past and present influencers in the black community by having participants pose as popular black figures of history. As if in a museum, members of the general public would walk around and observe to learn about each figure.
Ruchugo said Blacks in Wax is being rescheduled.
Ruchugo also attended a screening of Race, a film about black olympic athlete Jesse Owens.
"I learned a lot about his journey to being an Olympian, which was super cool," Ruchugo said.
Junior criminal justice major Faiza Ali also attended one of the movie screenings held in Greenbriar Theater for Black History Month. The lineup for movie showings this month included four movies, all of which have a significance rooted in black culture.
"I remember watching 'Friday' when I was growing up," Ali said.
Ali said that Black History Month makes her feel a sense of solidarity with her black peers.
"Black history month is special and there's always an opportunity to learn more about our culture," she said.
Wright agreed with Ali, noting how there are always new opportunities to learn about important figures in black history.
"There are so many legacies that people don't know about," Wright said.
Ali said her favorite black historical figure that she's learned about is Malcolm X.
"What he preached is still applicable today and reading his autobiography really shook me up," Ali said.
A portion of Friday night was set aside for students and faculty to dance to Frankie Beverly and Maze's "Before I Let Go," a song that junior political science major Shaquira Wilson said is somewhat of a national anthem of the black community.
"It's important that black people can get together, dance and realize how we all come from a similar place, and this song always helps us do that," Wilson said.
There were several other on-campus events set for the remainder of Black History Month.
Feb. 20 the Department of Philosophy and Religious Studies hosted an African American writers and religion seminar with Laura Ammon and Conrad Ostwalt, both faculty of the department.
On Feb. 21 Alpha Phi Alpha Fraternity hosted Barbershop Talk at 7 p.m. in Rough Ridge.
The following week will begin with The Gospel Explosion, featuring Junaluska Choir and App State Gospel Choir, at 5 p.m. in Parkway Ballroom.
On Feb. 27, Black Student Association will host an event on Womanism in McRae Peak at 5 p.m.
Black History Month will close with the Black Excellence awards brought by Appalachian Popular Programming Society's Cultural Awareness Student Engagement committee, Black Student Association and the office of multicultural student development on Feb. 28 at 7 p.m. in Blue Ridge Ballroom.
This event is to recognize black individuals on campus to be recognized for their hard work and achievements.
Ali said even though the black community occupies such a small space on campus it's still important that they are recognized.
"It's like Jesse Williams said, 'Just because we're magic doesn't mean we aren't real,'" Ali said.
Nominations can be made by anyone via OrgSync, and any black student or black faculty member is eligible.
Nominees can be awarded for their excellence in teaching, leadership, the arts, athletics and community service.