Around 30 students gathered for a protest that spanned from Sanford Mall to the student union.
The protest started outside the multicultural center in Plemmons Student Union and ended with group chants echoing across Sanford.
Tessa Jackson, president of the Black Student Association, said the BSA organized the protest to jolt student consciousness on black issues because they are often ignored on campus.
"We sometimes have this bubble on campus that it's like oh y'know we're like not that bad, it's OK, we're on campus, we're safe, but when you get in the real world that's not how it is," Jackson said. "When I go home, I live in Winston Salem, I could easily get shot cause I'm a black woman."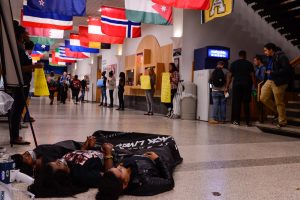 Nicole Flournory, president of the Mu Omicron chapter of Zeta Phi Beta, said the issues raised by the Charlotte uprising and other groups are easily ignored in majority white areas with the problem being exacerbated by media silence about the protests after the first week.
"We wanted to recognize that there are still bodies and people there that are still bringing light to these issues. They need to remember that there are people that still need donations and food and blankets and water and everything in between," Drew Wilson, the public outreach chair for the BSA, said. "So we really just wanted to make sure that there is some recognition for the people that are risking their lives out there in the streets of Charlotte."
Throughout the event Avery Walter, vice president of the BSA, reminded participants to take care of themselves if they felt tired or stressed and said that activism is often emotionally draining.
"No one would ask someone who went through a personal trauma to relive their experience constantly to help educate people, like you would never do that but, for some reason with this movement you do and most of the time no one's listening," Walter said.
Jackson said she thought the protest went well and feels optimistic about the events the BSA is planning going forward.
"I was marching around and I heard it, like I heard people say this is crazy what's going on, saw people's eyes drawn to the crowd and that's what you want, you want, to get that conversation started and I think we did exactly what we needed to do," Jackson said.
Corrections: A previous version of this story stated that Nicole Flournory is president of Mu Omicron. The statement has been corrected to the Mu Omicron chapter of Zeta Phi Beta. Full title: Zeta Phi Beta Sorority, Incorporated. A previous version of thie story did not title Drew Wilson as the public outreach chair for the BSA and did not credit the BSA as a whole for the event.
Story by Sammy Hanf: News Editor