Students stood in front of Sanford Mall's "Aspire" sculpture on a rainy Monday, cardboard signs and banners in their hands.
They gathered to petition Appalachian to reinvest its fossil fuel assets into more socially responsible alternatives.
Sam Smyth, a sophomore tourism and hospitality major, stood on the ledge in front of the sculpture. She addressed the audience rallying together.
"We resist the notion that elected officials call all of the shots," Smyth said. "We the people have the power. The new administration works for us and we must match trump's divisive politics with rays of creative resistance through the power of protest."
Liv Holman, a senior sustainable development major with Divest Appalachian, said the walkout was part of a national day of action.
"We are calling on all our colleges and universities to reject and resist Trump's denial of climate change by divesting from the fossil fuel industry by reinvesting in solutions to the climate crisis," Holman said.
The march moved through the student union and across Sanford Mall, ending on the second floor of the BB Dougherty Administration Building. The group delivered a message to the administration asking them to honor their sustainability development goals.
In a statement read by a member of the group, Divest Appalachian believes Appalachian's new administration might be willing to take more steps toward divesting from fossil fuel companies.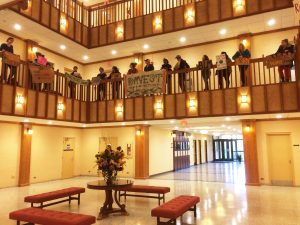 "It's clear," Cassidy Quellin, sustainable development major, said. "Our new government is stacked with climate deniers and fossil fuel billionaires who will never be the moral leaders we need. There is no room for neutrality."
As the crowd marched through campus economics and public relations double major Henry Miller shouted "Go to class."
"This is ineffective," Miller said. "We already have a president, we should just come together in unity. Unity's better. That's what MLK preached isn't it?"
Leroy Wright, interim vice chancellor of student development, said it's important for students to raise their voice about issues that are important to them.
Story by: Myles Toe, A&E Reporter