Appalachian State Fencing, a club sport established in 1899, welcomes new members of all skill levels to participate. The oldest club sport on campus, they hold weekly practices in the Quinn Recreational Center on Tuesdays and Thursdays starting at 8 p.m. and lasting until around 10 p.m. Fencing equipment is also provided to members.
The fencing club holds practices through the year as well as competitions in surrounding states. In order to practice weekly with gear and weapons, all members must pay a fee of $30, while those wishing to compete against other college fencing teams must pay $60.
Partick Arsena, the recently elected club treasurer and a junior computer science major, has been fencing competitively for eight years.
"Most of the members of the club do fence competitively, but we do have a few members that just come to the practices to learn how to fence or to improve on their skills," Arsena said. "The dues go towards buying new equipment when needed, and the competitive dues go towards paying for hotel rooms when we travel. One of the best parts about fencing is being able to go all around and compete against the other teams. I love to make new friends with other fencers."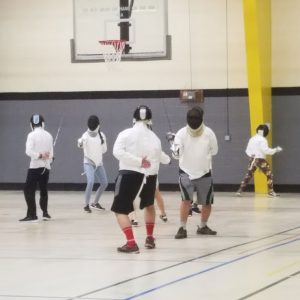 The competitions give fencers a chance to show off their skills against other schools. Every competitive fencer must have a United States Fencing Association membership in order to compete.
Having a USFA membership allows fencers to be ranked according to their skill level in order to have fair matches against other competitors. USFA memberships also help encourage fencers to rank up in level and practice more to do so.
App State Fencing's next competition will be held on Feb. 24-25 at the University of Tennessee in Knoxville.
During competitions, there are three types of blades used: foil, épée and sabre. Each weapon has its own set of rules and specific areas on the body to hit in order to earn points.
"The type of weapon really depends on the fencer's fighting style," Sean Bowerbank, one of the club's competitive fencers, said, "I prefer épée because the weapon is typically used for taller people who have a sizeable reach. Foil is more about precision more than anything, and the fencer can only hit in the chest or neck. Sabre is definitely for those who prefer speed, and you can hit the opponent anywhere waist up."
During competitions, the fencers are hooked up to machines that track how many points they make by measuring if the hit was solid against the opponent. During the club's practices, fencers pair up together to fight and earn as many points as possible. People using the same weapons always pair together.
During the fights, fencers are always in the en garde pose and are constantly squatting and lunging at the opponent. The en garde technique is sometimes difficult for fencers to master. Injuries can occur as expected, but the the club's leaders try to ensure that they are minimal.
Junior exercise science major Maria Cilenti is the president of the fencing club this semester. As one of the leaders, she that ensures her players are learning and staying safe during the practices. During the matches, she walks around and observes her teammates to advise them on their techniques and stances, and helps them improve their fighting skills.
"I've been fencing for around eight years, and my favorite thing to see is other teammates improve, especially during the tournaments," Cilenti said. "I came down to App from New Jersey and didn't know anyone coming down here. Being a part of fencing was like instantly gaining a bundle of friends. We all support each other and are friends and that really helps during competitions."
Ian Brundige, another one of the team's competitive fencers, said, "A big part of being a member of the fencing club is making friends you normally wouldn't make on your own. Fencing kind of forces us to interact with each other and become friends. Everyone on the club has at least one interest in fencing and that allows us to connect with each other. Fencing is also a great thing to do for anyone who wants to get in some exercise from time to time."
Story By: Amber Grant, A&E Reporter
Photos By: Courtest of Appalachian State Fencing