On April 21 a small crowd gathered at the LLC Gardens to celebrate the opening of the first on-campus beehive. The event was created and sponsored by the beekeeping club at Appalachian State University.
Junior sustainable development majors Katie Payne and Hallie Graves are the presidents and founders of the club. About two years ago, the duo decided they wanted a hive at App State. From there, they created the beekeeping club.
"The process itself took about a year, and we've been a club for about a year since then," Payne said.
Graves said the goals of the club are to promote bee populations, to generate an awareness of bees on campus and to encourage sustainability.
The hive-opening was the first time the beekeepers got to work with the insects in real life.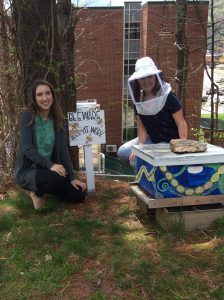 "We don't really have any experience with beekeeping itself so it's all going to be a learning process," Payne said.
"That's the most fun part, is learning about them and also getting to meet other people who are passionate about the same sort of things," Graves said.
Although the founders don't have any personal experience beekeeping, the club is in good hands with faculty advisor James Wilkes.
"We are relying quite a bit on our advisor right now, who has his own hives and a business with bees basically," Graves said. "So, he's teaching us a lot and we still have a lot to learn."
Wilkes is the chair of the computer science department at Appalachian State University. Outside of school, he owns the local Faith Mountain Farm, which features beehives and offers local honey for sale. He also created a piece of software called Hive Tracks that helps beekeepers track their bees' health and productivity.
A core group of beekeepers contacted Wilkes about starting the club. He agreed to help out, and believes that Appalachian's campus is an ideal place to open a beehive.
"On campus, it's a great place for folks to learn about the honeybees. Especially with sustainability being one of the core goals of Appalachian," Wilkes said. "Honeybees are part of that because they're a base part of the food system. A lot of your crops are pollinated by honeybees, so a lot of the foods we eat are dependent on bees."
The pollinator role of honeybees was taken into account when choosing a location for the hive. The LLC Gardens feature a variety of plants, making it a good place for a beehive, Wilkes said.
Graves said Wilkes has already helped improve the beekeepers' knowledge and understanding of bees.
"He's taught us just about the bees in general, like about the queen and how they're turning nectar into honey and how they have their own A/C systems. It's really awesome," Graves said.
The particular hive they installed has a special history at Appalachian State. It had previously been used in classroom demonstrations to teach sustainable development students about the importance of honeybees, Wilkes said.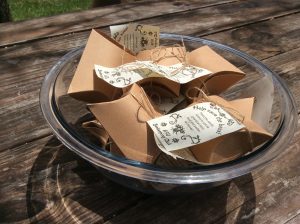 Now that the hive has found its forever home in the LLC Gardens, Payne said they'd like to expand as much as they can.
"We want the club to continue running after we graduate, and I think we both want to sell honey at the Watauga County Farmer's Market," Payne said.
Now more than ever, Wilkes believes it's necessary for students to learn about pollinators.
"People should be aware of honeybees and their importance, and everybody can do something to help the health of the pollinators," Wilkes said. "Whether its buying local honey, or planting particular bee-friendly plants in their yard, or not mowing down all the dandelions."
The beekeepers wrapped up the hive unveiling by passing out packets of seeds that will provide local bees with food and pollen for honey.
Story By: Haley Brown, A&E Reporter 
Photos By: Katie Murawski, A&E Editor