Howard Neufeld has been a biology professor at Appalachian State for 29 years, teaching plant physiology, statistics, climate change and more to many generations of students. About a decade ago, he took on an additional role on the side: Neufeld is also known as the Fall Color Guy.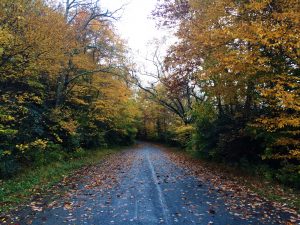 Beginning in late August, Neufeld posts weekly updates to the ASU biology website as well as his Fall Color Guy Facebook page, which has over 5,000 likes. These blog-like posts inform the reader about the progress of changing leaves throughout the High Country and other areas of North Carolina, as well as explain the science behind the leaves' color. Neufeld also includes pictures and maps of peak leaf color in different locations.
The North Carolina Board of Tourism used to give fall color reports by consulting professors and others about the color throughout the region. When board's previous go-to person for fall color, a professor at Western Carolina University, retired, he recommended Neufeld to take his place.
"I thought, that would be a fun thing to do," Neufeld said. "I like fall colors."
After a few years, the Board of Tourism began to consult state park rangers about the changing leaves instead, in order to cover a broader area. Neufeld decided to continue on his own: he made a Facebook page, called himself the Fall Color Guy and has been updating the High Country about autumn leaves ever since.
Neufeld mainly covers the area from Mt. Mitchell north through Newland and Boone. When he has time, he said, he tries to drive down the rest of the range to near the borders of South Carolina and Georgia. Since that is a long drive, however, Neufeld mostly relies on people who live in different areas to tell him about the progress of the leaves.
"I have a contact at Highlands and one in Waynesville, and some people at Western Carolina who tell me what's going on over there," Neufeld said. "Then some people just post on the Facebook page, and hopefully through all of them, I can cover the whole area."
Fall colors peak earlier at higher elevations because of the colder temperatures, Neufeld said, and then the colors start moving down slope, about 1,000 feet every 10 days. Boone tends to peak mid-October, generally from Oct. 10 to Oct. 16, give or take a few days.
Since Asheville is about 1,000 feet below Boone in elevation, their fall color peaks around the last week of October. Further down in the foothills may not peak in color until early November.
"So if you follow it all the way down the mountain, you could have seven to eight weeks of good fall color," Neufeld said. "That makes us different from New England, where the range in elevation isn't nearly as great, so their fall color tends to be confined to about a two-week interval."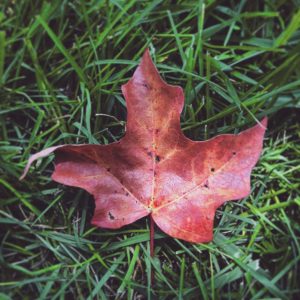 Weather patterns can affect the duration and intensity of fall colors, Neufeld said. Beginning in late August and throughout September, sunny, cool days and cool nights are ideal for bright, intense color.
"It's been kind of a mixed bag in that regard so far," Neufeld said. "The problem with this year is that we're into a mild drought. When it's dry like this, leaves sort of turn yellow and then brown and then just fall off so the tree doesn't use up extra water."
If the drought continues, Neufeld said, we will still get intense color, but it may shorten the duration since leaves will fall sooner. Additionally, if the area gets a lot of rain right at peak color time, the leaves will just immediately fall, he said.
Neufeld writes about the science behind fall color on his blog and often gives presentations on the topic to different groups, such as the Native Plant Society of North Carolina. In addition, he has been a guest and source of leaf color information on various news programs, radio shows and newspaper articles throughout the region as the fall season approaches.
Tourism is a major industry in North Carolina; the state is ranked as the sixth most visited state for domestic travel, according to the North Carolina Department of Commerce. In 2014, domestic travelers spent a record $21.3 billion in the state. Fall foliage tourism, sometimes called "leaf peeping," is a large component of North Carolina tourism because of the brilliant colors, scenic views and refreshing atmosphere of the mountains.
"The Blue Ridge Parkway becomes a parking lot those weekends in October," Neufeld said. "Traffic for Grandfather Mountain can be backed up all the way down Highway 221 to the intersection at Highway 105."
Jesse Pope, executive director of the Grandfather Mountain Stewardship Foundation, said that the park averages about 250,000 visitors per year. He estimated that around 50,000 people visit in the month of October alone.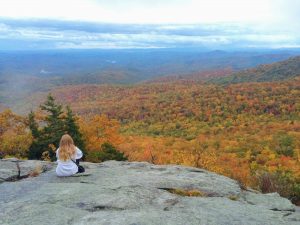 "We offer guided hikes each weekend through the peak of the season," Pope said in an email. "Our naturalists discuss the science behind fall color and why the leaves change to the colors they do."
For students and others wanting to avoid the crowds, Neufeld and Pope recommended visiting popular attractions at off-times, such as early in the morning or on weekdays. Additionally, there are several lesser-known places and drives with equally good opportunity to see fall colors, including Elk Knob State Park and Clark's Creek Road in Valle Crucis.
Story by: Adrienne Fouts, Senior A&E Reporter