ASU football defeats Montana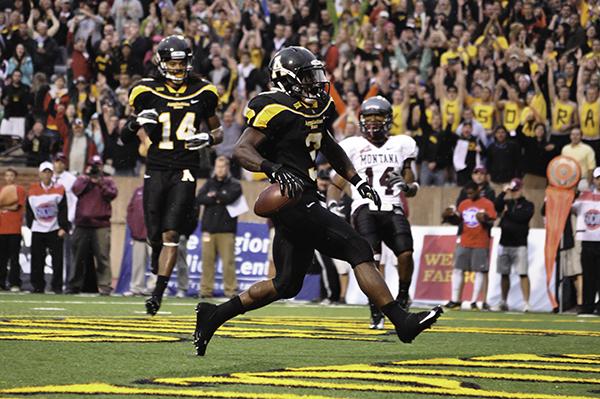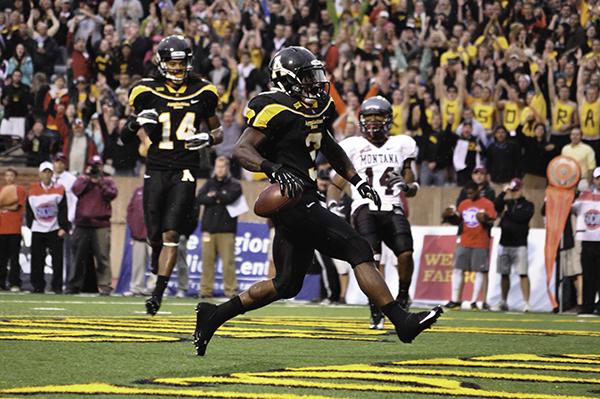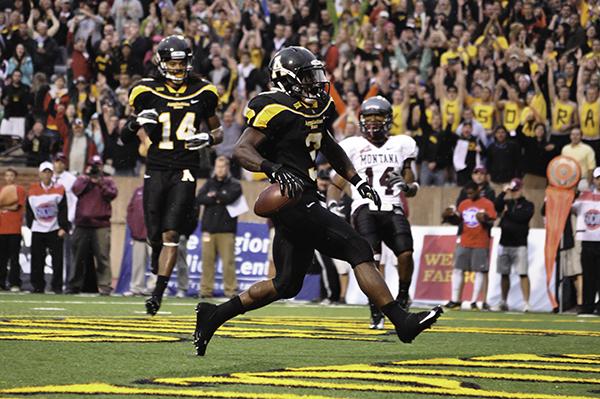 The highly anticipated matchup of two FCS powerhouses took place in front of a crowd of 30,856 – the third largest crowd ever at Kidd-Brewer Stadium.
The Mountaineers needed a defensive stand in the final minutes to hold off Montana 35-27. An interception in the endzone by ASU's cornerback Demetrius McCray with 30 seconds left finished the Grizzlies off.
"The whole time the ball was in the air I was thinking, that's mine," McCray said. "I'm going to seal this game."
App got off to an early 21-7 lead in the first quarter thanks to a pair of Grizzlie's turnovers, including a big forced fumble by freshman Henry Barnes that brought the capacity crowd to it's feet.
However, Montana was able to battle back behind amazing plays from their battering ram of a running back, Dan Moore. His 87 yard catch and run for a TD brought them within a missed extra point from tying the game at 28.
The offense took advantage of the Grizzlie's error and took control of the game on the next drive lead by strong runs from Steven Miller.
Miller rushed for 50 yards in the final quarter, and his touchdown with five minutes remaining put App up for good.
"In the fourth quarter they started to wear down," Miller said. "We just started punching it down their throat."
Quarterback Jamal Jackson added 68 yards on the ground and threw for 260 yards, extending his school record streak of 200 yard games to nine.
Jackson continuously threw passes to freshman receiver Sean Price, playing in his Appalachian debut.
Price did not disappoint, catching eight pases for 103 yards and his first career touchdown.
"I've been waiting for this a long time," Price said. "I just wanted to come out and show as much as possible."
The offense finished with no turnovers, allowing the defense to play with good field position and force four turnovers of their own.
Linebackers Jeremy Kimbrough and Brandon Grier were able to hold Montana's relentless rushing game mostly in check, finishing with 14 and 13 tackles respectively.
The Mountaineers put together a solid performance in all phases of the game against a very talented, physical Montana team in a playoff atmosphere.
"We needed a big victory like this," Kimbrough said. "I think it set the tone for our season."
The team plays again at home Saturday against The Citadel at 3:30.
Story: JORDAN DAVIS, Intern Sports Reporters
Photo: JUSTIN PERRY, Intern Photographer