ASU lecturer part of first same-sex marriage in Watauga County
In the wake of a federal judge lifting North Carolina's same-sex marriage ban Friday, an Appalachian State University English lecturer and her partner were the first to have a same-sex marriage in Watauga County on Monday morning.
Katie Adams was married to her partner of 18 years, Elizabeth Wilson at roughly 8:45 a.m. in the Watauga County Courthouse in downtown Boone.
Their son Gaelan, 11, Adams' former student Elizabeth Young, friend Layne McDaniel and her daughter, and the officiant accompanied the couple at the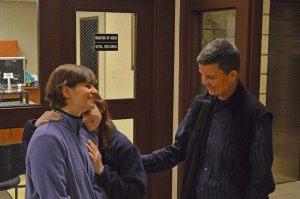 courthouse to serve as witnesses and provide support.
Adams said she never imagined same-sex marriage being possible in North Carolina, despite Wilson's faith that it would happen eventually.
"Elizabeth always believed it would happen," Adams said. "I remember when Amendment One passed and she would say, 'Don't worry, it's going to happen.'"
Wilson did not comment on the marriage.
Adams' first response to Amendment One was the assumption that the family would have to move away from North Carolina, but Wilson convinced her otherwise.
According to www.sogpubs.unc.edu, Amendment One made marriage between a man and a woman the only domestic union that can receive legal recognition in North Carolina.
U.S. District Court Judge Max O. Cogburn of Asheville issued the ruling shortly after 5 p.m. Friday, which declared the ban established by state voters in 2012 through Amendment One as unconstitutional.
Because the ruling came after 5 p.m., same-sex couples in Watauga County were unable to obtain their marriage licenses before Monday morning.  By the time the courthouse closed Monday, three same-sex couples, including Adams and Wilson, had received their marriage licenses.
Concerning the emotions the couple felt after news of the ruling broke Friday, Adams summed it up with, "relief," adding that it will take a while for the realization to sink in.
"This is the first weekend since Amendment One passed [that] I haven't been afraid of going to the hospital if Gaelan had a fever or something," Adams said. "We have excellent doctors who support us completely and who have our backs, but they can't be everywhere 24 hours a day."
Adams said she and Wilson feared taking Gaelan to the hospital because of the implications of Amendment One, which would allow any institution to ignore or challenge their legal protection of him.
The couple had a legal domestic partnership while living in New York before moving to North Carolina in 2004.
When the courthouse opened at 8 a.m. Monday, Adams and Wilson were the only couple ready to obtain their marriage licenses, which upset Adams.
"I'm sad that we're the only ones here, because today was about protection," Adams said. "Today was about safeguarding us as a family – there's so many families and so many people who have waited their whole lives for this and I don't know why they aren't here."
While she is neither a Republican or Democrat, Adams said she is grateful to President Barack Obama for the push he has made while in office to support same-sex marriages laws.
As far as the support the couple has received in their attempt to become a legal couple, Adams said she has been, as always, impressed with the students at Appalachian.
"I've been able to be in the classroom [at Appalachian] with some great people," Adams said. "For that, I'm so grateful."
Story/Photo: Gerrit Van Genderen, Managing Editor