Auntie Anne's and Jamba Juice host grand opening
Auntie Anne's and Jamba Juice held their grand opening Friday, offering samples, merchandise, coupons and more while serving the estimated 200 people in attendance that wrapped around the building.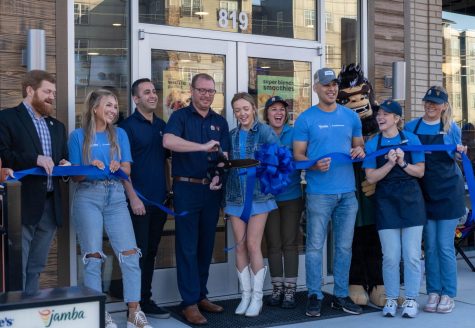 The Grand Opening celebration took place from 9 a.m.-noon featuring a ribbon cutting to celebrate the arrival of North Carolina's first dual-brand Auntie Anne's and Jamba Juice. 
This announcement managed to attract a large crowd, with people who had been camping as early as the day before to be one of the first 100 people in line for the chance to be entered to win free pretzels or smoothies for a year. There wer 10 winners. 
Also offered was 10% off purchases for App State students and faculty, free merchandise, free samples, a free classic pretzel with any purchase for the first 50 people in line and coupons were handed out to the crowd as well. 
Also in attendance was President and CEO of the Boone Area Chamber of Commerce David Jackson, President of Spider Development and owner of the new location Brent Sheena, as well as Mayor Tim Futrelle who ordered the peanut butter moo'd smoothie.
When asked if they were a frequent visitor of the franchises, Futrelle said, "I will be, moving forward," noting their kids love smoothies themselves. 
"I might have to purchase a parking space," Futrelle said. 
Bigfoot's baseball mascot, Biggie, was also present, shaking hands, handing out high fives and posing for pictures with attendees.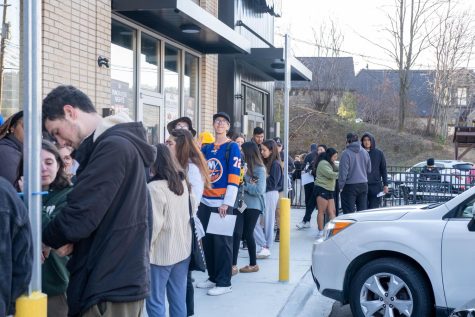 Inside, one could see the staff at work preparing the influx of orders coming through when the doors opened to the public. 
Student Made App State also had a table set up inside the store to promote and sell their products.
According to the businesses Instagram @auntiexjambaboone the opening's grand attendance caused the establishment to sell out of some products.
"We're very excited to bring Jamba and Auntie Anne's to Boone," Sheena said. "We are very thankful to the Boone community and the App State community for bringing all this business to our location."