Boone celebrates Banned Books Week
Libraries and bookstores around Boone celebrated Banned Books Week last week, a commemoration of banned and challenged books that began in 1982, according to the coalition's website. The occasion casts the spotlight on books that have been restricted or challenged throughout history.
These books may be censored for any number of reasons, including religious viewpoint, sexuality, racial issues and the broader "unsuitable for age group." Some books receive criticism for even more niche issues. Dr. Seuss' "Hop on Pop" was, for example, criticized for promoting "violence against fathers," according to a book display at Belk Library.
The American Library Association said on their website, "The books featured during Banned Books Week have all been targeted with removal or restrictions in libraries and schools. While books have been and continue to be banned, part of the Banned Books Week celebration is the fact that, in a majority of cases, the books have remained available."
According to the ALA, over 11,300 books have been banned since the Banned Books Week Coalition was formed in 1982. Banned Books Week seeks to incite education and advocacy about the issue of censorship in literature and society and to ensure that literature remain accessible to students and readers despite public criticism.
Since the coalition's formation, libraries, booksellers and book lovers alike have used the last week of September to support freedom of expression and draw attention to the harm of censorship in media and literature, according to the ALA.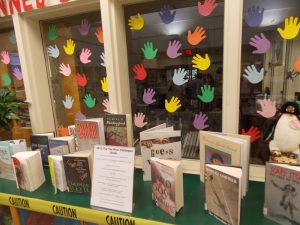 Belk Library put together a display for the event featuring recent and famous challenged books and the reasons behind their controversy, a board encouraging students to write down their favorite banned novels and baskets of free Banned Books Week buttons to spread the word.
"It makes people aware of a library, and how important and vital it is for a community," Kelly McCallister, a distance education librarian at Belk Library, said. She also said that libraries are more than just books but an abundance of resources, and that they are "the heart of the community."
Banned Books Week is like a library holiday, McCallister said. "It's our Christmas, because it gets people excited, it gets people in here, it gets people thinking about it."
One feature of the exhibition was a large bright board asking for titles of passerbys' favorite books. The board was littered with the handwriting of 20-30 students, writing entries including anything from Dr. Seuss' children books to "A Brave New World," by Aldous Huxley.
Watauga County Public Library also had a display to bring awareness to the week. Their display focused on the abundance of young adult and children's literature that was banned or challenged in 2015. The display was decorated with assorted colors of construction paper hands to represent diversity, the theme of the year's display, librarian Amy Jones said.
Jones, who works with the youth desk responsible for the display, said that many authors today write about their values and struggles in youth.
"They didn't have those stories when they were younger to read and find some kind of comfort in, and so now they're writing things so that they can give that voice to those people who went through those things," Jones said.
The display focused on some of the most challenged youth books of 2015, which included many titles about race, gender and sexuality. Jones said the library chose to represent these books and the theme of diversity in their display to express the importance of freedom from censorship in literature, especially as it pertains to the works of marginalized writers.
"Especially for me, someone who will read just about anything, controversial or not, I want to be able to appreciate those forms of art even though they may not be something that people regard as art," Jones said.
Also celebrating the literary holiday was Foggy Pine Books, a bookstore on West King Street. The bookstore was officially opened in May of this year, and is owned by a former Appalachian student and English major, Mary Prewitt. Rather than creating a display of relevant books, Prewitt decided to honor the occasion by hosting an event called "Banned Book Read Aloud" on Sept. 30 at her shop.
That night, Foggy Pine Books became the venue for a reading of five banned and challenged books, all read by people with literary background, including writers and former booksellers. Prewitt said that she felt there was something important about having this literature read aloud, as it makes the controversial passages harder to avoid discussing.
"It is my job [as a bookseller] to spread awareness about Banned Books Week," Prewitt said.
Banned Books Week ran from Sept. 25 through Oct. 1. More about Banned Books Week can be found on its website.
Story by: Ashley Goodman, A&E Reporter