Tommy John Surgery is the most common and one of the most strenuous operations to go through as a baseball player. For App State redshirt junior Matt Brill, a game against Arkansas-Little Rock on March 29, 2015 is when he felt a pop in his right elbow. Brill had torn his UCL, and opted to go under the knife for Tommy John Surgery.
Fast forward two years, and Brill is on the mound facing the Trojans once again. This time, Brill sealed the Mountaineers first road Sun Belt series win ever, throwing four strikeouts and giving up only one hit in the game's final three innings as App made a comeback victory for a 2-1 series win.
Three days later, Brill hit his first homerun of the 2017 season, and went two-for-three at the plate with two RBI's against ETSU, proving that after 19 months of recovery, he is still the same resilient player. But now with a new coaching staff, new teammates, and the new experience of rehab and recovery.
"It was the first injury I have ever really battled and it was really a doozy," Brill said. "It a big turning point in my career and I was pretty devastated. But after doing research, a lot of guys have come back and have been successful. I have been going about it positively with rehab and throwing protocol, and it's just great to be back out there."
Named to the Southern Conference all-freshman team during his first year at App State, Brill made an immediate impact for the Mountaineers. Brill hit for the team's longest hitting streaks during his freshman and sophomore year campaign with a .306 and .277 batting average respectively.
Performing well on the field is nothing new for Brill. Originally from Coal Valley, Illinois, where he grew up as a die-hard Chicago Cubs fan, Brill found a passion in baseball, hoping to follow his grandfather, Lloyd Brill's footsteps as a professional baseball player.
"Baseball has always been a big part of my life," Brill said. "Baseball became living through my grandpa, who passed away last summer, and he has always been a good baseball influence on me. I like to think I am still playing for him."
During his senior year at Moline High School, where current Mountaineer teammate Dallas DeVrieze also attended, Brill's dream to become a professional player became a reality when the New York Mets drafted him in the 24th round of the 2013 MLB Draft.
"It was a really special experience for me to be considered one of the most professional-ready at that level," Brill said. "It was flattering and opened my eyes to how much talent is out there and where I needed to be."
After considering his options, Brill decided that going pro was not the best option at the time for multiple reasons, but also because of his maturity and emotional readiness.
One year prior, former App State baseball head coach Billy Jones took notice of Brill at a legion baseball game in Shelby, North Carolina. Being one of the first schools that took interest in Brill, Brill signed with App State, after deciding to put a potential professional career on hold.
"I came to college and gained tons of valuable lessons that I wouldn't trade for the world," Brill said. "It was special to me, and knowing that a coach really wants you, I bought into that and was excited and thought it would be a good fit for me."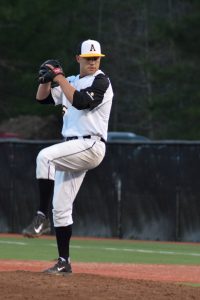 As a freshman, Brill compiled a 15 game hitting streak, and was the Mountaineers' second leading hitter. Brill held over a .400 batting average for a majority of the season before a hitting slump towards the season's end, but became one of the team's leaders.
"He was a go-getter and was always one of the leaders on the team," junior catcher Chandler Seagle said. "Even when I was first here as a freshman, he was one of the guys who just took charge and did all the needed things we had to do, and didn't fool around."
Through his first two seasons at App, Brill worked on the areas of his game that he knew he could improve on, and got the education that he felt was his best option when he did not go pro.
"In coming to college, it shows that education really means a lot to him," Seagle said. "He knew he was good, but wanted to improve on certain areas and this was the best place to do it. The last three years he just comes in and works hard to improve those points everyday."
When Brill suffered the UCL tear towards the end of his sophomore season, he knew he had to find the best option for surgery. Brill found his top choice when he was fortunate enough to be taken in by Dr. James Andrews, known as the best orthopedist in the country. Andrews has treated and completed surgeries for many professional athletes varying from Michael Jordan to Peyton Manning.
"I couldn't have asked for a better situation. I knew I had to have it, and did research and we decided Dr. Andrews was the one to go to," Brill said. "It was a great experience to go down to Florida, and I met a bunch of big leaguers and was able to hear their stories about surgery. I will be forever thankful for him to allow me to continue playing at this level."
During the first summer of Brill's recovery, and before he could even throw his first rehab pitch, Justin Aspegren was hired as the Mountaineers new pitching coach and immediately became tasked with helping Brill through his rehab.
"I think that the relationship probably started off on a stronger foot than it normally would, the injury notwithstanding," Aspegren said. "Matt hadn't even made his first rehab throw yet, and coming in with a pitcher going through a long process, I think it was a pretty strong relationship from the beginning, 'cause now he has to jump into this process, and I'm the one who is going to help him out."
In addition to Aspegran (Aspo), Mountaineer's baseball athletic trainer Christina Biddle took on the responsibilities to help Brill go through the recovery process.
"There has to be a lot of that trust that it will be me and you, and I can't tell you how many mornings it was us two, a catcher and Christina just throwing and working on recovery exercises," Aspo said. "We have to trust each other, and it's not that the relationships didn't come to past in a good manner, but he was forced to trust me from the get go, and I'm responsible to help him with his elbow coming back."
To be successful in recovery, mentality is key. Aspo said that the key for Brill has been his approach to getting back on the field. With a robotic-type recovery work ethic, Brill dove into the process and trusted it.
"He did his process right, but he didn't really have as much variance on the day by day, and didn't have those high peaks and super low valleys where you feel crumby for a week or two weeks," Aspo said. "It was a very consistent approach to his rehab."
A 12-month recovery process is seen as an expedited recovery, and an average recovery time for Tommy John Surgery is anywhere from 14-15 months. From Brill's last pitch in May 2015 to his first bullpen session in August 2016, Brill's recovery was right on time.
"We didn't really ease him back into anything, and that is one of those big psychological humps to get over," Aspo said. "We put him right on that normal catch throw routines and he threw the exact same bullpen volumes as everyone else, and he pitched in our inter squads and we didn't temper any of his work."
Now playing primarily in a set up reliever role and a designated hitter, Brill has adjusted to being more of a pitcher, a position that his coaching staff and him feel will best suit him at the next level.
"He really showed how resilient he is, especially after Tommy John," Seagle said. "For him to come back, and come back stronger than he was, and bumping up his velocity and improving everyday when he got back, that and his mindset shows just what kind of character he has."
As a redshirt junior, Brill has one more eligible year, and would love to have the opportunity again to play professionally.
"I would really love to have another chance to play professionally," Brill said. "I am working hard to make sure we are as good as possible out here, but to play professional ball is my dream and I am working hard to get another opportunity."
Though unexpected, Brill said that he cherishes every moment of the long recovery process that he was forced to go through. But now being back on the field, the three qualities he stuck with throughout his process, continue to be on his side.
"Work ethic, discipline and perseverance. Those are all qualities I needed to embrace and to approach my rehab and recovery process," Brill said. "I had a lot of great support around me. My parents and family have been great. I've been fortunate to have a lot of awesome people and resources provided around me and I'm fortunate to continue playing."
Story By: Jason Huber, Sports Editor 
Photos By: Lindsay Vaughn, Staff Photographer