Behind the canvas: Art Drop Day 2017
The fourth celebration of Art Drop Day at Appalachian State took place on Tuesday. Artists hid their precious pieces of art in various locations on campus, posted a picture or a riddle on the Facebook event page revealing where the art was hidden, and waited as other students searched under benches, tables and even in some bushes trying to uncover the art. The result was insanely fun for both the artists and the art hunters.
Katrina Plato first introduced Art Drop Day to App's campus. She started teaching at App in 2014, and in 2015, Art Drop Day was officially brought to Appalachian State.
"Art Drop Day is a great way for students to experience what it feels like to gift their artwork," Plato said. "It is one thing to make art, but to experience the creation of an art piece is to also experience what it is like to let go of your creation to someone they may not even know. It is collaborative and community-oriented and always people to have a better understanding of the wider community that is art."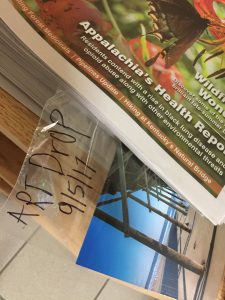 Plato also had one of her freshman seminar classes participate in this year's Art Drop. The seminar revolves around creating art to inspire some form of social change.
"Art Drop feels like a gentle introduction to using art to create social change," Plato said. "I think I want the class to become sensitive to social issues that they are passionate about and to use art to be expressive around the social topic."
Plato said that Art Drop Day has expanded even more than she ever imagined it would, mainly due to the work of Shauna Caldwell, a senior majoring in art education.
Caldwell helped to organize and host the Art Drop this year. She has also hosted several Art Drops in the past, including one this past spring.
"She stepped into the leadership and organization of Art Drop Day," Plato said. "Her heart has inspired so many to create art specifically for this day alone."
Art Drop Day has definitely been a large event around campus. Over 224 people on the Facebook page shared that they were interested in attending and dozens of artists have posted photos of their art's hiding spots. Students could be seen all over campus with their  phones out, eager to find art. Art Drop pieces were found behind rocks, in trees and hidden in plain sight almost everywhere on campus.
Laura Cox, a sophomore studio art major, was one of the artists who dropped their art this year.  
"I hid my piece beside the big sphere sculpture by Sanford Mall," Cox said. "I drew a pastel and charcoal image of the upper part of a girl's shoulder on paper. It was a piece that I worked on for around a half an hour."
Cox said that she was afraid to give up her art. "In a way it was kind of sad but I was also happy to be able to give my work to someone who would enjoy it. It's a weird way to get your name out there, but definitely effective," Cox said.
Lizzie Lowery, a freshman commercial photography major, picked up a piece of art before it was even posted on the Facebook page.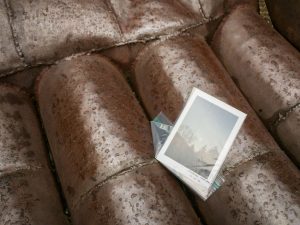 "I saw the art on the hand sculpture right outside Plemmons Student Union. I thought someone else was picking it up so I raced up five flights of stairs to get it," Lowery said.
Art Drop not only has a profound effect on the students looking for art, but also on the quality of the art being produced.
"Knowing that someone will now have my art and potentially hang it up or use it has made me try harder on the pieces I dropped," Caroline Gorman, a freshman communications major, said. "I have never given up my own art and knowing someone else will enjoy it is a great feeling and makes me want to become a better artist."
Story By: Amber Grant, Intern A&E Reporter
Photos By: Halle Keighton, Photo Editor