Benefit concert raises money for Alzheimer's, dementia awareness
Caitlin Windsor's father passed away from early-onset frontotemporal lobe dementia in December 2016. He was 57 years old.
Windsor, a senior exercise science major, along with co-coordinator Rachel Keane, a junior fermentation sciences major, held the ALZ You Need Is Love: Benefit Concert at Lost Province on Thursday. The concert raised money for the Alzheimer's Association and Dementia Society of America.
The concert featured Treble Attraction, Enharmonix, Meet Me at Two, Modern Vintage and several other local musicians.
Windsor noticed that there was not a club on campus advocating for Alzheimer's awareness, but knew she was graduating soon and didn't feel she had time to start a club. Instead, Windsor said she wanted to host a fundraiser.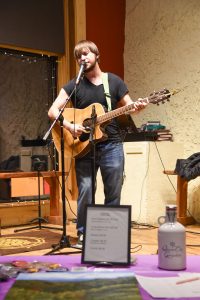 "It's a bigger deal than what people think," Windsor said. Alzheimer's has no cure and no survivors, so awareness is important, Windsor said.
She wanted to make sure the fundraiser was something that her friends would enjoy, with food, drinks and a casual atmosphere.
Lauren Small, Enharmonix president and junior public relations major, said that it was rewarding to perform for a crowd that showed support in finding a cure for Alzheimer's and dementia.
Restaurant-goers left their tables, wine glasses in hand, to sing along and get closer to the performers on stage.
Although the benefit concert's main goal was to raise money, Windsor ultimately wanted the event to feel like she was hanging out with her friends.
Jennifer Galanti, senior exercise major and a friend of Caitlin's for many years, said that the variety of the performers made the night enjoyable and unique.
Bands, duets, solo acts and a capella groups performed songs from the 1970s, 1980s and current pop songs throughout the night.
Four attendees wearing purple ALZ You Need Is Love shirts gathered at the bar next to the stage with Stickboy cookies, a donation jar and more purple T-shirts. Queen City Growlers handcrafted a growler, a beer pitcher, specially for the event.
All of the money raised from merchandise sales went to the Alzheimer's Association and Dementia Society of America as well.
A couple from Boston walked up to the donation jar, where Windsor was sitting with friends, and said that they had a family member recently pass away with dementia. The couple had no prior knowledge that Lost Province would host the benefit concert on Thursday, but they happened to eat dinner there and said they had to donate.
ALZ You Need Is Love raised about $1,200, Windsor said.
In addition, Windsor has a GoFundMe page for the Alzheimer's Association and Dementia Society of America, which has raised $810 of her $2,000 goal.
Story By: Sydney Wolford, A&E Reporter
Photos By: Halle Keighton, Photo Editor
Featured image: Lost Province Brewing Co. busy with people on Thursday, Nov. 2 during the App State Alzheimer's Benefit Concert. The event included live music, an auction to raise money and a portion of every meal sold was donated to the Alzheimer's Association.