Best of Boone 2023: Best of App State Campus Life
Aaron Barlow, Kayla Masterman, Courtney Quinton, Leah Boone, Julia Woodring, Thomas Turner, Nadine Jallal, Kaitlyn Kitchen, Jenna Guzman, Aubrey Smith, Madalyn Edwards, and Ashton Woodruff
April 4, 2023
Best Side of Campus:
By Aaron Barlow
After a long day of classes, a student enters one of the expression tunnels beneath Rivers Street. When they exit, they are welcomed by a familiar sound: quack. A few quacks, in fact. The student smiles, knowing they are home. This is a common experience for the West Campus resident.
For a second year in a row, the west side has been voted the better half of campus. West side has seen an influx of new residence halls in recent years, creating a modern atmosphere on a historic campus.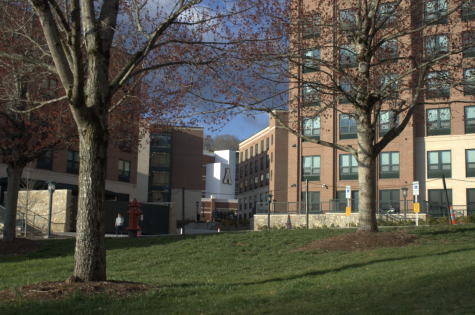 Jackson Varner is a freshman and resident of New River, the newest residence hall. He said that west side has the "coolest dorms" and there is "absolutely no competition" between west side and east side.
Another bonus to West Campus is its tranquility.
"At Sanford, with how busy it gets, it sometimes can be hard to go out and really relax," said freshman Keeley Parton. "On west side it's a little more secluded, but you're still able to come out to the quad area, hang up your hammocks and hang out."
Despite the quietness, there is much to do on the west side.
If you're hungry, go to Park Place at the Pond. You'll be served "homestyle favorites fused with metropolitan flavors," according to the Campus Dining website. Alternatively, you can buy groceries at Trivette Hall Market.
If you're in the mood for a performance, the Schaefer Center for the Performing Arts is sure to delight. If there isn't a show right when you want it, just take a stroll next door to Broyhill Music Center. Wait outside long enough and you're bound to hear a talented student practicing.
The Student Recreation Center gives access to an Olympic-size swimming pool, 50 foot tall climbing wall, indoor track, various courts and more. The Quinn Recreation Center is modest in comparison, but still likely to meet your exercise needs.
For basketball and volleyball fans, there is the Holmes Convocation Center. For softball fans, there is the Sywassink/Lloyd Family Stadium. For baseball fans, there is the Jim and Bettie Smith Stadium.
The quietness of the west side disappears on football game days, when Kidd Brewer Stadium explodes with activity. The tailgates are endless and the energy is electric.
At the center of the west side sits the iconic duck pond. Lauren Sande, a senior sustainable development and former resident of the now demolished Gardner Hall, still comes here to relax.
"I like to sit around here; it's just really, really calm," Sande said. "We have Higher Grounds Coffee. Trivette's right there. I get to sit with ducks."
Best Residence Hall: Thunder Hill
By Kayla Masterman
Entering the inviting lobby in Thunder Hill after a long, hard day of classes and a chilly walk up Stadium Drive provides residents with serenity and relaxation.
Located across the street from Kidd Brewer Stadium, living at Thunder Hill makes for fun game days and a short walk to The Rock. 
Thunder Hill has suite-style and apartment-style rooms and a convenient on-campus location.
"I really enjoy having a suite style dorm, and how spacious it feels. After a long day of classes my room feels very comforting and I find it enjoyable to relax in," said Abigail Bonser, a sophomore public relations major and resident. 
There is full-time access to the kitchen, study rooms and common living areas equipped with TVs that residents enjoy 24/7. 
"My personal favorite amenity of living in Thunder Hill is the availability of a big study room," Bonser said.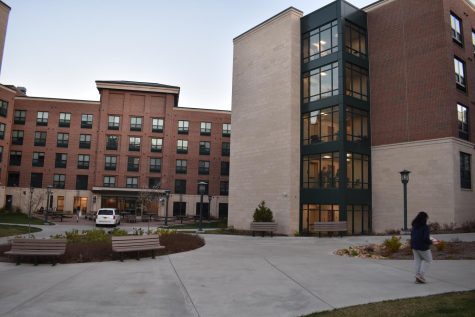 In addition to its proximity to the football stadium, Thunder Hill is close to parking lots such as the New River Hall Lot, Rivers Street Parking Deck and the Stadium Parking Deck. 
Thunder Hill is also close to Trivette Hall, home to Park Place at the Pond. Trivette is also equipped with a market that includes fresh produce and pharmacy store products.
"I also enjoy how close we are to Trivette as it is very convenient, especially having the market so close," Bonser said. 
Residents said the community aspect Thunder Hill obtains makes for a pleasant living environment. 
"I feel like overall, the residents are pretty respectful, toward each other and staff as well," Bonser said. 
Being a fairly new building, Thunder Hill has a fresh new modernized look. 
"Another cool thing is the decorations in the lobby and the detailing throughout the building," Bonser said. 
The residence hall was opened to App State students in August 2020 and has been enjoyed by students ever since. Thunder Hill can accommodate 573 residents. 
Students have access to a laundry facility located in the lobby, accompanied by vending machines in the hallway. Wireless internet access is available alongside air conditioning and heating. 
The lobby also houses a computer monitor and printing that residents are welcome to use. 
In the rooms in Thunder Hill, an XL twin mattress is provided with an adjustable bed stand. Some students prefer a low rise bed, while others like their bed to be high up where you can touch the ceiling.
The main card entry at the front door is open and available 24 hours a day, seven days a week. 
Best On-Campus Dining: Cascades
By Courtney Quinton
Fruit smoothies, sandwiches and warm biscuits entice students and faculty to enter Cascades everyday, located conveniently inside Plemmons Student Union. The location is ideal for those on east side who do not always feel like walking to Roess Dining Hall or Trivette Hall. Cascades is open 7:30 a.m.-4 p.m. Monday through Friday. The food and drinks Cascades offers imitate a cafeteria, making it an accessible and healthy food option on east side.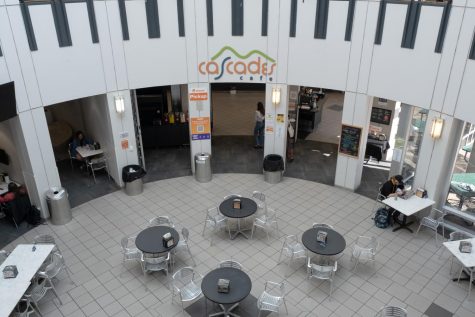 Cascades has a menu serving all types of students' diets, including yogurt and juice-based smoothies that have an added protein or vitamin C option. A create-your-own sandwich station is a popular stop for lunch for not only students but staff as well. From rye bread to white bread, turkey to ham and lettuce to tomatoes, the options are endless. The student union is a place where students and staff regularly visit, which contributes to its popularity along with its long list of desirable foods and drinks. 
Cascades is open for everyone on campus including students, professors, professional staff, tour groups and everyone in between. Between location, create-your-own sandwiches, creative smoothies, waffles and more, Cascades is the go-to on campus for all types of appetites. 
In 2022, Cascades opened back up after over a year-long staff shortage. After the reopening of Cascades, the presence of life was booming. 
Cascades opening at 7:30 a.m. allows students to get food or drinks even before the earliest classes begin at 8 a.m.
Cascades has full-time staff as well as many student employees. Many students depend on Cascades daily and that is thanks to those student employees and full-time staff.
"I chose Cascades because I like the environment and the food that they serve," said Ashlynn Swanson, a sophomore public health major.
She continued discussing more food options.
"The smoothies are really good and super healthy, my go-to is the Merry Mango," Swanson said.
The environment of Cascades is discussed across campus; the music and livelihood of the staff ensures you have a pleasant experience.
The smoothies at Cascades seems to be its most enticing feature, along with the food they serve. A smoothie is the perfect blend to a successful meal and it seems to be the reason Cascades is the favorite.
Best On-Campus Coffee: Crossroads Coffee House
By Leah Boone
Three people rush to the counter to collect their beverages as the next orders are called out. 
"Iced white mocha. Raspberry matcha. Split smoothie."
A table of faculty members discuss their class sizes while at the next table over, a student studies for her midterm. A calming playlist soothes the customer's ears through the speakers as each individual and group goes about their lives in one common area: Crossroads Coffee House. 
Crossroads Coffee House offers a variety of coffees, teas, smoothies and other beverages, alongside freshly baked Stick Boy pastries and other grab-and-go foods. 
Throughout each weekday, one can expect to find almost all tables filled with students, faculty and staff, as well as long lines of customers waiting to order.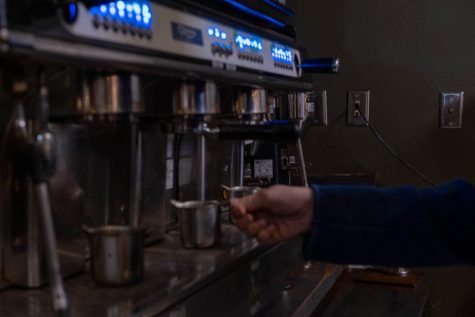 Open from 7:30 a.m.-9 p.m. Monday through Thursday and 7:30 a.m.-4 p.m. Friday, Crossroads is located in Plemmons Student Union. The coffee shop is a hub for catching up with friends, doing homework or hanging out during a break. One of the most popular parts of the coffee shop is the large assortment of music always playing. 
"Baristas are on aux. We come in and we barter with each other, and we're like 'Can I have it in, like, an hour?' and then we play as long as we want," said Unique Perez, a senior barista majoring in social work.
The coffeehouse aims to create an environment suitable for everyone who comes in, and the first step to accomplishing this is the musical variety. 
"We actually kind of have a joke that sometimes it's, like, 'Crossroads the Coffee Shop' and sometimes it's 'Club Crossroads,' because depending on who's on aux and, like, the vibes of the day," Perez said. 
The range of music playing also has an effect on what people are doing while there. 
"I do not think it provides a good study environment because the music is loud. I think it's a fun place to hang out with your friends over studying," said Bella Tahsler, a first year elementary education major.
During high-stress weeks such as midterms and finals, however, Crossroads tends to have more calming and quiet music playing in order to create a more serene environment. 
The coffee house also has an abundance of different drinks, including specialty beverages that are concocted by the staff. 
"We literally are behind the counter and we just talk to each other, and we're like, 'Okay, what's the theme that we're trying to go for? What have we not used in a while?' and we just bounce ideas off of each other," Perez said. 
With Crossroads having an array of meals, beverages and snacks, it has something for everyone. As the end of the spring semester approaches, the three-years-running winner of Best On-Campus Coffee is sure to be a popular location.
Best Place to Study: Belk Library and Information Commons
By Julia Woodring
Dusty tomes are stacked high on shelves, and archives sit piled up and tucked away in the special collections room; you could get lost in the rich catalog of texts here. However, most students prefer to crowd around tables in group study rooms or curl up in cushioned chairs, typing out long essays on their laptops. 
Belk Library and Information Commons is App State's hub for research, technology and, of course, studying.
The services Belk Library offers to students make up an extensive list on the library's website; a few of the most notable services include online databases of e-books and scholarly journals, print zones, technology checkout and research assistance.
What makes the library a prime study location is the diversity of environments.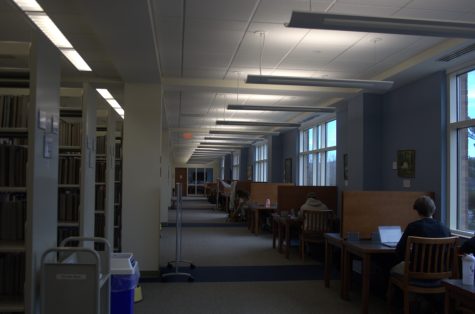 The first floor contains many computers, some open to the public and some only for student access. One corner is dedicated to printing, another corner holds seating and a small selection of browsing books and the front desk is in the middle. 
The front desk is where Brenna Mcnamara, a junior psychology major and student library assistant, works a few days a week. 
Mcnamara has worked at Belk Library for a year and a half. She enjoys the flexible schedule and the fact that it's on campus. Mcnamara sits at the front desk waiting for students to come up and ask questions, occasionally helping them find a book.
She said she sees many of the same people come in day after day. 
"They walk in and they go to the second or third floor, then they stay for a good amount of time," Mcnamara said. 
The second and third floors are always home to students studying, so much so that it may be hard to find an empty seat at peak hours of the day. These levels are for those looking to avoid the constant traffic and noise on the first floor while still studying in the company of others.
The second floor holds a large selection of academic books and many tables, chairs and group study rooms. The third floor is often referred to as being for quiet study. Students there are cocooned in their own cubicle-like sections and will not hesitate to hush those who dare to speak.
Madison Hay, a sophomore special education major, and Jordyn Trimberger, a freshman elementary education major, said they spend about six to eight hours a week studying in Belk Library, mostly on the second floor and prefer to do so with friends.
Hay said the rocking chairs are a reason why the library is a staple in their study routine.
Trimberger, on the other hand, said, "I like to hear people chit-chatting, it helps me focus."
Some students choose to study on the less popular floors. The lower-level, or the Instructional Materials Center, may be most attractive to education majors. The fourth floor, home to the archives, is for those who want to escape the hustle and bustle of the rest of the library.
Best Elective: Skiing
By Thomas Turner
It's 11 a.m. on a Tuesday as senior digital marketing major Grant White steps onto the bus, 30 degrees Fahrenheit air biting at his exposed hands and face. 
As he and his fellow classmates ride further up the mountain, he looks outside to see not only the condensation forming on the glass windows, but also the distant image of the top of Black Diamond Ski Run.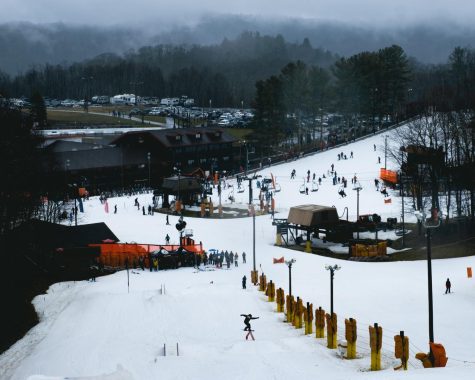 As the bus comes to a stop and the doors open to the below-freezing weather, White realizes that, despite the daunting slope lying before him, he has learned everything he needs to succeed. As he pushes off, he experiences something that very few college students around the country can say they've done: skiing down the mountains of Appalachia.
Voted by the Boone community as the best elective course offered at App State, the skiing course offers an experience unique to the Boone area: learning a new activity and getting college credit for it.
"If you look at the schedule of physical education courses offered here at App, the ones that always fill up the fastest are ones like hiking, backpacking, kayaking, canoeing, fly fishing, skiing and snowboarding; things that you can't really do anywhere else … because this may be the only time in their life that they could have the chance to do these kinds of things," said Edgar Peck, director of the physical education activity program at App State and one of the skiing course instructors. 
While Peck manages the classroom aspects of the skiing course, the actual skiing practice is handled by the French-Swiss Ski College in Blowing Rock, which works with several universities in this area of the country, offering skiing lessons to college students interested in the activity.
Over the course of six weeks, students are grouped together and trained by experienced instructors to learn skiing at their own pace, allowing for anyone to tackle the task of speeding down a snowy slope. 
Starting with the beginner green slope, students learn the ins and outs of skiing in a controlled environment before moving on to the blue slope, where beginner students can test what they've learned. Once students have mastered skiing, they will be able to try the most difficult slope offered in the course: the black diamond ski run.
"I could take a yoga PE course or a weightlifting PE class at any university, but not many colleges offer the chance to receive class credit for an activity that so many people travel to Boone to do anyways," said White, a student who took the skiing course last semester. "That's why it's so special, because it's unique to Boone and App State."
Best Fitness Class: Twerk N' Tone
By Nadine Jallal
Anticipation, shy smiles and light chatter fill the Quinn Recreation Center aerobic floor as junior dance studies major Christian Canastuj queues up his playlist to begin the latest hit fitness class on campus. 
"Repeat after me: We are kings. We are queens. We are icons," says instructor Canastuj as soon as the clock hits 8:30 p.m., kicking the class into full gear.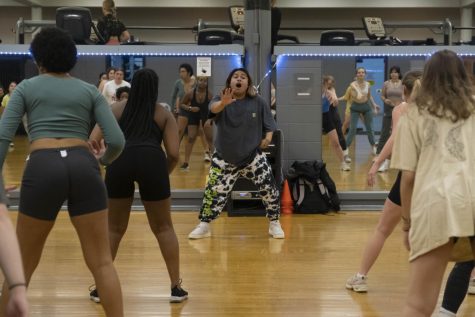 University Recreation hosts a large number of fitness classes on campus, including Canastuj's Twerk n' Tone. With two evening classes a week, Tuesdays at 8:30 p.m. and Wednesdays at 8 p.m., University Recreation's website says Twerk n' Tone "combines afro-beat, latin and club-like moves such as twerking, with Cardio Dance and Zumba styles in order to create an immersive, fitness experience."
Canastuj was passed down the fitness class in spring 2022, now going on his third semester teaching it. Canastuj stumbled upon the class as a participant when the former instructor handed him the reins after graduating. 
"I didn't want it to die because it had definitely been a safe space for me not only as a dance outlet but also a fitness outlet," he said.
 Canastuj kept some choreography from previous instructors, but has since added more songs and original choreography to his setlist. 
Now, the class has many regulars and also sees several new faces every week. 
"I love the energy of not only Christian, but the people," said regular participant Alysa Lujan, a junior communication science and disorders major. "This is stuff I do on my own time, I dance in my own room, so getting to come out here, have fun and get a workout in is the best."
Canastuj recognizes that the class may seem intimidating. 
"You don't need to know how to dance. You don't even have to know how to twerk. Just come have fun, you won't be judged," Canastuj said.
For those nervous about joining the class, Canastuj said, "the support system is already there. I will always hype my participants up." 
The class is meant to spread positivity and encourage fitness in a fun way. Canastuj said he wants "to spread self love, enthusiasm and pride."
Canastuj will continue to teach the class in the next academic year and looks forward to it, seeing how much attention his class has received this semester.
 "It's grown so much this semester, everybody is talking about it," Canastuj said. "I'm really happy."
Best Place to Hammock: Sanford Mall
By Kaitlyn Kitchen
Dreary, winter days and inches of thick, fluffy snow cover Boone during the wintertime. Unless, of course, it is a warm casual day in the middle of February. Students all gather in one place, like moths to a flame, on beautiful days such as these. Where are these students gathering? On Sanford Mall. 
Sanford Mall hosts a large, grassy area for students to do homework, play games, host events and more. However, the most relaxing part of Sanford Mall is certainly the trees on which students can hang their hammocks.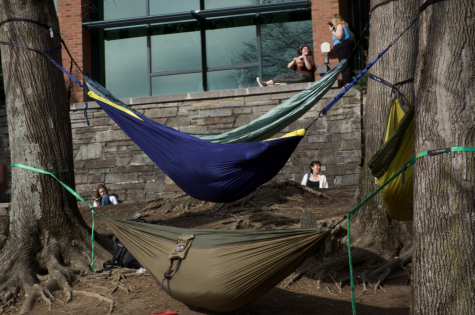 There are trees surrounding Sanford Mall, however, the most commonly used trees to hammock on are central to the mall. On any given sunny day, there are students relaxing outdoors. That is where students choose to spend their days. 
Getting to hammock on one of these trees can be a task, as there are only a few spots with many interested students. Although it may be intimidating, it is certainly worth a shot to hammock on the mall.
"I hammock as a way to relieve stress and also people watch," said Mary Momsen, a first year East Asian linguistics studies major. 
Sanford Mall is the central hub of student activity on the campus. 
"The best part of hammocking on the mall is getting to see so many people," said Hailey Bonczek, a first year international business major. 
People watching is an excellent activity to do at this location. Hundreds of people cross through Sanford Mall to get to their classes daily and many people can be seen having fun on any given sunny day. Student-run organizations are often hosting events here as well. 
Hammocking has become a part of App State culture. 
In addition to all of the activity and people, one can enjoy the views of Boone from Sanford Mall. One can see mountains, trees, the football field and academic buildings all within one spot of viewing. 
"I like hammocking on the mall because of the scenery. You can watch people playing sports on the field, you can see the mountains and other wilderness," Momsen said. 
Sanford Mall is the place to be when the weather is favorable. Whether you want to do homework, pet someone's dog, play hacky sack or of course, hammock, Sanford Mall is the place to do it.
Best Professor: Volha Kananovich
By Jenna Guzman
Coming into App State as a digital journalism major, there is a high chance you will encounter journalism professor Volha Kananovich.
Whether this is one's first or fourth class with her, one can expect multiple projects and tutorials, class discussions, feedback and guidance when one signs up for a class with Kananovich, as she leads her students as this year's best professor.
Originally from Belarus, Kananovich moved to the U.S. to complete her masters degree in journalism and for her doctorate in mass communication at the University of Iowa. Since then, she has been teaching at App State for four years.
"I'm really happy that this is the place where I am now, where I can be, where I can teach," Kananovich said.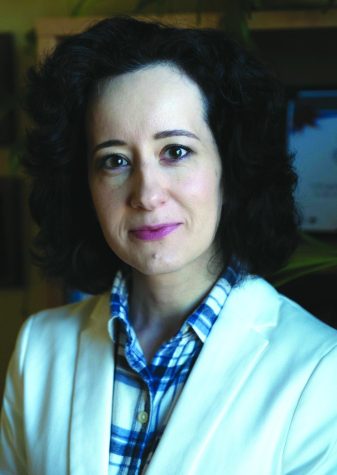 Kananovich teaches numerous classes within the communication department such as Journalism Matters, News Reporting and Writing, Data Journalism and Multimedia Storytelling.
"I feel that I'm lucky to be teaching classes that put into our students hands some of the really much needed skills that help them succeed," Kananovich said. 
Kananovich said her love of teaching started at a young age without her even realizing it. At about 5 or 6 years old, she and her sister would line up their stuffed animals and pretend to teach them. From there, the rest is history.
"I feel that it's really a dream come true without me realizing that this was actually my dream," Kananovich said.  
Before teaching, she worked in different organizations such as the Eurasia Foundation, serving in different roles such as a journalist, a communication officer, an assistant editor and more.
"There was a lot of communication work that I was happy to leverage and draw from when I came to the U.S.," Kananovich said.  
Being born in Belarus, Kananovich said the reason for her getting into journalism had to do with her being born in the then-Soviet nation.
"I could see firsthand how journalism can be used to shape some narratives about social and political lives," Kananovich said. "It made me very sensitive about the constructed nature of it and also about the importance of it for democracy."
Before journalism, she went to school for economics. However, after the fall of the Soviet Union she realized "how much journalism matters in society" which is what got her interested in the field.
Kananovich said based on feedback and evaluations left by her students, students in her class end up with a "better understanding of how things work in journalism, in storytelling."
"I want my students to be confident in their ability to make sense of the world in a more comprehensive way," Kananovich said. "And know that they can translate their passion, commitment, their interests into work that is meaningful, that is professional, that will eventually help them succeed in the professional world."
Kananovich said she is "honored" to work alongside her colleagues and is "really, really, really touched" to be recognized as best professor for this year.
Best Department: Department of Communication
By Aubrey Smith
At any given time, there's an array of students stretched across patches of green grass in front of Walker Hall. Some sit in groups practicing interviewing exercises, eager to write the most compelling story about their classmate. Others gather around cameras collecting B-roll for a video story or huddle together to create an advertising campaign for a fictional client.
These are all students of the Department of Communication — a division of App State that, according to the department's website, is the culmination of "all facets of contemporary communication." 
From training public relations professionals to broadcast journalists, the department offers five majors that cover all the bases in the communication field: advertising, communication studies, digital journalism, electronic media/broadcasting and public relations. 
With advertising, students choose to either concentrate in strategic or creative advertising, which equips students with an "industry specific professional portfolio," according to the department's website.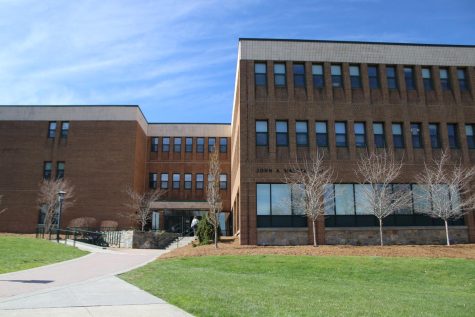 A degree in public relations prepares students with experience in research, writing, critical thinking, ethics, graphic design and more. Communication studies "prepares students to enter many different professions" and teaches students about various communication theories. 
The digital journalism major prepares aspiring journalists with the basics of interviewing, reporting and writing a range of stories, from features to breaking news. 
Electronic media/broadcasting provides students with "hands-on experience in all aspects of the digital storytelling process," according to the department's website. 
The department also houses a range of student-run clubs and organizations, which are open to students regardless of major. You can become a member of App State's advertising agency, Second Story Media; submit poetry, prose or other literary works to the literary arts publication, The Peel; DJ at 90.5 WASU-FM; or tell stories on AppTV or for The Appalachian. 
Scott Welsh, chair and associate professor in the Department of Communication, wrote that he is "especially proud" of how the department teaches students to "think very deeply about practical things."
"I like that students can study the history and philosophy of communication on the same day that they practice skills that will help them get their first job," Welsh wrote.
Department of Communication students have landed internships at places such as Bank of America, WBTV Charlotte, SiriusXM Satellite Radio, Country Music Television and more. Notable alumni range from Carolina Panthers interim coaches to Miss North Carolina winners. With communication being a top skill employers seek in job candidates, the department has plenty of opportunities to broaden and hone in on those skills. 
"There are lots of different ways to major in communication and succeed as a student." Welsh wrote. "Every organization needs graduates with the ability to think carefully and communicate effectively."
Next time you've got a vacant spot in your schedule, consider taking Thinking Through Communication for an introduction on all things communication, Public Speaking to expand on those verbal communication skills or Intercultural Communication to learn more about multicultural communication practices.
Best Student Business: Honest Jewelers
By Madalyn Edwards
When she was seven years old, the owner of Honest Jewelers went to Doc's Rocks Gem Mine in Blowing Rock and was immediately transfixed by a variety of gemstones.
Savanna Bradford, a senior business management major at App State, said she began researching gemstones at a young age, increasing her interest in them and starting her own gemstone business.
"My friends were reading 'Magic Tree House' and 'Harry Potter,' I was reading gemstone classification manuals," Bradford said.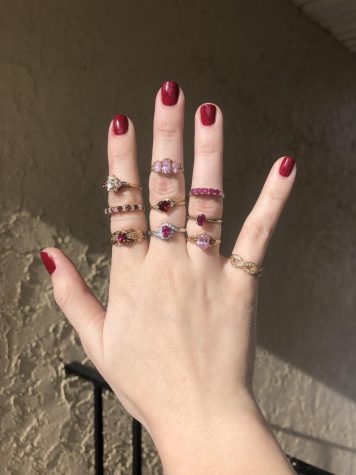 She started collecting gemstones and minerals and would bring them to school to show her friends.
"I remember back in elementary and middle school when I had show-and-tell I would bring my rocks and do a different rock each week," she said.
Before transferring to App State, she started working for a jewelry company in Raleigh. What she found was an industry she described as "corrupt" and full of "price gouging."
"They're making all this beautiful stuff unattainable for most of the population," she said. "I don't think it needs to be that way." 
Bradford said she believed the gemstone industry needed to change. During the pandemic, she started Honest Jewelers.
She started to search for pieces of jewelry needing restoration from sources such as pawn shops and estate sales. She would then mix and match gemstones, some of which come from her collection that has grown over the years, making new pieces.
"I replace the stones, fix the bands, spend a long time cleaning them up and do my research so I can give them a rough estimated appraised value, and charge around a quarter of that," she said.
Bradford said she sells her jewelry at a fraction of the appraised value because she believes everybody deserves to enjoy such products.
"Regardless of how much money they make, regardless of where they're from, regardless of how much they know about jewelry and the stones that are in it, they deserve to be able to appreciate these beautiful things," she said. "Honesty comes back to you."
Bradford's father invested in her business when she initially started it, saying he is her biggest supporter.
"He's always there to help," Bradford said.
She said the process of creating new pieces is lengthy and she spends many hours of the week traveling throughout North Carolina and to different states in search of jewelry and gemstones.
Currently, Bradford is working toward becoming a certified gemologist through the International Gemstone Society. She is also writing a gemstone pricing guide and hopes to work full-time through her business.
Bradford primarily sells her pieces on King Street located between Boone Town Hall and Doe Ridge Pottery.
She also sells pieces at vintage markets, online on her Instagram and on her website.
Best Club: Reformed University Fellowship (RUF)
By Ashton Woodruff
"There's no pressure to be anybody but yourself."
Senior Reformed University Fellowship member, Moriah Heffner, credits the "open-minded" community as the main reason why she continues to come back to RUF each week. For many students, the group is a place of community, friendship, worship, learning and open discussions. 
RUF is an App State ministry for any student that wants to explore more about Christianity, no matter what their religious affiliation is, according to their website. 
The group meets on a weekly basis in the Grandfather Ballroom on the first floor in Plemmons Student Union. These Large Group meetings consist of worship, weekly raffle, student testimonials, a sermon and a closing song. Led by campus pastor Rob Herron, one of the main missions of the group is to welcome students of all ages, demographics and religions, according to their App State website.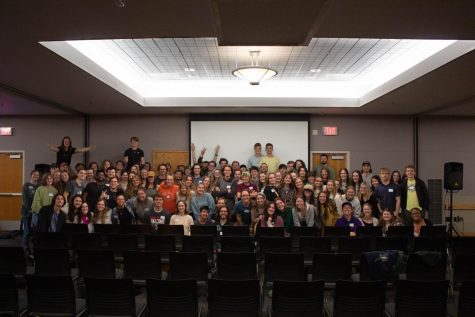 "Rob, the campus pastor, is amazing," said junior exercise science major Riley Carlson. He said Herron is "a great leader," and someone he "can look up to." Through the organization, Carlson also said he has found a Christian community he "can lean on." 
The organization is composed of students with a wide range of backgrounds, driven by everyone's eagerness to learn, help others, build relationships and develop a community that is inclusive and supportive. 
In addition to their weekly meetings, Small Groups are held on a weekly basis for students who wish to participate in further discussion and fellowship. Small Groups are student led and aim to create an environment that encourages questions and a safe space for conversation, said junior languages, literatures & cultures major and group leader Josh Hickey.
RUF is a national organization that hosts yearly events like their summer conference, which this year, is taking place in Panama City Beach, Florida. Members of RUF around the country come together for a week of "fun, deepening relationships and biblical teaching on relevant, important topics for faith and life," according to their website. 
Other activities the organization participates in include occasional free spaghetti dinner nights before large group meetings, pick-up soccer games, group prayer opportunities and formal dances. They also aim to help the community through volunteering with App Builds a Home and hosting a canned food drive competition for the Hunger and Health Coalition. 
Freshman music industry studies major, Jacob Tolar, spoke on his experience as a first year, and how this group of organization and people have gifted him with "some of the highest highs, and some of the greatest times he's had." 
Tolar said that while at college he has also had "some of the lowest times I've felt most alone." Though Tolar has had his share of struggles, he encourages others by reminding them that they're not alone, and that "there are plenty of people that are wanting to walk alongside you." 
As humans, we're wired to want to connect with others, and most of us don't enjoy being alone. For many students, college can be a difficult place to make friends and meet new people, but organizations like RUF say they want to facilitate an environment where people can connect on both a social and spiritual level.