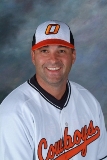 Jones
Billy Jones, the current recruiting coordinator at Oklahoma State, has been named head coach of the Appalachian State University baseball team, Athletics Director Charlie Cobb announced Friday.
"I'm excited to have Billy Jones on board to lead our baseball program," Cobb said. "His reputation as one of the nation's top recruiters is well-known throughout baseball circles and his experience in identifying top-notch student athletes nationwide, but particularly in the state of North Carolina and the southeast, makes him a great fit for Appalachian State."
Jones is an 18-year coaching veteran who also helped lead teams at N.C. State, Arizona State, Oregon State and Green River Community College.
"I look forward to the challenge of taking this program to the next level," Jones said at a media teleconference Friday. "I am fortunate and lucky to take on this challenge."
At Oklahoma State, Jones contributed to eight straight winning seasons, six NCAA Regional appearances, an NCAA Super Regional and a Big 12 Tournament Championship, according to a news release from Sports Information
At N.C. State, Jones brought in 21 players who would later be selected in the MLB Draft and six who would earn recognition as All-Americans, according to the release.
N.C. State's current head coach, Elliot Avent, said Jones's "contagious energy and love for baseball" made him a good fit for Appalachian.
"His passion will have an immediate impact on recruiting in the talent-rich state of North Carolina," Coach Avent said.
In mid-June, former ASU head coach Chris Pollard announced he had accepted a position as head coach at Duke.
Pollard had led the 2011-12 team to the best season in program history, with several big-name wins, a 41-18 overall record and a SoCon championship.
At the media conference Friday, Cobb said Pollard's departure left Appalachian with a "big hole to fill," but he was confident Jones was ready for the job.
"He's a great person, a great family guy," Cobb said. "He's a players' coach. It's a great match."
Story: MEGHAN FRICK, Social Media Manager