Blackburn Community Outreach is focusing this year on redefining what it means to be blessed, through growing and giving organically grown fruits and vegetables in the Todd community.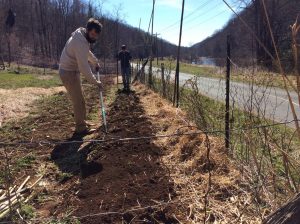 What started as just a place for members of the Blackburn Chapel to grow their own food has become an outlet for those experiencing food insecurity in the High Country to receive healthy produce free of charge.
The garden has been operating and expanding for years. Garden coordinator Matt Gundlach moved to Todd in 2014 to help work on the community gardens, and has since helped create the Blackburn Community Outreach to oversee the gardens and Blackburn's multiple programs.
"We're expanding everything we do with Blackburn Community Outreach and the chapel is constantly widening the circle of blessing and what it means to be included in that," Gundlach said.
The organization has two community gardens. One grows vegetables like cabbages, lettuce, beans and peppers, while the second one has a more diverse arrangement of crops, like tomatoes, flowers and herbs.
During last year's growing season, Blackburn Community Outreach grew 1,730 pounds of food, 880 pounds of which was donated through the organization's different programs.
One of those programs is the Green Valley Program. Blackburn Community Outreach works with Green Valley Elementary School in Watauga County to provide students and families enrolled in free or reduced lunch programs to receive food during the eight weeks of summer. Last year, 500 pounds of food was donated to Green Valley.
Blackburn also donates to food pantries and shelters in the high country, including Casting Bread in Blowing Rock, Hunger and Health Coalition and Hospitality House in Boone, and the Ashe Sharing Center.
What produce that isn't donated is given to interns, volunteers, and employees of Blackburn, as well as members of the chapel.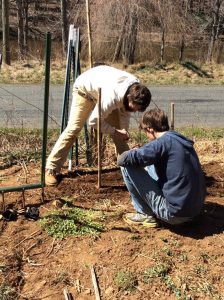 In addition to service, education is also a goal for the organization. Blackburn Community Outreach provides an educational experience for those interested in agriculture to volunteer their time to its community gardens.
The chapel transformed its vacant parsonage into the Blackburn House program, which allows four residents to live in the parsonage for a year and provide services for the chapel and community, which includes working in the gardens.
Blackburn Community Outreach also has internships, apprenticeships and volunteering opportunities.
"A farm internship was really formational in my life," Gundlach said. "It's been my goal to make the strongest intern and apprenticeship program possible, where it's really a full experience where people have an experience of personal growth, of spiritual connection to the land, and that we're fully invested in them."
Volunteers can work in the gardens on the fourth Saturday of each month, and are assigned larger group tasks like weeding and planting. Interns and apprentices get a more hands-on learning experience, but volunteers also have the opportunity to attend workshops and workdays to learn skills and tips for gardening.
Interns and apprentices work in the gardens multiple times a week, and get a deeper education on how to effectively own and operate a garden. Lee Dees, the garden's youth apprentice, said that while interns and apprentices do the same work as volunteers, it is a bigger time commitment because they work throughout the growing season rather than just once a month.
For this growing season, Gundlach is focused on growing a wider variety of fruits and vegetables by creating an orchard and implementing a full permaculture design on the property, as well as starting the first phase of Blackburn's newest program, the Listening Project.
The Listening Project has three phases, Gundlach said. The first phase, which will begin this year, is creating a mobile market where Blackburn will be selling its produce for the first time. The goal of phase two will be to obtain a food truck that operate on a pay as you can basis, similar to F.A.R.M. Cafe. The third phase is to create a gathering space in Todd for the community to eat together.
The inspiration for this project stemmed out of the community's desire for a meeting space, Gundlach said. A survey of 115 Todd residents found that 62 percent of community members want to see an additional venue providing food and fellowship.
"We're starting something and it's a place where we can catalyze what's missing now in literal, physical place, we're trying to recreate the essence of that. The table, where people can come," Gundlach said. "We want it to be affordable and accessible but also healthy and quality, and ultimately we're hoping that it is a catalyst for economic development here."
It has been Gundlach's goal to use the community gardens and programs to redefine what it means to be blessed. This year, Gundlach renamed the gardens to Beatitudes, for Jesus's list of blessings given in his sermon on the mount in the Bible.
Gundlach said that people are blessed when they take care of the land, and when they bless others by more than just giving.
"Too often when we give, when we try to 'bless others,' food pantries are filled with canned goods, with processed foods," Gundlach said. "What if we when we give, we give the best, and in my opinion the best is organically grown, natural food from healthy soil. That's what we're trying to give."
Story by: Aleah Warner, Managing Editor and Haley Shelton, A&E Reporter
Photos by: Haley Shelton, A&E Reporter