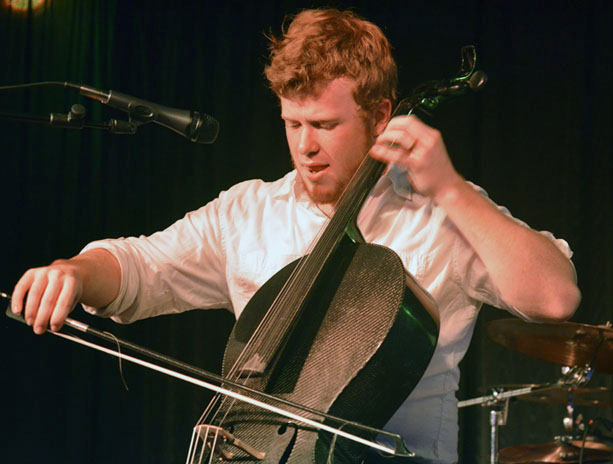 Tipping the bartender takes on a whole new meaning Thursday at Galileo's, where Boone-based band the New River Boys will perform as a fundraising effort for the campus chapter of Wine to Water.
A portion of ticket proceeds and tips collected during the show will be donated to help provide clean drinking water to needy individuals worldwide.
The event is part of a weeklong effort called Just One Shift, a global campaign by Wine to Water that encourages bartenders to donate their earned tips from one shift directly to charities.
Just One Shift began in New York by Gaz Regan, a bartender who teamed up with Doc Hendley, CNN Hero and the founder of Wine to Water, to maximize their donations.
Wine to Water is a national organization that raises money through social events to provide clean water to those in need worldwide.
Throughout the week of April 8-14, bartenders in 25 countries have signed up to donate for the Just One Shift campaign.
Appalachian State University's Wine to Water club is the first collegiate chapter of the organization, and strives to help provide clean water to people in need around the world through fundraising and awareness events throughout the school year.
"Our goal is to educate students about the water crisis and offer them ways to get involved with fighting this global issue," said Katy Cook, president of the Appalachian chapter.
Just One Shift has provided an opportunity for the club to connect with the community in order to establish themselves as a working charity.
"One billion people lack access to clean water," Cook said. "That is a huge number, but Wine to Water has provided 150,000 people with clean water since 2004, and that's a huge number, too."
In Boone, the week's events will shift from bar to bar, with the New River Boys as the main fundraising event at Galileo's.
"We're expecting the place to be pretty much sold out or at capacity," said Josh Elliott, the campus coordinator for Wine to Water. "The last time they played there it sold out an hour before the show."
The week's events have been in the works for a couple months, and came about through a partnership between the campus chapter of Wine to Water and the High Country 365 event organizers.
While discussing the planning process, members of the New River Boys overheard the need for a main act to highlight the week's events, and jumped at the opportunity.
"The New River Boys are an awesome group of guys that are supportive of Wine to Water, and they are connected with High Country 365, so it was a perfect fit," Cook said. "The New River Boys have a great following of students, so we are very excited to have them perform at our Just One Shift event."
The New River Boys benefit show will take place Thursday at 10 p.m.
Tickets for the event can be purchased at the door and are $5 for anyone 21 and over and $8 for those under 21.
The week's events for Just One Shift include area participation from the TApp Room, Town Tavern, Mellow Mushroom and Appalachian Mountain Brewery.
For a complete schedule of events in Boone and more information on the campaign, visit justoneshift.com.
Story: LOVEY COOPER, Senior A&E Reporter
Photo: MICHAEL BRAGG, Editor-in-Chief