As the leaves change, students don their best fall sweaters and midterms send everyone into a panic, Boone's culinary scene steps to the rescue with comforting pumpkin favorites.
Consider this list, broken down into four categories of pumpkin-themed enjoyment, as an Appalachian State University guide to eating and drinking this season.
Pumpkin spice lattes
The original Starbucks Pumpkin Spice Latte has been enjoyed, imitated and mocked for its outrageously high sugar content and strange addictive qualities since its creation 11 years ago.
Diehard fans of the original drink can find it at the Starbucks in Harris Teeter at the Shadowline shopping center. Local coffee shops jumped on board to the trend, and most  in Boone make very high quality imitations.
Stick Boy Bread Co. on Hardin Street and Local Lion on Highway 321 offer variations on the seasonal favorite. Bald Guy Brewery on King Street contributes to the fall trend with its own variation, as well.
Espresso News on Howard Street can and does make the drink on request too, though it's not featured on their menu.
The on-campus coffee shops – Wired Scholar in the library, Crossroads in Plemmons Student Union and Conrad's in Roess Dining Hall – also serve their own versions of pumpkin spice lattes as well as some other seasonal flavored drinks.
Sweets & Breads
Moving beyond coffee, many local restaurants have expanded the pumpkin trend into sweets and breads for the season. Here is a sampling of what can be found in Boone.
Through the fall season, Red Onion on Hardin Street offers its seasonal favorite pumpkin cheesecake. Local Lion serves delicious pumpkin donuts in their store and at Crossroads and Wired Scholar on campus. Espresso News cycles through their dessert choices often, but right now their bakers are serving up vegan banana pumpkin bread. Comeback Shack's pumpkin milkshake is back for the fall season as well.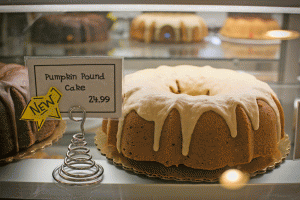 But, as far as quantity of pumpkin-themed desserts go, Stick Boy Bread Co. takes the cake. Tina Ball, an employee at the store, said they are currently serving pumpkin chocolate chip scones, pumpkin cheesecake, pumpkin pound cake, pumpkin cinnamon brioche, pumpkin rosemary bread and pumpkin walnut bread.
Beer
As the beer scene explodes here in Boone, breweries compete with each other and other North Carolina breweries for the best seasonal brews. Appalachian Mountain Brewery released its Jack Yo' Butternut Porter, a dark beer brewed with pumpkin and butternut squash, in early October.
Lost Province Brewing Co. on Depot Street recently released its seasonal beer, called Bumpkin's Pumpkin Ale. Many restaurants around town and beer and wine stores stock local pumpkin beers like Cottonwood Pumpkin Ale, which is brewed by Foothills Brewing Co. in Winston-Salem. Benchmark Provisions on Depot Street also sells fall mixed six packs of pumpkin and other fall harvest style beers.
Actual Pumpkins
Finally, if coffee, desserts and beer are not enough, the New River Corn Maze and Pumpkin Patch allows visitors to choose their own pumpkins to cook with, carve or just use as decoration. The pumpkin patch is located just outside of Boone in Deep Gap, off Highway 421 and is open now through Oct. 31.
Story: Emma Speckman, Intern A&E Reporter
Photo: Sara Weiffenbach, Intern Photographer