Boone's exploding artists
If you're looking for a new band or sound to follow, there is one out there for you. Babe Haven, The Inflights, Goose Juice and Satellite Dog are all bands a part of the local live music scene, each with different sounds for various types of music listeners to enjoy.
From balancing day-to-day life and making music these artists give the Boone community a place to experience new and upcoming bands up close.
  The metalcore music scene includes Ely Yancey, guitarist; his brother Jackson Yancey, scream vocals; Garret Dayton, clean vocals and guitarist; and Brayden Robinson, drummer, who make up the band, Felspar.  
The Yancey brothers and Brayden have been friends for 15 years, and met Dayton in high school.
Having spent copious amounts of time together, the band members have discovered this helps them musically as well as playing off each other. Along with making music together, they all attend App State.
"It's usually pretty difficult at times but we try to put school first," Ely Yancey said. 
Although music is a big part of their lives, it is something to look forward to rather than a priority. 
"I feel like if we took things too seriously like, 'no, we got to make it big' I feel like the music wouldn't be as genuine and we'd be banging ourselves on the head for making something not as good," Dayton said. 
Balancing school as well as providing entertainment for the music scene in Boone makes them one of many in the area juggling both music and outside responsibilities.
This alternative pop punk band met through mutual friends from other bands,  members Jake Owens, lead guitarist; Jack Dunphey, drummer; Xander Wood, bassist; and Bobby Cnare, vocalist and guitarist, formed to make SLOTHH. Formed in 2021, they have since played at Legends, Ransom and Howard Station. Along with playing in a band together they also share a living space.
"It definitely helps the creative process because we're always around each other and able to talk about what direction we want to go," Wood said.
This new upcoming band, despite their busy schedules being both students and musicians, loves to perform.
"I'm content to study and do homework all week long if Friday night I have a show I can play," Wood said.
Their main goal is to be able to form a community with their performances and music.
"I hope it brings people together because in the end community is a big thing," Owens said.
Another band within the punk scene is The Coyotes. This post-psychedelic punk band consists of members Joseph Heiston, guitarist; Edwin Thomas, singer and guitarist; Jacob Hastings, bassist; and Noah Shonuker, drummer. These musicians are passionate about their music and the songs they put out.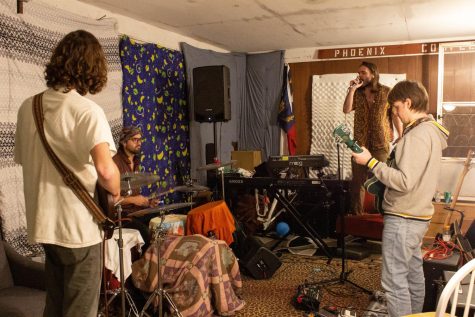 "We've always known that we were going to be in bands in this time in our life. Making music is not really optional for any of us," Thomas said.
Having met through their love of music and playing together, Hastings, Thomas and Heiston eventually met and recruited Shonuker at a local show. Since then these members' passions for their band has only grown.
"When we played together it felt completely different, especially in the last couple of years," Heiston said.
These musicians say they want people to connect and get a bigger message from their music.
"I want people to be able to listen to our music and say 'Wow, that has volume and matter to it' and they're getting something out of it," Shonuker said.
Passionate not only about their music but as well as their production is The Dune Sea.
The current members of the band are Spencer Underwood, guitarist; Jack Dunphey, drummer; Zach Carter, bassist; and Jake Kremer, guitarist and producer. Kremer and Underwood began their band in 2018 and since then members have come and gone with them.
Although they enjoy playing for an audience, Kremer hopes for more.
"I hope people get a lot more out of the recorded stuff, personally, because I like putting in a lot of thought and effort into the production," Kremer said.
Being into production, Kremer has helped bands such as Felspar and Housewife record and produce their music. Dunphey, another contributor to the music scene, is also a band member with Weasels and SLOTHH, two other local bands. A schedule like this can be difficult to maintain, according to the group. 
"When you love it this much you're willing to put in the time," Dunphey said.
Going off the regular path of alternative music is the band Educated Guess. This band brings a unique funk jazz fusion sound to the scene of Boone. Alvin Carlisle, bassist; Nick Williams, keyboard; and Kendrick Davis, drummer, started their band in February 2022.
"We met playing together at Cornerstone Summit Church in Boone," Carlisle said.
 They spend as much time with each other as possible despite one of the members living in Greensboro.
"Our social bond is definitely very important to the vibe of us being on the same page as people and the kind of music we make," Carlisle said.
Along with their social bond, they hope their audience is exposed to a different sound.
"I want them to have a different experience with our music than some of the usual bands you would see around here," Williams said.
Also bringing a new sound is the band Kiss It Make It Better formed by Sam Haffey, guitarist; Julia Lynn, bassist; Brayden Robinson, guitarist; and Brendan Martini, drummer and singer. They all met through mutual friends and had a connection through music, leading them to form their group. All recently graduated from App State, except for Robinson who is a senior political science major, and are continuing to play music in local shows. 
"It's something I really like to do, so if I'm not working to make money I'm mostly doing music," Martini said. 
Their music style is inspired by shoegaze and indie rock, which is a collection of obscured vocals, guitar distortion and effects combined with overwhelming volume.
"We're making music for us and if other people enjoy it then that's good," Martini said.
This four-piece band has played in local spots such as Ransom, Legends, Sanford Mall and Howard Station. 
Some bands are still discovering their sound such as YesDude. Band members include Milo Kenny, drummer and singer; Holden Ausborn, guitar and singer; and Wells Whitman, bassist and singer. Whitman and Ausborn have been friends since sixth grade, later meeting Kenny in an American Literature class. 
"I think it's integral to form most relationships, within a band, that makes everything run smoother and it's more fun that way," Ausborne said.
When creating music they believe it is important to have that connection with your band members otherwise it makes it hard to play together. Along with forming bonds with one another they are students at App State which makes their schedules more hectic.
"I think it's all our favorite thing to do," Whitman said.
Although having a full schedule is stressful, performing is something they still enjoy.
"It's worth it in the end," Ausborne said.
Many of these bands have members who have known each other since childhood such as Cigarettes @ Sunset.
Members Ryland Bagbey, lead guitarist; Owen Yawn, drummer; Garrett Dellinger, singer and guitarist; Wells Whitman, bassist; and Sarah Vann, violinist; make up this alternative rock music band.
Bagbey, Yawn, Vann, and Dellinger have been friends for quite some time having grown up in Banner Elk. 
"When we first started we called ourselves a collective," Dellinger said.
They gathered people for the enjoyment of music and have recently started playing live shows around the Boone area.
"This past summer is when we began playing shows which we didn't expect,"  Dellinger said.
Their live shows are where they enjoy seeing the crowd respond to their music.
"I want to see people banging their heads when I hit that crash,"  Yawn said.
With doing live shows and producing music these band members hope to bring about emotional wellness.
"I think the goal is to turn our pain into something good,"  Dellinger said.
Wellness and care can describe the next band Solastalgia that puts an emphasis on environmentalism.
Band members John Poston, guitarist and singer; Jaz Boler, lead singer and songwriter; Pauly Scott, drummer; and Ethan Moore, bassist; make up this alternative indie rock band. 
"We all come from different backgrounds so it's cool how we can come together for this project,"  Boler said.
Scott and Poston bonded quickly because they are cousins. They later met Boler through music and Moore at a show for his band, Trailhead. They began playing together quickly after and have been making music ever since.
"I think the biggest thing for meshing music with other people is meshing with them normally, so the closer you are the easier it is to jam," Moore said.
They began playing live near the beginning of the first semester of the school year and hope to inspire people with their music.
Going from a small group to a live show band this collective is named Plant Room.
Trent Joura, guitarist and singer; Levi Phillips, bassist; Audrey Lomax, guitarist and singer; and Jack Price, drummer; make up this indie rock band. This group was originally started by Joura and Phillips and has grown since then.
"We play a mix of covers and original songs and choose what we think people would like to hear,"  Joura said.
For their live shows, they cater to their audience switching from indie rock to covers as well as acoustic.
"If they enjoy it and have a good time that's all I'm looking for," Phillips said.
With Price going to University of North Carolina School of the Arts and Phillips living in Asheboro they venture out of Boone into Jamestown and High Point for shows.
"We all do our own thing outside of the band but come together for the music," Joura said.
This collective, although a little scattered around North Carolina, enjoys performing for audiences and making music.