Building a Field Hockey Legacy
With over half of the App State women's field hockey team made up of freshmen, this season is going to be a year of building and creating a strong legacy for field hockey at App.
"By building this strong freshman class we are building for the future," head coach Meghan Dawson said. "That's the goal, to continue building, working and getting better every day and also preparing for the future."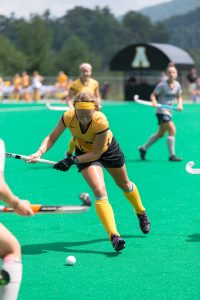 The Mountaineers gained 13 freshmen with the start of this fall season, and many new players have already shown just how much of an asset they will be to the team as the season goes on, Dawson said.
"The [freshmen] that are playing have come in fit and ready to go," Dawson said. "They are really good and will have a ton of impact on our success this year."
Starting in the net, freshman goalkeeper Rachel Gaines has played through the three exhibition and two regular season games that the team has competed in so far. Gaines recorded shutouts in two of the three exhibition games.
Freshmen Julia Wenz, Mallory Wolf, Ali Williams and Kaley Selner all play midfield/defense and Dawson said they have stepped up to take starting roles on the team.
Wenz, who hails from Bayern, Germany, has proved essential in the Mountaineers' attack with multiple assists and a goal. Williams and Selner have also found the back of the net for the Mountaineers, and Selner in particular played a key defensive role in the team's game against Georgetown University on Aug. 28.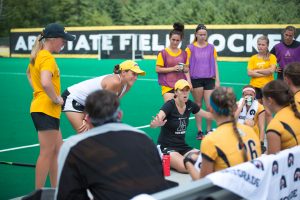 Freshman forward Melissa Nobile shone in these first few games of the season with five total goals, four of them coming from the Mountaineers' preseason game against Newberry College.
Despite the impressive performances by the freshmen so far, the team still has a lot of learning to do in order to build the strong future that Dawson said they are aiming for.
"There's going to be a lot of ups and downs, lots of learning and lots of teaching and building foundations," Dawson said.
One of the team's biggest challenges right now is adjusting to having so many new faces on the team and learning how to connect as a team, junior midfielder Taylor Cimbalist said.
This connection will come with improved communication. Williams said that improving their communication is something that the team has already been doing.
"It's really exciting because we're so close knit," Williams said. "We're all helping each other through it, especially the freshman class."
The team is already working hard to build up a strong bond, whether they are writing each other encouraging notes in their lockers or working to stay positive on the field.
"Whenever we're down we come into a big circle and just cheer and say some positive comments," Nobile said. "On the field, whether we're losing or winning, we always keep it positive."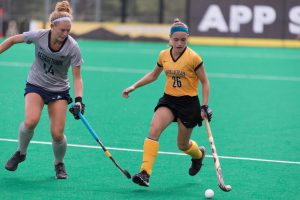 According to Dawson, the field hockey team has a competitive schedule coming up, but with the work of the strong freshman class paired with the strong bond that the team is working on building, Dawson is hoping to see a lot of growth throughout this season.
The Mountaineers are set to face the James Madison University Dukes on Sep. 2 at 6 p.m. in Harrisburg, Virginia.
Story By: Monica Crawford, Sports Reporter
Photos By: Dallas Linger, Photo Editor