It's that time of the year again! Families are gathering around a table filled with Turkey, stuffing, mac and cheese and other foods that will make you want to nap until New Years Eve. Football is on every television in the house, the leaves are finally changing, and everyone is punching old women in the hip, climbing over children and waking up at 3 a.m. to go get a couple bucks off of that hot Christmas item! Yes, boys and girls, it is Black Friday and some big retailers have dropped the ball early and leaked their Black Friday deals and boy, are there a ton of stocking stuffers!
The first event on the list is the one gamers are looking for. At 6 p.m. Thursday, Nov. 28 (yes, 6 p.m. the day before Black Friday. Everyone can go fight each other on a full stomach) Walmart will be starting the deals. Any deal that has the "1-Hour Guarantee" means that for the first hour of the sale, Walmart guarantees that it will be in stock.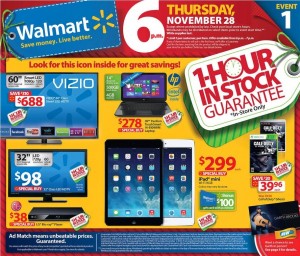 The big one to note here is
Call of Duty: Ghosts
for the Xbox 360 and PS3 (There is no mention of next-gen consoles) is
$20 off
and has the 1-Hour Guarantee.
The prices are just rolling back with this set of deals. The biggest bangs for your buck will be the
4GB Xbox 360
50 percent off. The
PS3 Bundle with The Last of Us and Batman Arkham Origins
which could run in the $300-$400 range is only $199. Also, the Nintendo 2DS is $30 off.
If take advantage of any of the deals from Walmart this Black Friday, make sure you jump on the
$35 for Grand Theft Auto V, NBA 2K14, Assassin's Creed IV, or Batman Arkham Origins
or the
$25 steal for Battlefield 4
for the Xbox 360 or PS3 (Again, no mention of next-gen consoles).
GameStop is the big retailer everyone turns to for their gaming needs. However, if buyers are looking for deals on the newest and hottest titles, GameStop is not going to be the best place to go. Walmart has GameStop beat on deals for Call of Duty: Ghosts, Battlefield 4, and other hot titles. However, GameStop has some great sales on games that you may have missed. Like Splinter Cell: Blacklist and Dishonored: GOTY Edition are only $24.99.
However! GameStop may not be the destination for brand new titles, but it's deals on used items will blow competitors out of the water. The biggest deal being the
buy 2, get one free deal on any used product.
The images below were leaked and may not be the final version of the flyers due to the inclusion of Watch Dogs and Drive Club, two games that have been delayed.
Toys R Us
Yes, Toys R Us Is a great destination for video games. Will you feel creepy being in there buying video games? Of course, but hey a deal'
s a deal.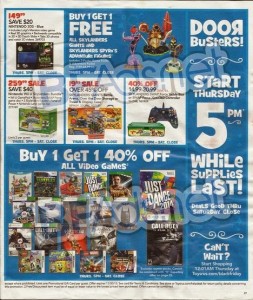 Really, the best deal Toys R Us is offering is
buy 1 game, get 40 percent off on all video games
.
Best Buy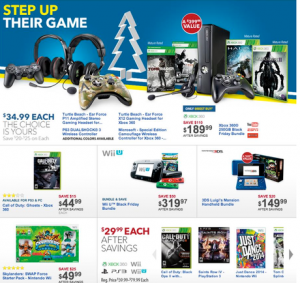 Best Buy has some of the least appealing deals of all the major retailers. The best deals are on gaming headsets. At Best Buy you'll be able to get the
Turtle Beach P11 and X12 Headsets for only $34.99. Other than that, look elsewhere.
Target's Black Friday deals are frankly disappointing and honestly I wish I hadn't seen them.
Walmart has topped Target this year on deals. Battlefield 4, Madden 25 and FIFA 14 are all $10 off and Call of Duty: Ghosts is $15 off over at Wally World. Best Buy has the same headsets for $34.99. But hey, you can get the almost seven-year-old game, Call of Duty 4: Modern Warfare and Monster High: Skultimate Roller Maze for 10 bucks. Sweet, glad I got Nana with a right hook for that.
Where Should You Go?
As
it stands, it looks like Walmart is going to be taking the award for "Best Black Friday Deals." The prices Walmart is offering on games, some that just came out last week, are some of the best I've seen in years.
If you are looking for the hottest titles for low prices, go to Walmart. However, if you missed some games, don't really care for brand new, sealed copies and want to save even more money, go to GameStop. Especially for PowerUp Reward members, the used deals they are supposedly offering are going to save some bank accounts this holiday.