Canvas beauty bar styles at New York Fashion Week
Canvas Beauty Bar has only been around for two years, but the Boone-based salon is already making a name for itself in the fashion industry. Co-owners Miah Zimmerman and Heather Rogers were invited to style at this year's New York Fashion Week.
Rogers and Zimmerman were chosen to represent Evo, an Australian hair care line, at the Libertine fashion show. The salon began carrying Evo products in 2016 and since then Canvas has been at the forefront of the growing brand in the United States, Rogers said.
Their Evo distributor Buddy Forward, invited the salon to go to New York Fashion Week. This was important for Canvas, because only three stylists from other salons were invited to go.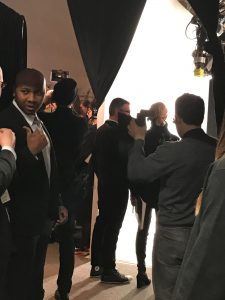 "For him to pick us out of all the salons that he sells Evo to is a really exciting big deal," Zimmerman said.
Canvas Beauty Bar was allowed to bring three people to style at New York Fashion Week. The co-owners wanted to be fair when deciding who to bring along so they chose to do a retail sales competition. Zimmerman and Rogers set specific sales goals and anybody who met the goals was in the running to go to New York City.
"We also did a New York Fashion Week kind of demo in the salon," Zimmerman said. "All the stylists wanted to participate, each of them brought in a model and were assigned a different designer."
The stylists had an hour to create a hair and makeup look in the style of their given designer. The winner of the competition was Chelsey Shore.
"The designer I got as my inspiration was Versace, so I just went with something sleek and classy because he's kind of classic," Shore said. "It was just a really cool thing that Heather and Miah did because it gave everybody the chance to show what they could do with their own creativity."
The day of the fashion show, all three stylists said they were a nervous.
"We had a light breakfast and we contemplated getting mimosas, but we did not," Zimmerman said.
However, their nerves were put to rest when they got backstage and met everyone involved.
"We were definitely intimidated going up there, but we were met with open arms," Rogers said. "No one was rude and no one assumed we couldn't complete the tasks."
The Libertine fashion label that Canvas styled for is based out of Los Angeles. Rogers described the line as "wild from head to toe." Designer Johnson Hartwig used beading, patterns, patchwork and fabric additions to create his fashion week look.
"It's like nothing you'd ever see walking down the street in Boone, that's for sure," Shore said.
Kenna, Libertine's main hairstylist, designed a simple look to complement the line. Zimmerman said each model wore a heavy side part with purposefully greasy bangs. The hair was styled flat, with no volume.
Getting to work alongside Kenna was the highlight of the trip for Rogers, Zimmerman and Shore.
"We were definitely more starstruck by him than by anybody else," Rogers said.
Although all three stylists had visited New York City before, working during Fashion Week was an entirely new experience.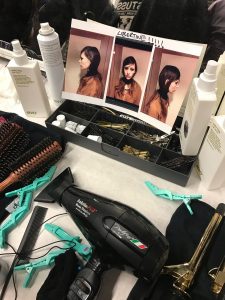 "I think we assumed that it would be really fabulous and I think we assumed it would be crazy and hectic," Rogers said. "I don't think we realized it would be so organized. It was an organized chaos."
The stylists had three hours to prepare the models for the runway. Each model needed hair, makeup and nails done by teams of three to five stylists simultaneously, Zimmerman said. Kenna specifically requested this because he never wanted to see a model with only one hairdresser, makeup artist or nail technician.
In the midst of styling backstage were also bloggers, photographers and press.
"They were asking about the products, they were asking about Evo and just interviewing everybody involved with the show," Zimmerman said.
The models did a run-through walk before to get their timing down. Rogers and Shore got a taste of the final show this way. The two unfortunately had to stay behind the scenes for touch ups during the actual show. However, Zimmerman was able to score a ticket to the event.
"They had this big white room and they just set up chairs. So the runway was just this glossy white floor," Zimmerman said. "Everyone that was there was decked out, they were wearing these bright-colored furs and were just looking so fabulous. A lot of people were wearing Libertine. The show had the most intense, crazy music."
After the show, the stylists were invited to the official Libertine after-party. It was held on the heated rooftop of a hotel and the designer, Libertine, doubled as the DJ.
The stylists said the New York Fashion Week experience lived up to their expectations.
"It went not necessarily better than we expected, but it went exactly how I wanted it to go," Rogers said.
Story by: Haley Brown, A&E Reporter 
Photos: Courtesies