Catt Todd: Expressionistic Fashion
Catt Todd's fun and expressive fashion incorporates certain colors to represent their mood for the day.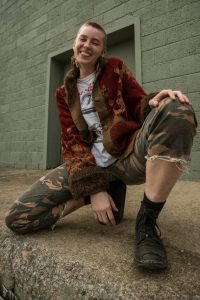 Todd, a Boone local and experimental musician, wears clothes to establish a sense of identity.
 Todd attended a catholic school their entire childhood and was never able to express themselves through clothing. After being restricted by uniforms until the 12th grade, Todd's style comes from wearing what they want and being who they want to be.
They want to be the person who is able to have fun with what they wear. They have messed around calling their style "militant robbo-femme" or even "rat-tail femme."
When Todd first got out catholic school, they craved a way to find a creative outlet. Thinking back on that time, they remember outfits with three skirts and other outrageous pieces.
Upon reflection of their restrictive childhood, Todd has discovered a clear idea of who they do not want to be, when it comes to dressing. They are an expressionistic person, and that's exactly what they want to do through clothes.
Fashion to Todd isn't to fit in. They are perfectly happy standing out, but "at least now I'm glad people think it's cool," Todd said.
Todd's favorite piece, given to them by their mother, is a Russian Czar Jacket.,
"It's completely illogical," Todd said. "This is not a survival jacket."
  Todd simply finds fashion fun. Their creative side doesn't have to be held back any longer, and they have found a new type of uniform for themselves.
"It's like what am I feeling today?" Todd said. They said usually they are feeling purple because of the balance of aggressive red and calming blue.
Todd has been experimenting with hairstyles, and their current style is a shaved head with a rat tail. They show that self-expression shouldn't be taken too seriously, and it's important to experiment.
"I don't know what my message through fashion is," Todd said. "It's just so much fun."
Story by Mericlaire Williams, A&E Columnist
Photo by Hayley Canal, Staff photographer
Featured photo caption: Catt Todd is an experimental musician who describes their fashion style as "militant robbo-femme."