Chancellor's Scholars' annual trip to Ireland takes concepts learned in the classroom overseas
Each year, 10 incoming first-year students are awarded the Chancellor's Scholarship, which offers full institutional costs for four years, and other academic and co-curricular benefits, including special housing and travel opportunities. One of these travel opportunities is the annual fall break trip to Dublin, Ireland, which begins Oct. 9.
Jefford Vahlbusch, dean of The Honors College, went on the trip last year with the 2017 Chancellor's Scholars and described the trip as "a whirlwind of excitement and cross-cultural learning."
The trip to Ireland is tied to the Chancellor Scholar's first-year seminar, Island of Voyagers, taught by Mary Valante. In the seminar, each scholar is required to study a different topic about any aspect of Irish culture, Rebecca Brown, a Chancellor's Scholar and freshman sustainable development major, said.
They are presenting ideas about Irish culture so that by the time the scholars arrive in Ireland, they have knowledge of what the country is like, Brown said.
Valante will accompany the scholars on their international adventure for the third consecutive year.
"In the last three years, Dr. Mary Valante has taken on the trip as her personal contribution, and with her incredible expertise in ancient Irish history, the history of the Vikings and some personal connections that she has to Ireland, it's turned out to be a terrific thing," Vahlbusch said.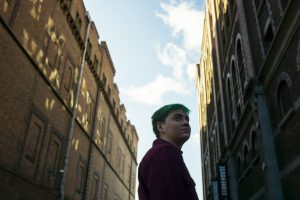 "They'll also be doing research on the trip and then doing presentations afterwards, so they'll take their broader, introductory topics that they're talking about now, and then narrow them down considerably to give a shorter, narrower, clearer presentation on that one topic," Valante said.
Some topics presented include Irish agriculture, language, artwork and the genetics of potatoes.
"I'm just really excited because we've immersed ourselves in this new Irish culture within the seminar and I'm really excited to see how that plays out, actually seeing how it affects society in Ireland," Abe Krell, Chancellor's Scholar and freshman geography major, said.
Brown said the trip will not only be an academic learning experience, but also a cultural one.
"Personally, I've always wanted to go study abroad because I want to learn about new cultures," Brown said.
Brown also said she viewed the trip as an opportunity "to get out of my roots and challenge myself to learn something new."
This will be Krell's first trip out of the United States.
"I think a lot of learning new things is going to new places because you can only learn so much in one place," Krell said.
Vahlbusch said, "I think that for many of them, this is their first time abroad and that's an extraordinary thing to think about."
Vahlbusch described how the trip could be taken anywhere, but Ireland seemed like a natural fit for the scholar's fall trip because of the amount of faculty at App State that have Irish connections.
"We have an extraordinary number of faculty whose research and whose scholarly and creative lives focus on Ireland, and so that just enhances the value of doing this," Vahlbusch said.
The scholars will also learn about the history of Dublin, and possibly be challenged by it, according to Vahlbusch.
"Ireland offers a different kind of history, a different look at the Anglo-American narrative that we have become so accustomed to in the West. It's a very interesting counter-narrative to the kind of history that we've grown up with," Vahlbusch said.
"When you get there, one of the first things you'll notice is all of the history, and it's there. It's not hidden. It's not just sitting in museums. It impacts everything, the architecture, the structure of the city," Valante said.
"There is certainly a tourist aspect to the trip, but there's also very much a cross-cultural, transcultural and academic purpose to the trip," Vahlbusch added.
The scholars will experience places of historical and cultural value in Dublin, including the Abbey Theatre, the National Library of Ireland and several museums. They will also visit classic tourist attractions as well, such as the Book of Kells, Trinity College and Guinness Storehouse.
Professor Adrian Rice, an Irish native who teaches the first-year seminar, Soul-Sustaining Arts, will also go on the trip with the scholars. Despite knowing Dublin, Rice will experience some places for the first time alongside the students.
"The irony is that those are places, because I'm from Ireland, I've never actually bothered to go to them," Rice said. "So in a bizarre way I'm going to see things with their eyes for the first time too."
Brown said she is glad Rice is joining them she believes Rice will be a valuable addition to the trip.
"He's definitely going to be a great, positive benefit to this trip because he can tell his stories and he obviously has a bunch of connections in Ireland," Brown said.
Both Krell and Brown said the trip will not solely serve as an enjoyable and educational experience, but also a bonding one for the Chancellor's Scholars.
"I feel like we're at the point where we know each other, but we can still know a lot more about each other. I think this trip will help with that a lot," Krell said.
Brown shared Krell's sentiment and was hopeful that the trip would unify the scholars.
"Us Chancellor's Scholars are trying to get together and meet more," Brown said. "We really want to connect with each other, but we just don't have time right now, so hopefully the trip will help with that."
Story by Erin O'Neill
Photos by Hayley Canal
Featured photo caption: Sophomore Emma Strange at the Newgrange passage tomb in Boyne Valley during last year's trip to Ireland.