Cigarettes on campus raise a question of Appalachian's true sustainability message
According to the Tobacco-Free College Campus Initiative, there are 1,757 smoke-free campuses nationwide with 1,468 of those being completely tobacco free.
Appalachian State University is not one of those smoke-free campuses.
App State has a smoking policy in place that prohibits smoking inside buildings and allows smoking outdoors in any designated smoking area.
The problem with that policy is that designated smoking areas are hard to find, and therefore seem to not exist.
People smoke outside of dorms, on Sanford, by the dining halls and just walking around campus.
"There is so much [smoking]. It's kind of really annoying because everywhere you go there is someone smoking and throwing their cigarette on the ground. There's just so much smoke in the air," Mikayla Shipp, a freshman psychology major, said.
Around campus, cigarettes line the walkways, roads and grass.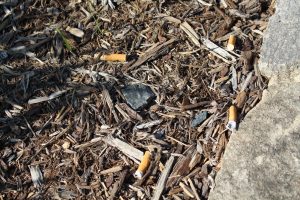 "People smoke everywhere. There are people smoking outside my room all the time like by the dumpsters," Shipp continued.
Shipp lives in a dorm with no AC, so the windows are usually open which causes the smell of cigarettes to come into the room.
Cigarettes are not only bad for the person smoking them but they are bad for the environment as well.
According to the Quit Smoking Community, the manufacturing of cigarettes negatively impacts the environment through deforestation, production runoff and waste, air pollution, chemicals contained in cigarettes being released and cigarette butts littering the ground.
The Quit Smoking Community also noted that cigarette butts on the ground can be harmful to fish if they get into bodies of water; they can also be harmful to other pets walking outside.
The impact of cigarettes on the environment is costly and should be a reason schools become smoke free.
Some students who smoke on campus think that enforced designated smoking areas would definitely help keep cigarettes off the ground.
On App State's website, one of the "Why Choose App?" sections talks about developing a "deep and lasting understanding of sustainability."
Sustainability may be a draw for our university but with the amount of tobacco use that goes on on campus, they are flying a false flag.
"This is supposed to be a sustainable campus but if everyone is smoking and throwing their cigarettes on the ground, then it's not very sustainable," Shipp said.
If Appalachian really prided itself on sustainability and helping the environment, then they would join the other 1,468 college campuses that are completely tobacco-free.
Of those tobacco-free campuses in North Carolina, App State would join High Point University, Shaw University, Lees-McRae College, Johnson C. Smith University and Wingate University, among 25 other schools.
Enforced designated smoking areas may make smoking on campus more difficult for students and faculty and would thus create a cleaner, more environmentally friendly campus and could help students, who may need an excuse, quit.
Even if App State does not go completely smoke-free, having actual designated smoking areas would be a start.
Jillyan Baskin, a freshman environmental biology major, thinks that there should be designated smoking areas on campus so it does not pollute the environment.
"There needs to a place for people who smoke to dispose their cigarettes," Baskin said. "When they just drop them on the ground, if it rains then the chemicals and carcinogens get into the rain water and goes into [the] sewer or even the little creek on campus. It's not good for the health of the stream."
Moss Brennan is a freshman journalism major from Durham, North Carolina. You can follow him on Twitter at @mosbren