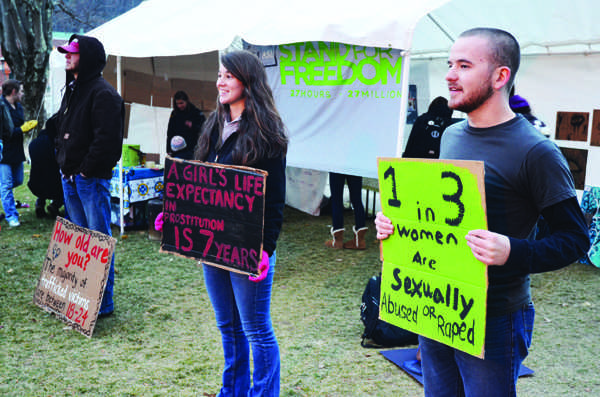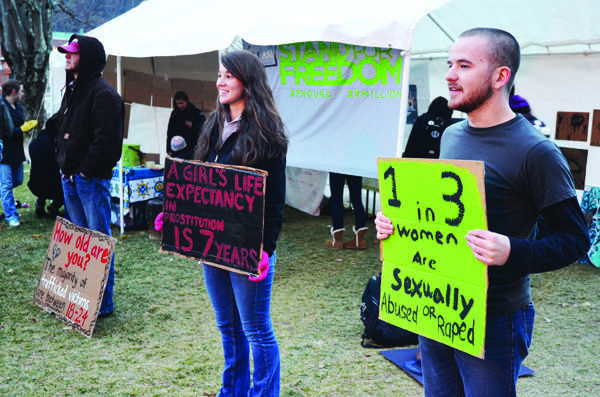 For 27 hours, more than 100 students are taking turns standing for the estimated 27 million slaves in the world today.
The event, Stand 4 Freedom, takes place on Sanford Mall from Wednesday at 5 p.m. to Thursday at 8 p.m and is hosted by the university's International Justice Mission club, a human rights agency that secures justice for victims of slavery, sexual exploitation and other forms of violent oppression.
"We just exist for the purpose of raising awareness and educating our campus, as well as fundraising for International Justice Missions," President of IJM Madisson Barnett.
This is the club's first semester as an official organization.
"It's amazing how many people don't know slavery is still a problem in the modern day and we want people to know, because there are things people can do with their voice," Barnett said.
Barnett, a senior political science major, hopes to have around 270 students come and raise $2,700 in donations to support the work of IJM.
Currently, they have raised about $1,400, Barnett said.
"I'm really excited and encouraged about reaching our goal," Barnett said. "We might be poor college students, but we can give up a latte every now and then and just donate $5."
Barnett said she wants to encourage students to give a little bit of their time and money for IJM.
"When people are aware of things like this, it turns into action because it seems so crazy and unjust," Barnett said.
Appalachian's IJM Vice President Taylor Smith came Wednesday night to "raise awareness across campus about the injustices in the world today."
Smith said he hopes people become more aware and conscience of what's going on it the world.
"Our generation is a generation of people that want to be involved and want to make an impact," Smith said. "We're a very cause-oriented generation and I think this is a cause everyone can agree on and rally behind."
Appalachian's IJM Publicity Coordinator Christopher Ward, a senior industrial design major, stood on Sanford Mall Wednesday evening.
Ward said he came out to support what IJM stands for and the 27 million "voiceless" slaves around the world.
"This is our chance to support them and raise awareness for that," he said.
As publicity coordinator, Ward said it was "exciting" to organize the club's first big event of the year, and to "unite the campus for a common goal."
"We're college students and we're all poor and starving, but for us to be able to give a little back to people who really need it is a cool opportunity," Ward said.
Stand 4 Freedom is a fall campaign for IJM, which Appalachian is one of seven universities piloting the campaign.
Donations will be accepted until the end of the semester at ijm.org/campus-chapters/appalachian-state-university.
Story: KELLI STRAKA, News Reporter
Photo: MAGGIE COZENS, Photo Editor