If you think the football extra point is too easy, you're not alone.
Lining up and kicking a 19-yard field goal for the sake of an extra point following a touchdown is apparently not challenging enough.
Even though there must be a successful snap, hold and blocking when the kicker makes his attempt, there are some who think it needs a change.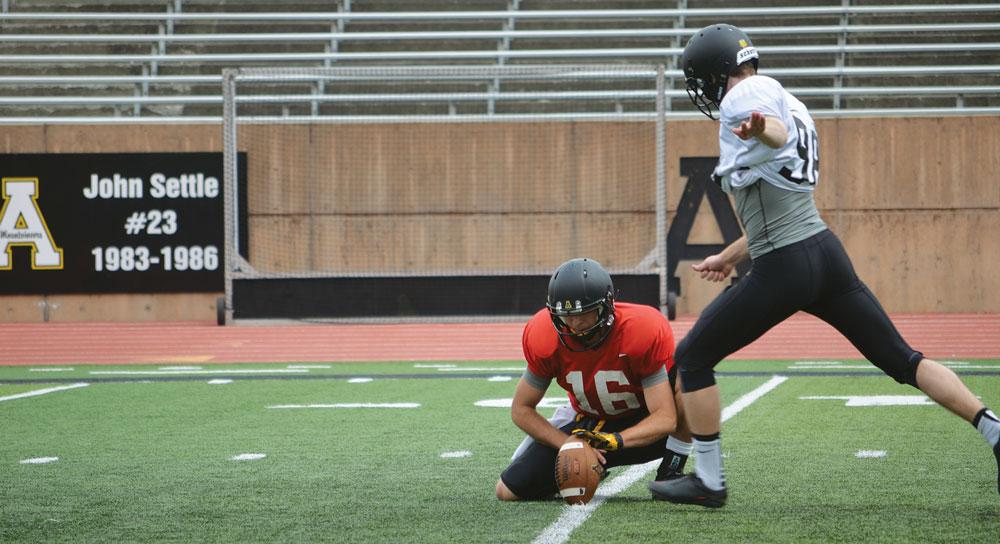 Unfortunately, that notion is starting at the NFL level after owners agreed in late March to test extra-point kicks from the 20-yard line during the league's next preseason.
The kick might seem easy, but it doesn't need to be changed.
As we have seen with rules such as defenseless receiver and roughing the quarterback calls, college football tends to not be shy about borrowing ideas from the NFL.
This idea, however, should not manifest itself in college football.
In 2013, NFL kickers made 99.8 percent of their extra points. Their college counterparts had a high success rate, too, converting 97.1 percent of extra points.
"The extra point is almost automatic," NFL Commissioner Roger Goodell said in an interview with AL.com. "It's a very small fraction of the play, and you want to add excitement with every play."
I agree with Goodell's point. The extra point is indeed almost automatic.
The key word is almost.
For those who have followed Appalachian State football closely, remember back to the 2012-13 season when the Mountaineers were knocked out of the first round of the FCS playoffs by Illinois State by a final score of 38-37 in overtime.
That one point difference? It came on a blocked extra point attempt in overtime when the Redbirds blitzed the line and got a hand on placekicker Drew Stewart's extra point attempt – sealing the Illinois State win.
That block came on the aforementioned 19-yard point after attempt. The play that is apparently too easy to have a place in the game.
Ask Stewart and his blockers how easy an extra point is when the game is on the line.
Rogers Redding, the secretary-rules editor for the NCAA Football Rules Committee, thankfully seems to agree that the extra point has a place in the college game.
"Extra points aren't quite automatic in our game," Redding said in an interview with AL.com. "They make far more kicks than they once did. But there's enough that it adds a little bit of drama."
That drama is the very reason people watch sports.
Sure, extra points are converted most of the time, but like App State in its most recent playoff appearance, there is always that element of suspense.
The hold has to be good, the blocking solid and the kick has to be on target. It is a system that needs no alteration.
Column and photo: Cory Spiers, Sports Editor