Competitors 'shed some blood' at Lyric poetry slam
The cold weather didn't keep students from attending and competing in the first poetry slam of the semester Friday.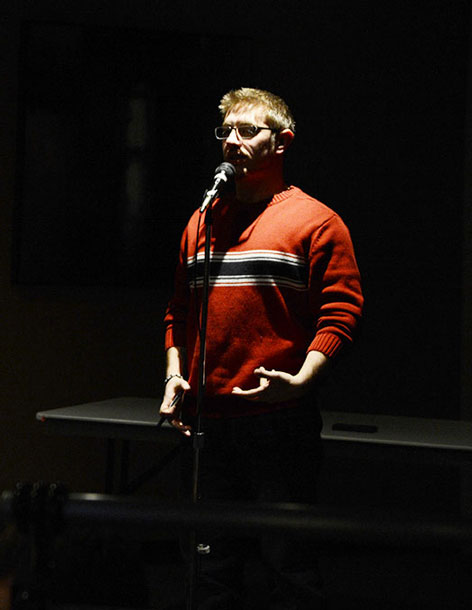 Held in Whitewater Cafe in Plemmons Student Union, the slam brought out a crowd of 70 people and seven student competitors. The slam was done through spoken poetry club Lyric.
"Tonight, we're going to shed some blood on the stage," said senior creative writing major Zac Corsi, who served as the slam host for the night.
Freshman film studies major Barry Jones won the slam after reciting four poems and receiving the highest average scores from the student judges.
"I want to change the way people view slam poetry," Jones said. "There is kind of a weird need for slam poets to be deep and meaningful. I want to lighten that scene with my words."
Appalachian State University's first ever slam, hosted last November at Bald Guy Brew Coffee on King Street, brought out more than 100 spectators, which broke building capacity and turned people away. After that event's success, Corsi and Lyric President Zach Herman knew they were on to something.
"I think the idea of bringing something new and innovative to the cultural niche that App State has is really cool and it just opens up a lot of opportunities for the students and writers around here," Corsi said.
A poetry slam focuses more on the competitive aspect of spoken word poetry.
Based on the average scores of five random judges picked in the beginning of the night, the slam called for competitors to recite all original material and keep poems to a three-minute time limit.
The judges gave scores based on criteria of content and performance.
"Slam poetry forces the poet who wants to do well to bring themselves to that next level," Herman said. "If you can't perform and prove to your audience this is the most amazing thing that has ever been written, then you're not going to do well."
The poetry slams were started as a part of Lyric and their competitive slam team, Versus. With Versus, both Corsi and Herman hope to start a legacy of spoken word poets at the university.
"I want slams to be a tradition for years to come," Herman said. "I want App State to become a staple in the competitive slam poetry scene in North Carolina."
The next slam takes place Feb. 28 in Whitewater Cafe.
Story by Casey Suglia, Intern A&E Reporter
Photo by Olivia Wilkes, Senior Photographer