Composition students exhibited experimental electro-acoustic work as part of 'sculpture concert'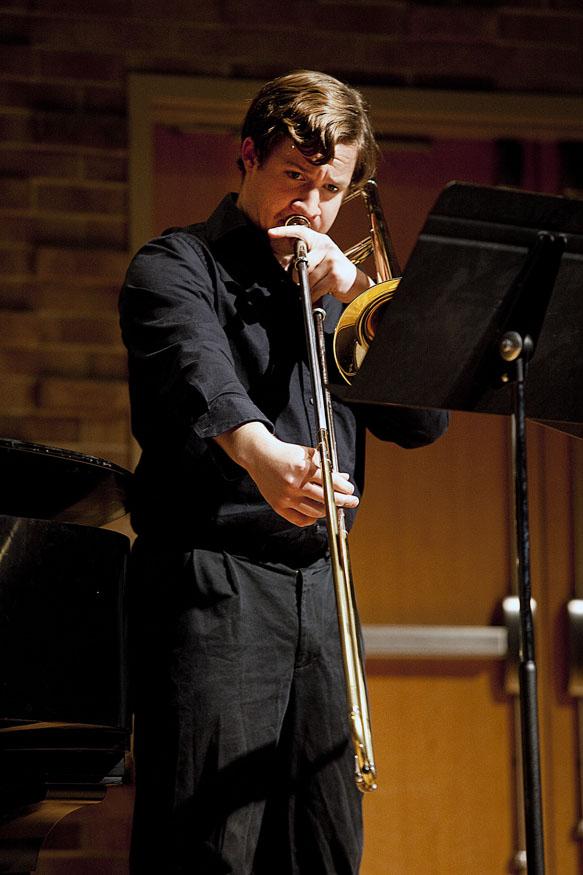 Student performers presented work composed by multiple music composition and theory students as a part of a "sculpture concert" for the Student Composers Recital on Wednesday, Nov. 14.
The electro-acoustic concert featured pre-recorded electronic sounds in addition to live performers in pieces of music based off of individual sculptures that won the Rosen Outdoor Sculpture Competition and Exhibition.
The show featured pieces composed by the composers who had taken an electronic composition course. Music performance students played alongside pre-recorded synthesized melodies and beats. Images of the sculptures that each piece was based off of were projected, and some compositions featured accompanying video and slide shows.
The students began the creative process by physically touching, walking around, and exploring their assigned sculpture.
"Samples were taken of the different sculptures being tapped, hit, struck and the different sounds that come out of that," sophomore music performance major Joseph House, who's work 'Comet' was featured for his third recital on campus said. "We took those recordings and morphed them into a new sound."
"I basically looked at it and thought, 'what do I hear when I look at that?'" sophomore music performance major Daniel Bukin said of his sculpture 'Trojan Ocarina'.
The next step involved contacting the original artists themselves for back-story on the meaning behind the sculptures, as well as the creative process that went into their piece, an aspect of artistic collaboration that some found tricky.
"I found it difficult to build off of someone else's work." sophomore music performance major D. Ward Francis said. "It's a very rewarding process, but it's very difficult because you're not just working with your own ideas, you're working with someone else's and you need to stay true to their ideas."
While difficult, this skill is essential to music students in order to compete in the ever-changing field of composition.
"They need to be able to write music for everything; that's what a composer is, they can't just know how to write one style of music." said Scott Meister, electronic composition professor and leader of the group of composers.
The last time Meister implemented this sort of project for his students was in 1996. He had students interview passersby in regards to their sculpture and used recorded responses in their compositions.
The visual aspect in combination with the recorded and live music resulted in a very experimental tone to most of the pieces.
"This was less about the tonal harmony, which is what standard music is generally based off of, and more on numbers and the concepts behind the sculpture." House said.
This difficult style of music writing, however, is not for everyone.
"Everyone out there had taken my electronic music class in the past few years, since we only offer it every two years, so I knew they could do it well, which is why we can't do this sort of thing next year—freshman just don't know anything." Meister said.
Junior music performance major Connor Cook summarized the group's overall feelings immediately before the show.
"I think people will either really like it or really hate it, but it will be a spectacle."
Story: LOVEY COOPER, A&E Reporter
Photo: COURTNEY ROSKOS, Staff Photographer