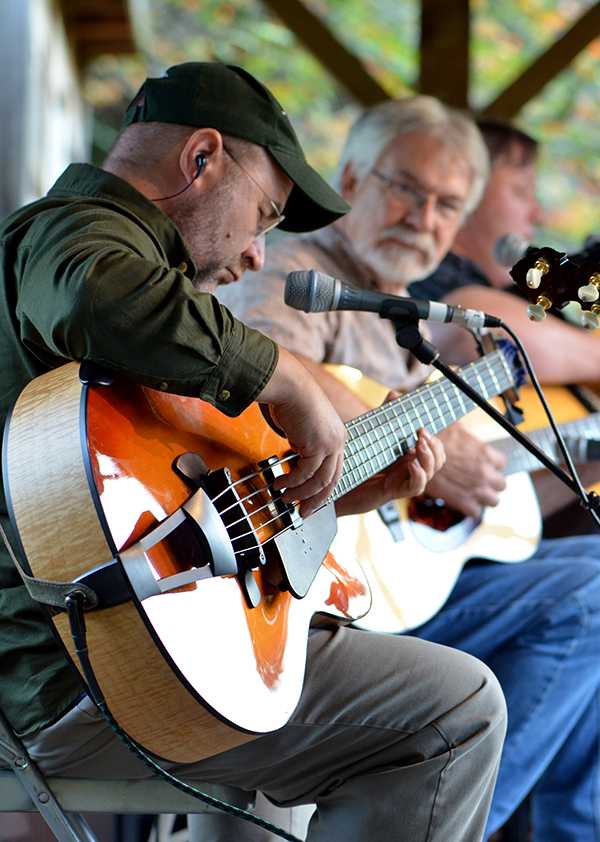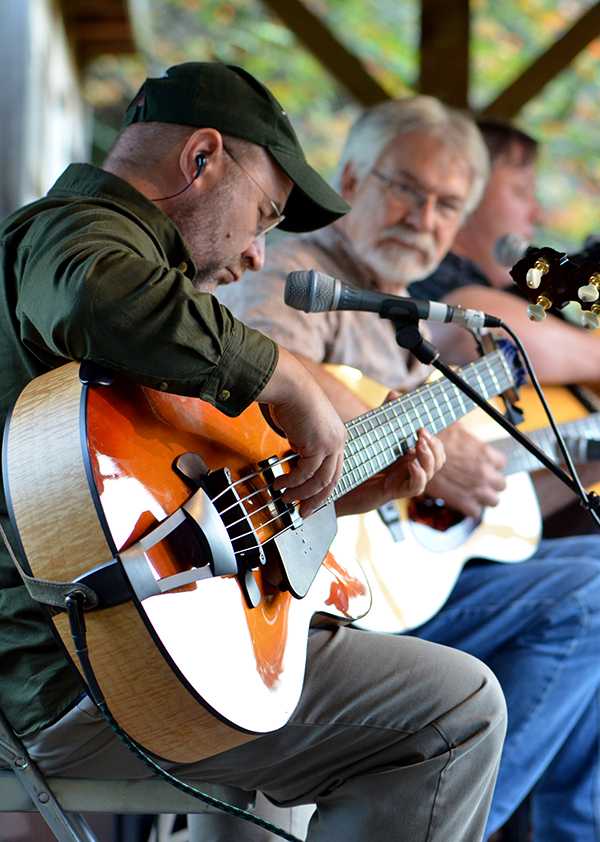 Ponchos, lawn chairs and banjos were never out of sight last Saturday as the Kruger Brothers performed in honor of the late Doc Watson for a crowd of around 100 people in Todd.
The Doc Watson Tribute Concert took place on Saturday at 4 p.m. at Walter and Anne Cook Park, despite the fact the rain had not let up.
The Kruger Brothers, an award-winning folk band with with members originally from Switzerland, took to the stage with Wayne Henderson and Charles Welch – two old friends of Watson – to honor the flat-picker from Deep Gap.
Henderson, a well-known luthier – who has made custom guitars for the likes of Gillian Welch, Tommy Emmanuel and Doc Watson himself – took a break between songs to tell the story of how he first met Watson.
"It was like meeting the President," Henderson said. "For me, it was probably even better than that."
He was playing guitar and singing in front of a guitar shop in downtown Boone, which was underneath a barber shop. After a couple minutes of singing, Henderson said he heard a voice singing along, and thought that he recognized it. He turned around, and saw that it was none other than Watson himself.
While the event was only 20 minutes from Boone, there were two Appalachian students in attendance for the concert.
Senior building science major Ian Phillips and junior apparel design and merchandising major Hailey Goodall braved the weather to see the Kruger Brothers perform in honor of Watson.
"My family were always big fans of his," said Phillips, who saw Doc Watson last year when he and the Kruger Brothers played at Farthing Auditorium in October 2011.
Phillips is the one who introduced Goodall to the genre that Watson helped make famous.
Director of the Anatomy and Physiology Laboratory at Appalachian Gregory Anoufriev and his wife were present in Todd Saturday. A longtime fan of Doc Watson, Latvia-native Anoufriev came to support the Kruger Brothers, who he and his wife are personal friends of.
"They come over to eat and bring their instruments," he said. "We have some good dinner, then we have good music. That's how we do it in Europe."
Though much of the small town of Todd came out for the concert, students who might have been interested would have had to decide between it and the home football game against the Coastal Carolina Chanticleers.
Phillips and Goodall thought that more people may have come to Todd had the concert not been scheduled during the football game.
"I have a bigger respect for Doc Watson," says Anoufriev. "Football, I can catch at other times."
Watson died earlier this year on the May 29 in Winston-Salem following complications after colon surgery.
Story: R. SCOTT MORRIS, A&E Reporter
Photo: OLIVIA WILKES, Senior Photographer