Construction of the mixed-use Winkler Square property near Appalachian State University's campus is in the initial stages, said Wes Berry, Winkler Organization marketing and advertising director.
After nearly 10 years of no use, the defunct property of The Library Restaurant and Pub was demolished at the end of last year as a result of an approved special use permit by the Boone Board of Adjustment on Sept. 4, 2014. The property is located at the intersection of Highway 321 and Clement Street.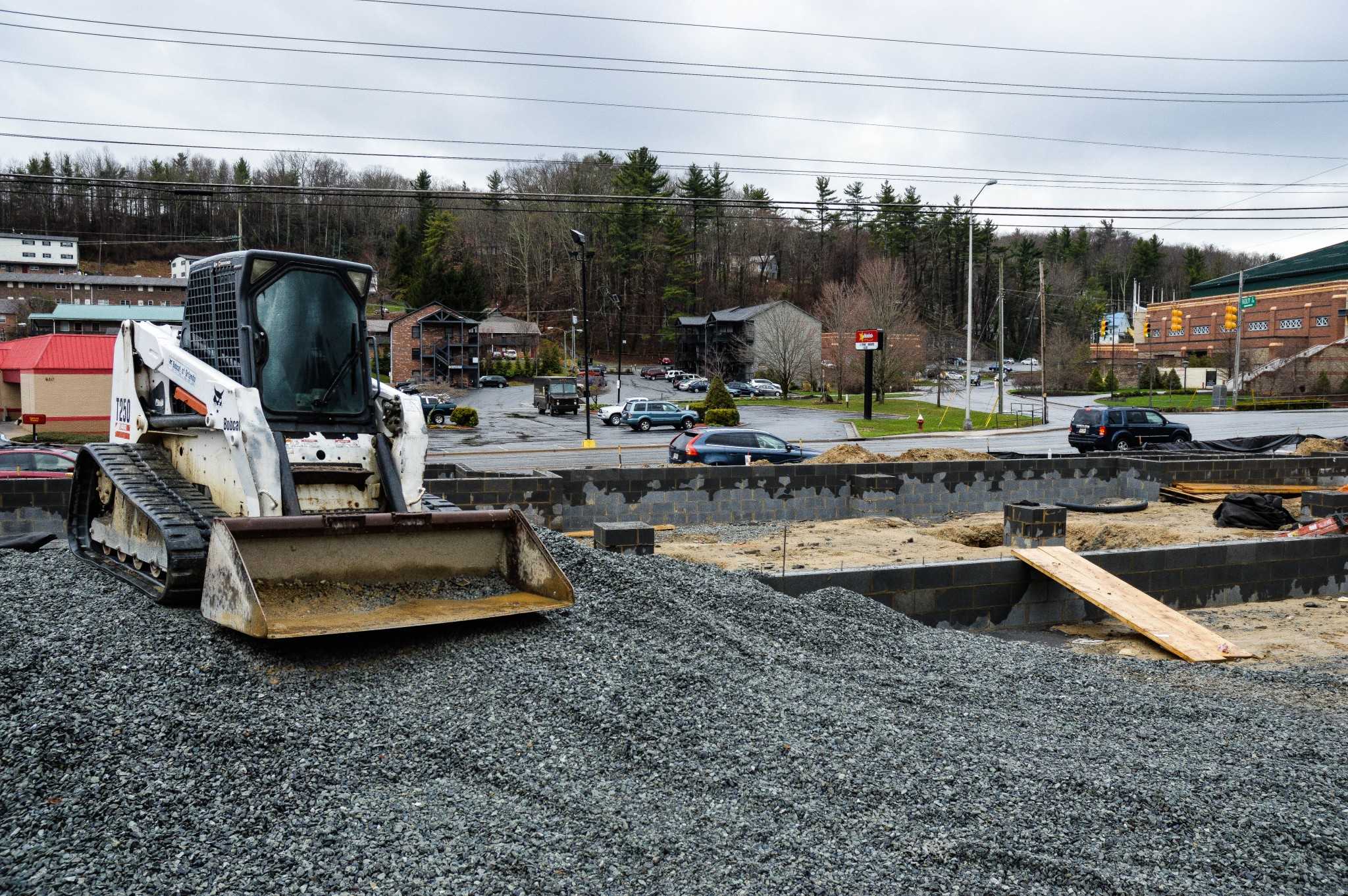 The Boone Board of Adjustment was not available for comment on the Special Use Permit as of press time.
The Winkler Organization, which was started in 1983 and owns and manages apartments, houses and commercial properties in Boone, purchased the lot last September and started the process of preparing the construction of Winkler Square.
"We've had it in our umbrella for a while," Berry said. "The decision to build came last year after we had a proposed architectural plan that was accepted by the town."
So far in the construction process, site preparation has started and foundation footers have been placed in the ground. Berry said once the majority of the foundation work is completed, the rest of the work will go very quickly.
Winkler Square will feature 38 residential units on the second and third floors – 18 efficiencies, 18 one-bedroom units and two two-bedroom units – that can house up to 40 tenants. The two-bedroom units, which start at $710 per month, and the one-bedroom units, starting at $760 per month, have already been leased for the 2015-16 lease term. Nine efficiencies, starting at $725 per month, are still available.
Over the past few years, Berry said, there has been high demand for one-bedroom and efficiency units. The Winkler Organization hopes building a property that focuses on those unit styles will further convince students and Boone residents to live with the company.
The property's amenities are all-inclusive with each tenant's rent and include recycling, trash pick-up, electricity, water, Internet and cable, according to www.winklerorganization.com. Wood floors, washer and dryer units and ceiling fans in all bedrooms will also be included.
With the company's most recent properties – Winkler Square and 494 Lofts, located on King Street – the Winkler Organization is using a building model that features interior hallways. Berry said these hallways serve as a security feature with a locking exterior door that leads to each apartment's locking door.
"That's a model we had good success with [at 494 Lofts] and we're using it [at Winkler Square] and I think it can kind of be a possible future for us with all new properties," Berry said. 

Winkler Square will also be built right alongside Blowing Rock Road, with parking behind the building. Berry said this was an intentional decision to continue Boone's pedestrian-friendly initiatives.
"With the addition of sidewalks and required bike racks on properties, [Boone] is starting to think a lot more larger scale and [Winkler] is excited about that as well," Berry said.
Another unique feature of Winkler Square will be the approximate 4,885 square feet of mixed use space available on the building's first floor. The Winkler Organization is attempting to section off the retail space into four different suites, one of which has already been leased.
"We had been tracking on it for a while [and] the key thing was the zoning issues – what the city would allow and it wouldn't allow," Berry said. "The mixed use obviously allows us to do some retail underneath [the apartments] for the commercial side."
The 494 Lofts property features retail space on the first floor as well, which is something Berry said is Boone seems to be leaning toward going forward, especially around Appalachian's campus.
Berry said it is nice to have the ability to put residential living quarters above stores and businesses that promote commerce.
"When you bring a business in, you bring an opportunity for people to spend a dollar and create employment and I think that's something our town is leaning toward," Berry said.
The property's construction is expected to be completed by the Aug. 11 move-in date and the organization is confident there will be no issues with the building process.
In the event that inclement weather keeps the Winkler Organization from meeting its proposed date for Winkler Square, Berry said there would be a contingency plan that would include housing and storage for the tenants.
Winkler Square will be the Winkler Organization's 21st property in Boone. Berry said some of the keys to the company's success in attracting students include offering a variety of properties with different features, 24-hour maintenance and trust.
"Our tenants trust us to provide quality affordable [housing] and to take care of issues when they arise, and we try to do that with the utmost efficiency, Berry said. "The nutshell of Winkler is trust – we're trying to do the right thing the right way and I think at the end of the day, people really appreciate that."
Story & Photo: Gerrit Van Genderen, Managing Editor