What does the Counseling Center have to offer you?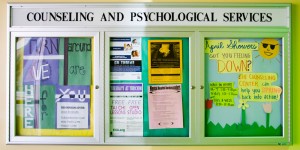 College can sometimes feel extremely overwhelming. If this is the case for you, there is no shame in visiting the Counseling Center.
It can be something small, or, in the event of feelings of depression, relationship issues, suicidal thoughts, stress, loneliness, substance abuse, grief and loss, roommate conflicts and anxiety, it can be serious.
The Counseling and Psychological Services Center, located right above the post office in the Miles Annas Student Services building, offers assistance to students in various ways.
The counselors offer independent counseling sessions of about 50 minutes once per week, for up to 10 weeks. This short-term counseling is a chance for students to talk about personal problems confidentially with an expert. Appointments can be made or there are walk-in hours that vary depending on the day, but run on a first-come, first-serve basis.
There is also group counseling, which, unlike independent counseling, allows students to attend indefinitely. There are groups centered around several topics, including a transgender therapy group, body image group, sexual trauma survivors, mindfulness group, gay, lesbian and bisexual group, ADD/ADHD group and a stress management group.
Other counseling offered is couples/family counseling and major and career counseling. Major and career counseling is done by the Peer Career Center in Plemmons Student Union through a partnership with the Counseling and Psychological Services Center.
While walk-ins run on a first-come, first-serve basis, if there happens to be an emergency, such as a life-threatening situation or trauma, a student can walk into the counseling center any time during operating hours and receive help immediately if the student mentions that it is an emergency.
If a student needs help in the case of an emergency after operating hours, by contacting the university police, a student will be put in contact with a counselor, if needed, on a 24/7 basis.
Other services include alcohol and drug programs that include recovery meetings and intervention help. On the Counseling Center's website, there is also online screening available for depression, alcohol and eating disorders.
Story: Nicole Caporaso, News Reporter