Cox, Law have record game as Mountaineers earn first SoCon win over Elon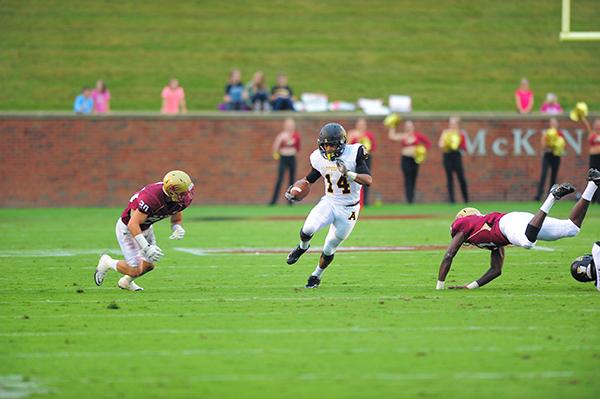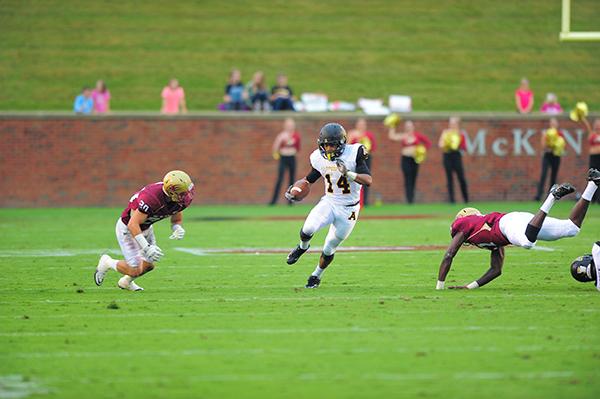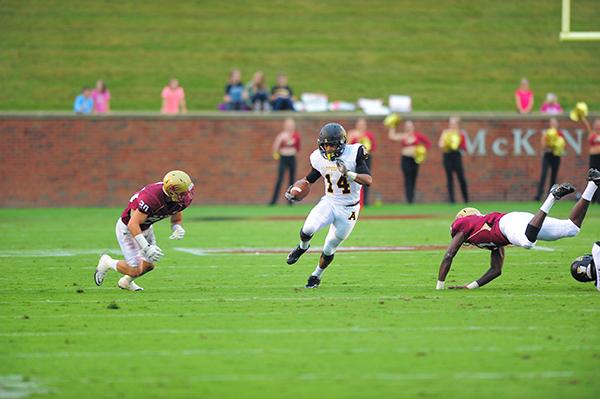 The 31-21 victory against Elon for most fans was simply all about getting one in the win column, but for Marcus Cox and John Law, it was a game each may never forget.
Cox, a freshman running back, had 26 carries for 159 yards and caught five passes for 149 yards. In all, he had three touchdowns and 308 all-purpose yards and a few team records.
Cox's 149 receiving yards was the most by a running back and the most by a true freshman in App State history. His 159 rushing yards were the most by a true freshman running back since Alan Atwater's 207 vs. Chattanooga in 2003, and the most by a true freshman since Armanti Edwards' 172 vs. Coastal Carolina in 2006, according to appstatesports.com.
He is now also the first player in Mountaineer history to have 100 rushing yards and 100 receiving yards in one game, according to appstatesports.com.
After this breakout performance, others have taken notice. The Southern Conference named Cox the Freshman of the Week, and The Sports Network honored him as the NCAA D-1 FCS National C0-Freshman of the Week.
But Cox wasn't the only freshman in Saturday's win to stand out.
Law was crucial on the defensive side as he provided two interceptions and 15 total tackles.
With those tackles, Law became the first Mountaineer with more than 10 tackles in three-straight games since DJ Smith in 2007, according to appstatesports.com.
Law was named SoCon Defensive Player of the Week for his performance.
Another interesting performance was the dual quarterbacking of the team from senior Jamal Londry-Jackson and sophomore Kameron Bryant.
Londry-Jackson started for the 22nd-consecutive time and went 16 of 21 for 205 yards and a touchdown. Bryant went 9 of 12 for 199 yards and two touchdowns.
Despite Londry-Jackson mainly playing in the first and third quarters, and Bryant playing the second and fourth, the substitution seemed to work, keeping the Elon defense guessing from quarter to quarter.
App State returns home for Family Weekend as they play Charleston Southern on Sept. 28. Kickoff is scheduled for 3:30 p.m.
Story: Andrew Clausen, Sports Editor
Photo courtesy of Keith Cline, Appalachian State Athletics