In the coldest game of the season for App State football, senior running back Marcus Cox chose Senior Day and the last home game of the season to officially become App State's all-time leading rusher with a 25-yard rushing touchdown early in the fourth quarter en route to the Mountaineers 42-17 win over UL Monroe.
Honoring the Mountaineers 17 senior's pre game, a class that began their journey on an FCS team and will finish it appearing in their second straight Bowl Game, Cox stood only 138 rushing yards away from surpassing former Mountaineer Kevin Richardson's 4,804 total rushing yards.
Racking up a season high 637 total offensive yards and 42 points, Cox, who missed four games to injury, broke away for a 25-yard rushing touchdown, his third of the day, as the Mountaineers all gathered around Cox to celebrate his special moment.
"Records are meant to be broken and they really give you something to shoot for," head coach Scott Satterfield said. "When you recruit players and they look at that, it gives them an incentive and something to look at. They put a lot of work and pride into this offense and it is great to see something like this happen today."
Picking up their fifth home win to finish 5-1 at Kidd Brewer this season, junior wide receiver Shaedon Meadors and quarterback Taylor Lamb connected on a 40-yard pass to get the offense going despite 30 mph wind.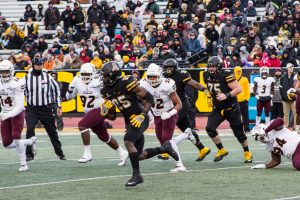 "The wind was really blowing hard and you feel a lot more confident in the passing game," Satterfield said. "We want to call many shots in the wind but fortunately for us we were running the football really good so we stuck to that. We threw the ball 22 times but we could have thrown it less and I was glad to get some of those guys making plays in the passing games."
Meador's big reception led to a five play scoring drive as Cox punched in a one-yard rushing score to give App an early 7-0 lead.
The Warhawks would not go away easily, making sure their Sun Belt leading third down conversions helped them drive down the field and began the game four-for-five on third down conversions. Building a 13-play drive, ULM hit a field goal to make it a 7-3 game.
"We look at it as 'here is what they are doing on third down and we need to defend it,'" Satterfield said. "They had some short ones early in the game and their quarterback did a good job and scrambled a couple. It is all about the distance, and they went 10-for-18, but it is what it is."
Continuing to take advantage of the wind and the deep ball, Lamb connected with junior wide receiver Ike Lewis for a 60-yard touchdown, and ironically Lamb's 60th career passing touchdown for a 14-3 lead.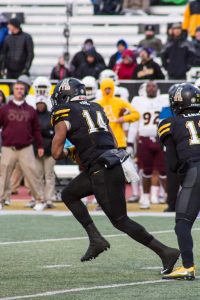 Making sure to get in the senior day fun, senior tight end Barrett Burns caught a fourth down conversion three-yard touchdown from Lamb building a cushioning 21-3 second quarter lead.
Still unable to get an offensive touchdown despite long drives, ULM started rushing the ball more behind running back Austin Vaughn and quarterback Caleb Evans. The Warhawks continued to make small rushing gains for an 11-play touchdown driving to only trail 21-10 at the half.
"I think they [ULM] does a really good job at running the inside zone and what we try to do is move our defensive line in different ways and be a tighter fit with the inside linebackers," Satterfield said. "We did that but they still ran the ball really good and that is not what we want to give up obviously but they still moved the football and got 17 points and that is a good offense running the ball."
With plenty of attention on Cox, running back Jalin Moore finished the night with his own 135 rushing yards including a 30-yard and 29-yard gain to start the second half on a five play drive leading to Cox's second touchdown of the day and a 28-10 lead.
Cox and Moore both finished the night with over 100 rushing yards for the third time in four games and the team finished with 429 rushing yards including 92 from Lamb.
Lamb rushed for a career high 35-yard touchdown to make it a 35-10 game in the third quarter.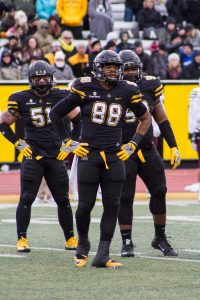 Only giving up 10 points through the first three quarters, the Mountaineers defense, led by a core group of seniors, made sure to take in the atmosphere before their final quarter at Kidd Brewer Stadium.
"We've enjoyed every Saturday we have been able to play here, win or lose. It has been an experience," safety Alex Gray said. "We started off as freshmen on the field and things were a lot different back then. So just to go out there today and it to be our last game here where it all started and where it all began in practice, it was just a surreal feeling."
Senior captain linebacker John Law, has had to miss a few games this season, but did everything in his power to make sure he was on the field on Senior Day.
"I went out there and was playing with one arm at certain points of the game, but that is kind of how my career has been. I have had to fight through injuries and I had to play, but I feel like that is what makes it a little bit sweeter," Law said. "Going out there, sacrificing a little pain and winning and having a good defensive performance makes it all worth it at the end of the day."
Still needing 27-yards at the start of the fourth quarter to break the school rushing record, Cox and the offensive-line set him up for a 12 yard and a three yard rush putting the Mountaineers on the ULM32.
A read option handoff from Lamb to Cox led him to break open for the long touchdown finally giving Cox the record and a moment to remember.
"Going into into that drive I had 27 yards left, everybody was telling me. After every play that I had a carry it was 15 yards, then that last one was 11 yards. Coach called a run and the line looked back at me and said we gotta get it," Cox said. "It was a read option, it opened up and they went to Taylor [Lamb]. So he handed it and I saw green grass and after that I knew what I had to get to get the record and I just have to score to make it even sweeter."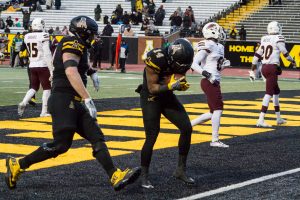 The Mountaineers cleared the benches and offensive lineman Parker Collins spiked the ball in celebration for Cox leading to the refs throwing flags, but it wasn't just an achievement for Cox, it was an achievement for the whole offensive line and team.
"Obviously, the record is going to go down as Marcus Cox, all-time leading rusher or what not, but this was so much more than that. We're an intricate piece of that," Collins said. "We paved the way but then you have someone like him who will run through tackles, embarrass people, and juke them out. So, it's like a conjoined record but we're proud to have it, too."
Getting injured in the Miami game in week three, Cox wasn't sure whether he would break the record, but now having the opportunity in his final game at The Rock where he experienced his first loss against N.C A&T, Cox was just thankful.
"When I first got here, everyone wants to be the best, but you never really think it's going to happen until it happens," Cox said. "At the end of the day, I just have to tip my hat off to my offensive line and my coaches and my receivers, my tight ends, everybody on the offensive side of the ball. Without them, this day would have never come. I'm just thankful for everyone around me, my support group, everybody that's been on this ride with me."
Holding on to win in their final game at The Rock this season, the 17 seniors who went through a whole transition from an FCS team to an FBS team and struggles of losing, took everything in one last time.
It's crazy to be on the other side of it coming in as a freshman and having guys like Troy Sanders, Jeremy Kimbro and Brandon Greer, like those type of high caliber players and seeing the way that they did things and the way they finished their careers winning the SoCon Championship out here," Law said. "It's a humbling experience to be in the same footsteps as far as being able to come out and have a good performance, win the game at home, see how much you are respected and see how much people actually care about you. I thank the fans, I thank my teammates and I thank everybody for my experience here and I really have enjoyed it."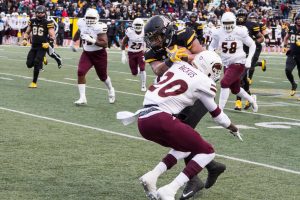 Still having one regular season game left to play, the Mountaineers will be riding high with confidence and hope to finish off the season strong at New Mexico State next week before waiting to hear which bowl game they will invited to.
"Overall, I am really pumped to be where we are right now," Satterfield, said. "We have eight wins but we have to finish it off next week when we play New Mexico State."
Story By: Jason Huber, Sports Editor
Photos By: Halle Keighton, Photo Editor