Dance Marathon overcomes cold weather to raise more than $40,000
Despite unforeseen circumstances, the 2015 Dance Marathon raised a record-breaking $41,045.62, almost $8,000 more than last year's record.
For the past 11 years, Appalachian State University's Dance Marathon, a 15-hour event that raises money for Western Youth Network and Parent to Parent, has been held in Legends. But when it was discovered Friday that Legends' pipes were frozen, the venue had to change less than 24 hours before the event began.
This challenge was coupled with wintry road conditions, but approximately 180 of Dance Marathon's 236 registered dancers still showed up for the event Saturday.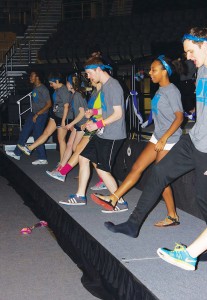 Participants were tasked with fundraising at least $150 for WYN and P2P and dancing from 10 a.m. Saturday to 1 a.m. Sunday. They are given brief breaks for meals and snacks are available throughout, though they are asked not to sit down at all if possible.
The event also features costume changes for participants, with themes such as Disney and British Invasion, and performances throughout the day.
Melissa Lee, fundraising chair on Dance Marathon's leadership team and fourth year participant and committee member said despite last-minute changes, things went pretty smoothly.
"I think it's extra special because people fought to get here," she said.
Lee has also been a mentor for WYN for two years. She said her favorite part of the event is when kids from P2P and WYN join in on the fun from noon to 4 p.m.
"I just fell in love with the kids and how much fun they have," Lee said. "The families work so hard to provide a wonderful life for their children and I'm always inspired by them every year."
WYN pairs local kids with a role model to look up to, many of its mentors being Appalachian students. P2P also works with kids as well as their parents, but its focus is on special needs, providing a different kind of support.
WYN's Executive Director Jennifer Warren said she thinks it is good for the kids to be around college students.
"I think it's great just to have kids on a college campus and have them exposed to what they might be able to live," Warren said.
Kids from both organizations could be seen throughout the crowd, some breakdancing and doing cartwheels, during the four hours they were welcomed in. They also put on performances of their own on stage.
"One of the kids, Nate, he is here every year and he told me that he has been waiting a whole year for Dance Marathon since last year's," Lee said.
The event is almost solely planned by a committee of students through the Appalachian and the Community Together office, with a leadership team and graduate adviser Lindsey Woods beginning planning in October of the fall semester.
This year, the committee increased efforts with fundraising nights at local restaurants such as Comeback Shack. The biggest challenge they gave participants was raising $3,000 in one day, which they not only met but surpassed.
Fundraising takes place for months before the event, but fundraisers continue making phone calls and posting their fundraising pages on social media the day of, asking for donations. Additionally, Dance Marathon opens its doors at 10 p.m., allowing those who could not commit to 15 hours to become morale dancers by paying a $10 donation and staying for the remainder of the event.
Aside from fundraising increases, Woods said she thinks Dance Marathon has seen its largest growth in their participants' enthusiasm.
"I think the people and the dancers that are involved with Dance Marathon appreciate and value the event so much more," Woods said. "I don't know that there's a reason for that but I just think that people are so much more excited about this event, and they're excited to fundraise for our two non-profits and really [are] engaged."
STORY: Laney Ruckstuhl, News Editor