An industrial design student at Appalachian State University has made her own furniture design blog with the help and support from her professors.
Since its creation in January, the blog has gained momentum through networking with other designers from abroad on social media.
Sheilla Sanon is a senior industrial design major at Appalachian State University. She decided to start her own furniture blog, Dikore, as a component of her new year's resolution to "work on projects independent of their outcome."
She said that Dikore is a play on the word decor, which is defined as the furnishing and decoration of a room. Sanon's inspiration grew from the support of her instructors Alyssa Coletti and Richard Prisco, interim applied design chairperson.
Sanon said that Coletti really pushed her to start her own blog on the last day of her class with Coletti. Coletti is no longer an instructor at Appalachian State, but she still keeps up with Sanon's blog.
"Sheilla's musings and reflections on what she's learned are definitely the most unique part of the blog," Coletti wrote in an email. "But as she analyzes her experiences, trials and education, she has the opportunity to take a second look at what she's been learning and distill what she thinks is most important to her."
Coletti wrote that she thinks the coolest part about Dikore is that Sanon goes beyond only talking about new products, trends and concepts. Coletti wrote that Sanon creates original content important to furniture designers and she also takes submissions from young designers doing good work who would otherwise find it difficult to get attention for their designs.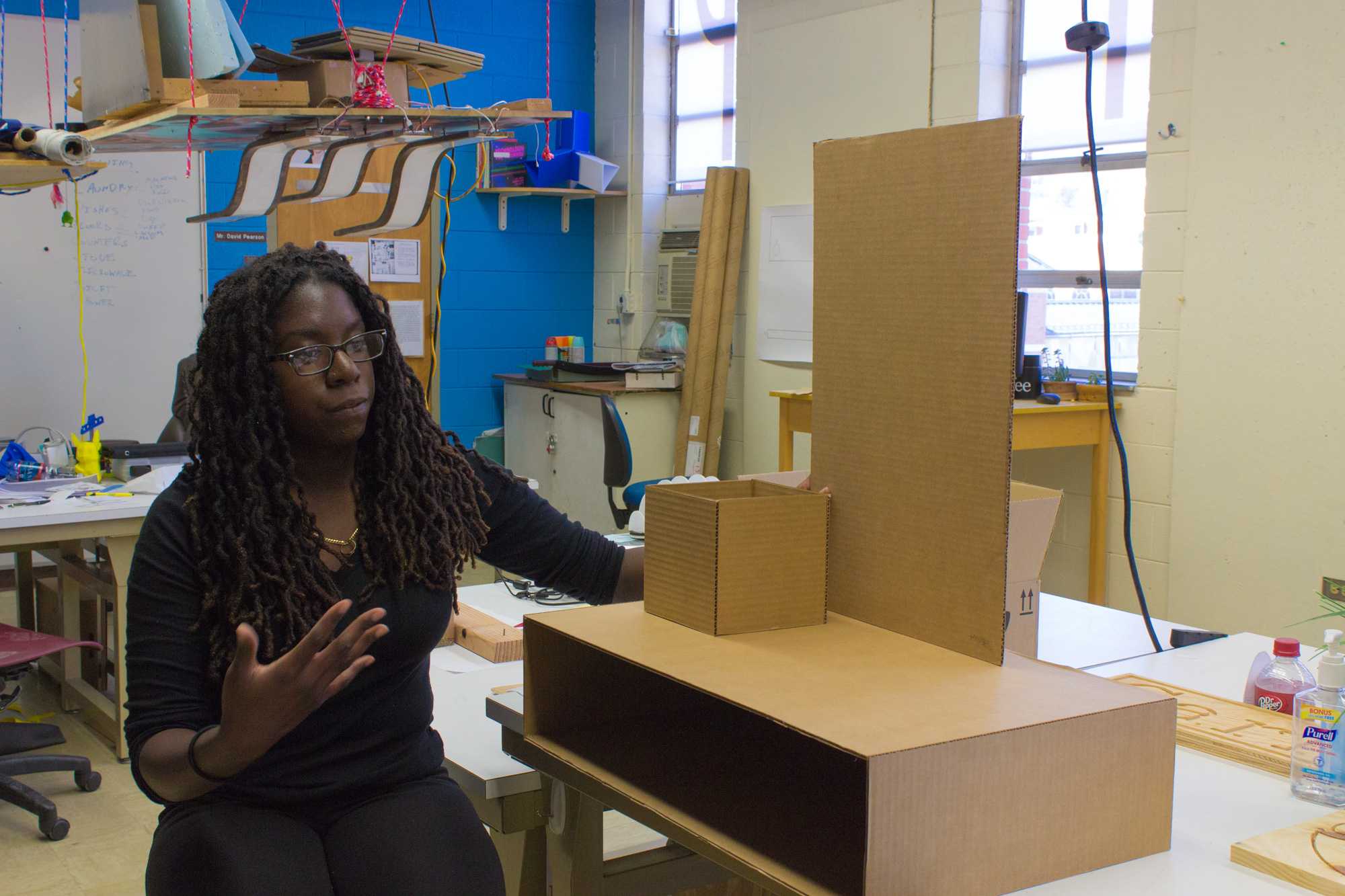 Prisco said that he does not read blogs but he checks in on Sanon's blog because she is a student of his. "The blog is very nicely done and professional with good writing," he said, and hopes Sanon will pursue a career as a furniture writer for a magazine.
Sanon is working on her capstone class with Prisco as her instructor. He said that she is designing a "unique" piece of furniture for her project. She said that her piece of furniture is a shelf with a drawer, box and mirror. This piece is reflective of her two older brothers' personality as well as her personality.
Appalachian State alumnus Derek Elliot graduated in 2013 and is now a design engineer at Bernhardt Design. Elliot said that Dikore provides a great spot for potential employers or business partners to really get a look at what Sanon's style is and what she's interested in.
"I think showcasing your work is extremely important," Elliot said. "A blog is a great way to share your ideas and connect with people who have similar interests."
Dikore is composed of furniture designs from various designers, an assortment of mental wellness articles she calls Zen and a design store. The furniture designs range from student designers to what is popular in the professional world. Sanon said she is especially proud of the collaboration of various designers ever since the blog went on the web.
"Since current blogs and magazines heavily focus on professional designers, I want Dikore to be a place where designers, from amateur to professional, can share their ideas and projects with one another." Sanon said.
Zen offers various articles on mental health in the design world. Coletti wrote that she especially likes Sanon's musings and lists on how to make life better in the Zen section. Dikore's design store sells designs Sanon has applied to Redbubble.com products such as T-shirts, pencil cases and laptop cases. Sanon said there are quirky designs that practically everyone in creative fields can relate to. Quirky designs, Sanon said, like a T-shirt that reads, Frank Lloyd Wrong or a coffee mug that reads trust me I'm and industrial designer, is what one can find on the design store.
Sanon began the blog as a way for other designers to showcase their work. People from various countries like Portugal, India, the Netherlands and United Kingdom have had their work featured on the blog.
"I recently reached out to a man on Instagram who I believed to be just another furniture designer," Sanon said. "I later discovered he was a senior lecturer at the Cambridge School of Arts, an associate lecturer at Chelsea's College of Art and an acclaimed designer from London who has worked with many prestigious companies."
Sanon defines industrial design as the practice of why and how everything looks the way it does. She said that Appalachian State's program is rigorous, but it is one of the best.
"When I transferred in 2013 I couldn't draw a cube, I couldn't build a thing and I wasn't a confident speaker," Sanon said.
However, thanks to amazing professors and hard work, Sanon said she has accomplished things she had only dreamed of.
Story by: Katie Murawski, A&E Editor