Former ASU player goes to the Super Bowl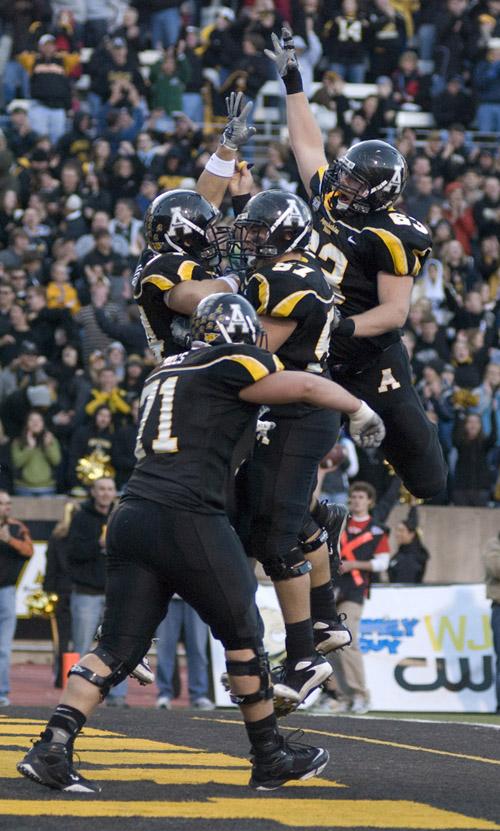 Most noted for his fumble-recovery touchdown against Delawere in the 2007 NCAA National Championship game, former linemen for Appalachian State University Daniel Kilgore is now playing in Super Bowl XLVII. Drafted in 2011 by the San Francisco 49ers, he is now a top reserve offensive guard and will face veteran linebacker Ray Lewis of the Baltimore Ravens for the championship game.
The Appalachian: Why did you choose Appalachian State coming from Tennessee?
Daniel Kilgore: "They had just won their first championship and it wasn't too far away. I got up there and hung around some of the guys and it just felt like a place where I needed to be. When you go there, you're a part of the Appalachian family. They keep it in-house, the coaches and everything. It's always awesome to keep everything close-knit and that's what drew me to it. It's a special place. People always say 'If you ever leave Boone, you always want to come back,' and it's home. That's what drew me to going to school there, just that home feeling."
TA: What was your most memorable experience at Appalachian?
DK: "Definitely the 2007 season. Just starting out the season beating Michigan. That whole season was pretty awesome and memorable."
TA: How does collegiate football compare to the NFL?
DK: "Definitely the speed and size of the players are different. There are a lot of players that don't realize the amount of information that they give you and being able to retain all the information. It's a lot of work that goes into a game plan for each and every week. This is game 23 for us, counting preseason and all of postseason, so it's a long season. So I think the mental toughness is the biggest difference from college to the NFL."
TA: How did your time at Appalachian prepare you for the NFL?
DK: "I never really had [anyone who] pushed me to say 'hey you have a real opportunity to play in the NFL' up until my last season. If I had known the whole time I was going to go into the NFL, like a lot of people do, I think I would have done a few things differently. The biggest things are how to take care of what things need to get done, the amount of time that goes into winning football games and actually handling pressure and being on the big stage. It prepares you to go out there and win big pressure games, you always have those big games and Appalachian was always in the playoffs. That mentally prepared me to be able to handle bigger games."
TA: You've played on the big stage before in the NCAA National Championship game in 2007, does that effect your preparation for the Super Bowl at all?
DK: "There's no comparison. You're playing in the game that is the most watched game in the world. You're probably in the game that every kid and coach has always dreamed of playing in. There's no way you can compare it. Growing up you didn't always say 'I want to play in a national championship for Appalachian State.' As a kid you're like 'I want to play in the Super Bowl, I've always dreamed about playing in a Super Bowl.' Playing in a national championship was awesome, don't get me wrong, it was an unbelievable experience, but actually playing in a Super Bowl… it's unbelievable, and knowing that we're going to go down there and take care of business."
TA: Almost like déjà vu, in the championship game in 2007, you played against the University of Delaware where Joe Flacco happened to be quarterback. Does that help your team's preparation at all or is it already in the mix?
DK: "[Flacco's] a much different player from where he was. He's a great quarterback and he was a great quarterback in college. And when he was in Delaware we had a great defense, we got out and pressured him all night, intercepted a couple of his balls, and now he's got to deal with the same thing. We have an outstanding defense and our defensive line is unbelievable. Against the run, they do a great job getting pressure from the linebackers and then you won't find a better secondary in the NFL. Not much has changed as far as him being in a pressure game versus great defenses."
TA: What was your fondest memory of the former head coach Jerry Moore and staff?
DK: "The first time I ever came to Boone, the team was practicing and I was in high school and it was freezing cold outside. Coach Moore greeted me when I got to Boone and I sat there in the freezing cold while they practiced. Then a couple weeks later I go back to visit, for an official visit, and sat down and had a great talk with them and they offered me a full scholarship. Sitting there that night with coach Moore and talking with him and my mother was there and giving him my commitment to Appalachian State saying, 'I want to come play for you.' I'm so thankful for what he did for me and my family in giving me a scholarship. Coach Moore and I have talked numerous times. For what he's done for that program and for what he did for that community and the men and women who had any part with that program or with that school, it's unbelievable and we're forever in debt for what he's done for that school."
TA: What would your advice be for any Appalachian student-athlete who wants to go pro or simply has the aspiration to do so?
DK: "Don't ever take your days at Appalachian for granted. You're always going to face adversity in your training, in your games and in your career, but always just keep pushing. That's the biggest thing for me. I was never a three or four time all-American from Appalachian, I didn't win a Jacobs Blocking Trophy at App, I was always the one who overworked and, to me, through my career I went through so much and, before my senior year [we] went through the coaching change on the offensive line. You just got to keep working and push through everything and everything will play out in the end."
Story: ANDREW CLAUSEN, Sports Editor
Photo: File Photo