Reckless Arts hosted the first annual Downtown Boone Art Fair on Sunday. Crafters and vendors got together to showcase their materials to sell to the town of Boone. Not only did they have physical art, they also showcased bands, jewelry makers, fabric designers and ceramics.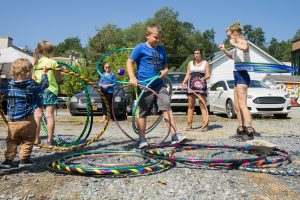 "The downtown art fair allows young people and artists in our community a chance to showcase their art in a prevalent spot of downtown Boone," Reckless Arts director Sara Scott said.
Ben Loomis, also from Reckless Arts, described the event as "a way to bring culture to downtown and a way for people to make a living by doing something they love."
Senior recreation management major Chloe Harris was one of the vendors at the event. She described her style as personal because everything she created had a backstory to go along with it.
"I would find random inspirations like flowers, people, hands, etc. and then make a story to go along with them," Harris said.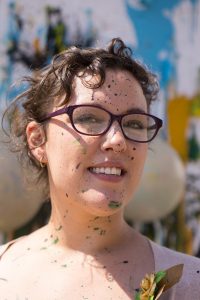 She also complimented the cheap vending prices for local artists, allowing them a place to showcase their work without breaking the bank.
"This is my first time vending. I was really happy that Reckless Arts is trying to get the community together and is doing this instead of the art crawls, which are a known thing, and art drops, which are pretty familiar," Harris said. "I'm really happy that they started a new tradition."
Homemade jewelry was a big hit at the art fair. Jessica Quint of Sassy Effects and Molly Eckert of Wild at Heart Design Co. were two of the artists selling their jewelry at the fair.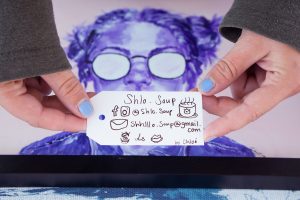 "I took some classes and fell in love with making jewelry. I love creating," Quint, who has been making jewelry for fifteen years now, said.
Their pieces are sold all across the U.S. and recently came to Boone.
Musician Cleve Edwards was also at the event, along with other local musicians. He came from a musical family and started playing piano when he was six. Edwards is a self-produced artist who found the art fair online. The art fair gave him the chance to get out, perform and sell his CDs.
"I've been a professional musician for 50 years, but this is the first time I've performed at an art fair," Edwards said.
Nick Osetek, an Appalachian State alumnus, had a table as well. He said the art fair was a "good way to get your name and art out."
"I didn't plan on becoming an artist, it just happened over time," Osetek said. "Most of my work is very detailed, I like to represent realism but in a surreal, distorted way."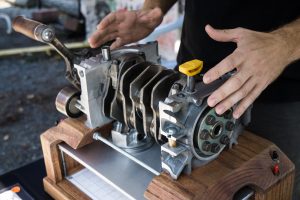 At the event, attendees participated in the "leave your mark" wall, which was located on a mural of Watauga County on the shed behind Reckless. People bought squares and painted the side of the shed in hopes of raising money for future Reckless Arts projects.
There was a big turnout for the event and Reckless Arts helped raise exposure for local artists.
"So much of how people are exposed to art now is through digital means like social media," James Geary, an Appalachian State alumnus, said at the art fair. "To be able to meet an artist face-to-face and give them an outlet to their craft is very important in a community."
Story By: Georgia Walker, Intern A&E Reporter
Photos By: Hayley Canal, Intern Photographer