Earth, wind, fire
App State football has seen a third running back show he can be just as deadly in the ground attack as both sophomore Marcus Cox and redshirt freshman Terrence Upshaw.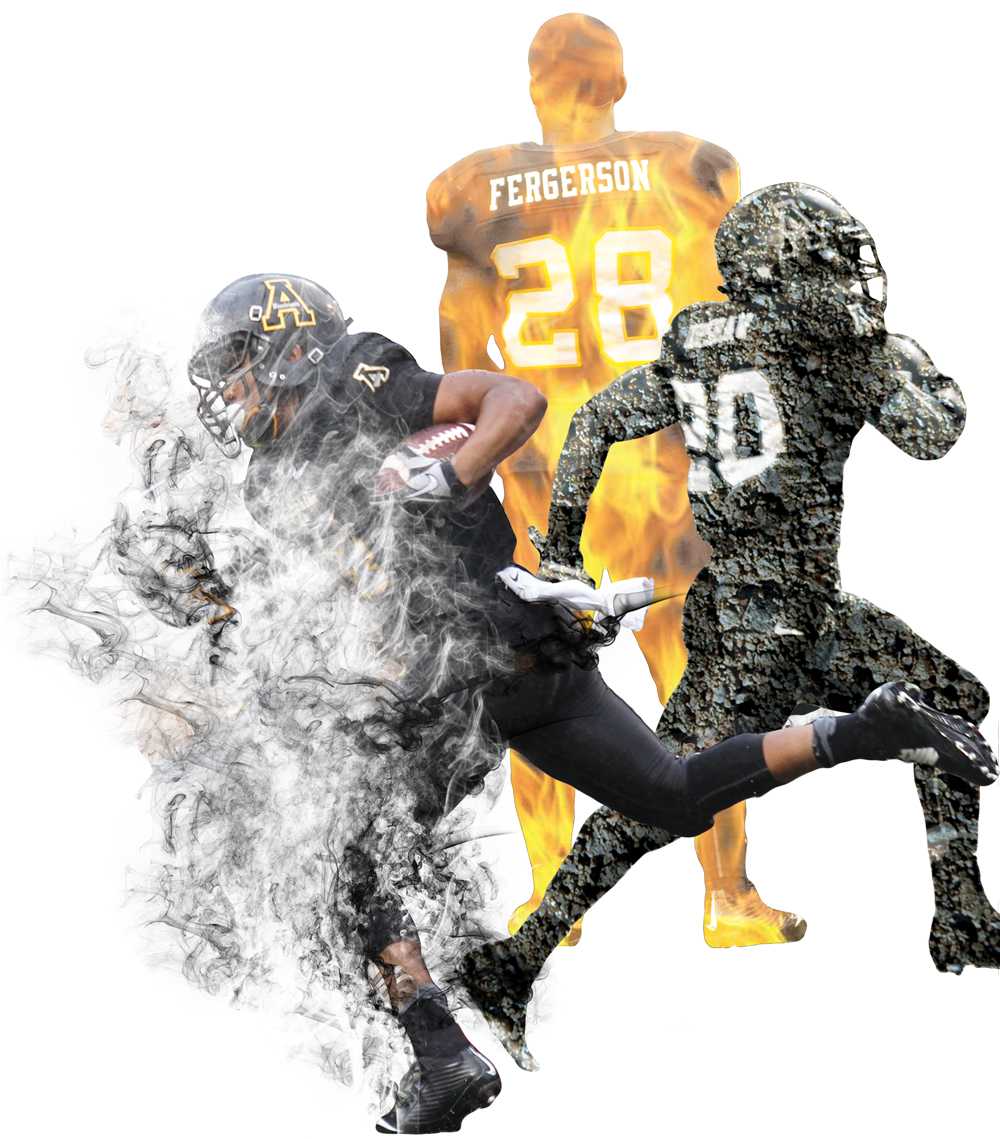 Junior running back Ricky Fergerson has run for 292 yards this season, while averaging 7.7 yards per carry and notching three touchdowns. With two games remaining, he has already surpassed his total from last year when he ran for just 215 yards.
Fergerson has seen the majority of his carries in the matchups against Troy and Georgia State where he ran for more than 100 yards in both contests, as well as having an 84-yard dash against the Panthers that ended up just four yards short of a touchdown.
When thinking of the running game early in the season, most of the attention was on the one-two punch of Upshaw, who has run for 460 yards while averaging 4.8 yards per carry with two touchdowns, and Cox, who has amassed 1,142 yards and 15 touchdowns on a 5.9 yards per carry average, but running backs coach Chris Foster said he never saw it that way.
Foster said he always knew the three backs had a chance of being a true triple threat.
"Ricky had a great camp," Foster said. "Everybody looked at it like a dynamic duo, but Ricky was always right there in the running. He's continued to work, and when he finally got his opportunity, he made the best of it."
Upshaw agreed with Foster but added a little more flair to how he thought of the backfield trio.
"We're earth, wind and fire," Upshaw said. "I'm earth, Ricky is fire, and Marcus is wind. That's how we're rocking now."
The explosiveness of Fergerson, Upshaw's ground-and-pound technique and the quick flowing movements of Cox are what make up the three unique styles in the App State backfield this season.
Foster said the three backs have worked hard as a group and although one may succeed more or gain more recognition, they all continue to push each other to make one another better.
"We help each other out," Fergerson said. "We come out on the field, we get on each other and rag on each other. I try to have them look up to me as sort of a big brother because I am older, and I have [played] three years now."
Upshaw said he looks at the situation with the same mentality, where he and Cox have both been in the program for just two years and sometimes look to Fergerson to help push them – not only on the field, but off the field as well.
Although Fergerson is older and has more experience than both Cox and Upshaw, he says that he learns things from the two of them, just as much as they learn from him.
"Marcus is a great blocker," Fergerson said. "That is something I wish I could pick up on, and with Terrence, he runs hard, so if I get in after him, I try to bring that same pound on whoever we're playing."
Foster said that he is going to continue to give each back an equal opportunity in every game, and he'll play whoever he feels like has the hot hand, and is playing the best.
The running back trio and the rest of the Mountaineers travel to Lafayette, Louisiana, to take on Louisiana Lafayette at 5 p.m. Saturday.
Story: Daniel Statum, Intern Sports Reporter

Photo: Malik Rahili, Visual Managing Editor