More than 90 years ago, Appalachian State Teachers College kicked off in Boone against Eastern Carolina Teachers College Nov. 11, 1932. The Mountaineers protected their home turf with a 21-0 victory. From the High Country to the coastal plains in Greenville, this rivalry still holds true in 2023. 
The Mountaineers dominated the East-West series in the 1930s as App State won their first 10 matchups. The win streak is highlighted by a dominant 64-0 victory on Nov. 25, 1939, under the lights in Morganton. The following day, the Asheville Citizen-Times described the game as "Boonemen Beat E.C.T.C Eleven In Night Scrap."
App State-ECU was a yearly matchup from 1948-62 and 1972-79. After the 1979 Pirates 38-21 victory in Boone, the series paused for 30 years until resuming in 2009, where the Pirates added to their four-game series win streak in Greenville.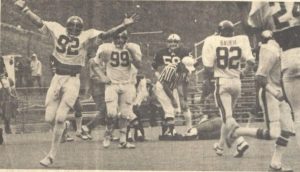 Mountaineer quarterback Jamal Londry-Jackson experienced both away games in 2009 and 2012. As an 18-year-old redshirt in 2009, Londry-Jackson saw the rivalry from a first-hand perspective on the sidelines. 
"We embraced the rivalry, but we focused on creating our own mark," Londry-Jackson said. "At that time we were only a year removed from the three-peat so you could feel, and hear the confidence of believing we were the best team in the state of North Carolina. We wanted to show it against ECU. It was a demanding but amazing culture to be a part of."
Starting quarterback Armanti Edwards missed the 2009 season opener against the Pirates with an injury. Even without their star player, the Mountaineers fought back from a 24-0 deficit, but their comeback fell short 29-24. 
"The only thing that kind of took the wind out of our sails was Armanti not being able to play," Londry-Jackson said. "And we all know the kind of impact he had."
The once redshirt quarterback in 2009 was now starting in 2012, in front of 49,023 East Carolina fans. Londry-Jackson, along with the returning 2009 players, had a newfound perspective; to wipe away the loss from three years ago. 
"In 2012, we wanted to win. Point blank," Londry-Jackson said. "Majority of the team experienced 2009, so we were on a mission for a different outcome."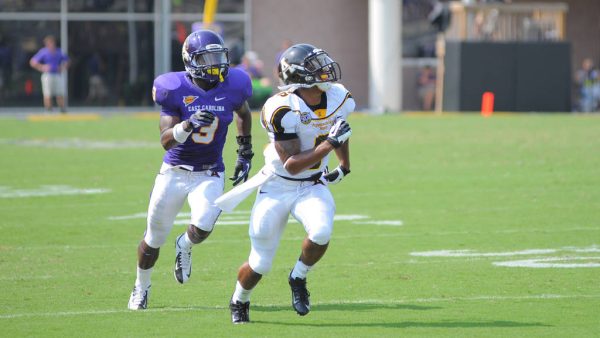 Along with the competitive drive while playing in front of nearly 50,000 fans and avenging a close loss, Londry-Jackson grew up alongside Pirates starting quarterback Rio Johnson. The two Atlanta kids going head-to-head in Greenville elevated the competitive atmosphere to extraordinary levels. 
While the Black and Gold lost 35-13, the scoreboard doesn't tell the full story. App State outgained the Pirates on offense with 419 total yards while East Carolina totaled 390 yards. The Pirates scored 14 points on two plays: a 45-yard touchdown fumble recovery and a 90-yard kickoff return touchdown.
"That one stings because we came out strong, but had a couple of plays that swung moments," Londry-Jackson said. "I know for sure there are some plays I want back from that game."
After 2012, the series was dormant once again until 2017, when both programs agreed upon a four-game series. The 2021 game held at Bank of America Stadium in Charlotte highlighted the series. 
"The chance for App State to host a home game in an NFL Stadium, where our largest alumni base is and against a program like ECU is a great opportunity for our student athletes, alumni and fans," App State Athletics director Doug Gillin said in 2017.
In front of 36,752 fans, the historic rivalry reached new heights as both teams kicked off their 2021 season. 
"It was an unreal atmosphere. App State fans love their football, and so do ECU fans, to be fair," former Mountaineer wide receiver Thomas Hennigan said. "Luke Combs in the house, Matt Rhule was there and we got after the boys in purple pretty good."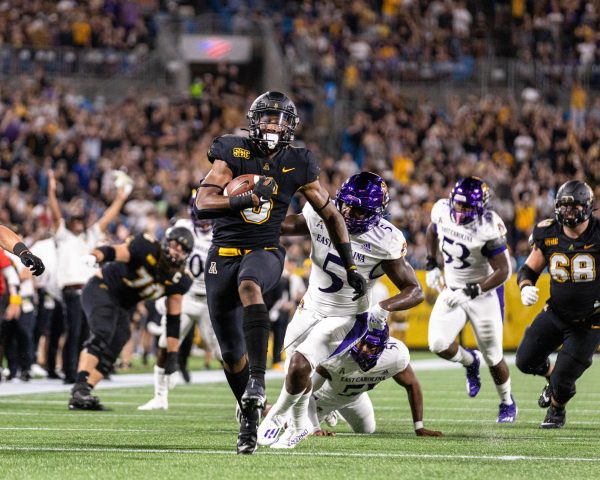 The Black and Gold broke East Carolina's six-game win streak dating back to 1976. App State ran away with a 33-19 victory, as former quarterback Chase Brice made his first start as a Mountaineer. Brice connected with Hennigan for a touchdown in the first quarter to set the tone early. This helped App State pave the way to extend their overall series lead over East Carolina 20-12.  
"Games within your own state mean a little bit more. Especially between programs with a similar history," Hennigan said. "I think bragging rights are more important to teams that are geographically close."
The Pirates will travel to Boone Sept. 16 for their second game of the four-game series agreement. It'll be East Carolina's first time playing in Boone since 1979. They'll be welcomed back with a sold-out Family Weekend crowd. At Sun Belt Media Day, head coach Shawn Clark said he expects that Kidd Brewer Stadium's previous attendance record of 40,168 fans set against North Carolina in 2022 will be broken.
"It's great for college football, it's great for the state of North Carolina," Clark said. 
While App State and East Carolina have their differences off the field, they share similarities on the field. Both teams will be starting new quarterbacks for the 2023 season. Before the Sept. 16 kickoff, both teams are scheduled to play away Power Five games. App State played against North Carolina Sept. 9, and East Carolina traveled to the Big House Sept. 2 to play Michigan. 
The 33rd game between these two programs will allow players and coaches to add their mark on the historic in-state rivalry.