Eclipse stokes interest in astronomy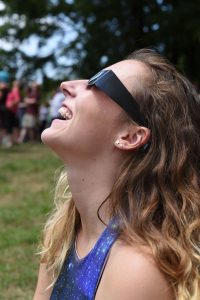 While students at Appalachian were desperately searching for eclipse glasses to safely take in the once-in-a-lifetime full solar eclipse on campus, a small group from the astronomy department went down to Sylva, North Carolina to experience it in its totality.
Daniel Caton, Director of Observatories at Appalachian, said they set up seven telescopes at the campus of Southwestern Community College to observe the full eclipse.
Caton said around 20 to 25 people came to observe the totality, and the trip was made possible through a NASA grant with the two schools.
With some help from Appalachian State IT workers, they were even able to stream their view from a telescope live to Appalachian State.
Caton said the difference between totality and a partial eclipse is night and day.
"Down there at totality in that 70-mile wide strip, the stars come out, it gets about as dark as a full moon night or a late, late twilight," Caton said.
According to Caton, the totality provides a great opportunity to study the sun's outermost gases, called the corona.
"Those [coronas] are still of scientific interest. We don't know why they get up to a couple million degrees in temperature when they're above a 6,000 degree surface, how do you do that?"
Caton said the next eclipse to hit the United States will be in 2024, charting a path from Texas to the Midwest and catching the edge of upstate New York.
Caton said he hopes public interest in the eclipse will create more appreciation for astronomy and science in general.
Story By: Sammy Hanf, News Editor
Photos By: Halle Keighton, Photo Editor