Electric Jelly Funk is probably best known by Appalachian State students right now for its recent win of the 2017 Battle of the Bands, an annual competition held at Legends, this year on Feb. 23. EJF is a self-described funk fusion band featuring eight Appalachian State students that has been recently signed by Split Rail Records. After winning the Battle of the Bands, EJF will receive its own show at Legends next semester.
The eight students comprising EJF, three sophomores and five freshmen, combine classic rock instruments such as guitars and drums with the sounds of trumpet, trombone and saxophone to mix funk and jazz influences.
Over their time in high school, the band members combined influences of the various genres they listened to before settling on a combination of funk and jazz voices.
"We all find our own artists, but generally as a group of friends who've known each other for a long time and developed our musicianship together, we all settled on jazz and funk," Matt Guard, a freshman music industry major and the band's keyboardist, said.
Since coming to App, the group has fleshed out their sound's brass components, with sophomore Rob McCormac on the trumpet and freshman Zach McRary on the trombone, both majoring in music performance.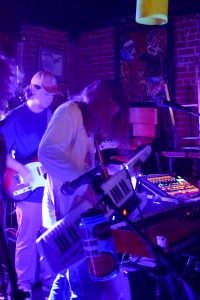 Today, the group has advanced far since beginning its career at App State last semester. They have since been signed by Split Rail Records, a student-run record label. Though they feel that they are the same musicians and play the same music as they had before signing on with the company, they do feel that their opportunities have changed since signing.
"Without this, we definitely wouldn't be where we are in the process of building ourselves and getting our material out there," West said.
Their three-year contract spans the majority of their college career, leaving the musicians a semester after the end of the contract to decide where to go next.
"They're providing us with a really good foundation to jump off of, and once the contract is over we'll have no problem taking ourselves wherever we want to take ourselves," Guard said.
Since signing with the company, the group has embarked on entirely new project: releasing their first album. Although the official title has not been confirmed, the band is considering Room 300.
"Every single time we practice, it's in Room 300 of the music building," McCormac said. "That's where all of our creativity happens."
The project will be unveiled during its album release party, speculated to be sometime in late April. Within the album, the group tried to make sure that each song was different, with an entirely different sound than the last. Each artist is featured somewhere in the album, whether in playing the melody or simply supporting in an intricate and technical role.
"I think we did a perfect job of representing everyone and what they bring to the table musically, imaginatively, and creatively," Guard said. "Everybody has their creative influence shared pretty equally throughout the album."
The release of the album will also celebrate the winner of a graphic design contest the band started. Previously, EJF's logo was simple: a jellyfish with the band's initials. With its new album, however, the group wants a more signature image, and one with the band's full name on it.
Rather than employing Split Rail's graphic designer on retainer, EJF asked the App State community to help them design a logo. They advertised a competition in which artists could send in their own designs. The winner would receive a $50 cash prize, as well as a signed album and tickets to the album release show.
The contest, which ended March 25, will determine the future logo the band will use.
"We all really liked this idea because it really opens up what we're doing and the process of us working on this project to the public," Jesse Maltby, the band's drummer and a freshman majoring in industrial design, said. "Not only do they see it happening, but they get to be involved in how it happens."
With a new record label and their first album in progress, EJF's members have been busy trying to juggle their time between school and performing. Many of the bandmates are music majors, having to meet the requirements of their group as well as those of the school ensembles they perform in.
"It's still super stressful trying to manage our schedule with gigs for us as a band with gigs we're required to play with school," McCormac said.
Though multiple members also participate in the school's ensembles and bands, everyone agreed that the busyness was worth it.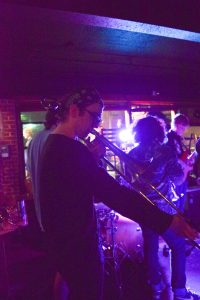 "It's a good kind of stressful," Guard said. "I'm making time to do something that I love, and if I wasn't doing it, I would a lot less happy."
As their album release date comes closer, EJF is reducing its number of live shows. Though the band will be performing some concerts and numerous events in the next month, the members are being conscious to cut back some, in order to increase anticipation and excitement about the album release show.
"It makes it seem unimportant if we're playing every weekend and then there's just another show where you can buy a CD," McCormac said.
Despite the record label signing, the new music and the rising demand for gigs, the band still wants to maintain a modest mission.
"Our mission is to make people feel as good as we do when we're playing our music. Our music is about the people who are listening to it just as much as it's about the people who are playing it," Owen Myers, the group's guitarist and a sophomore majoring in music industry, said.
The band takes pride in the fact that its members share a friendship. Through high school, well before EJF truly began, many of the band's members spent their weekends together, writing songs and making music. Coming to App and forming the group officially, this vibe hasn't changed.
"As a friend group, this is how we hang out, by playing music," Myers said. "When we're up on stage jamming, we're hanging out. We're having fun."
For the next month, EJF will be focused on completing its new album and preparing for its release show.
"We've spent a lot of time and hard work on this album. It's not the first project we've done, but it's gonna be the strongest," Guard said. "It's gonna be something awesome."
Story by: Ashley Goodman, A&E Reporter
Photos by: Lindsay Vaughn, Staff Photographer